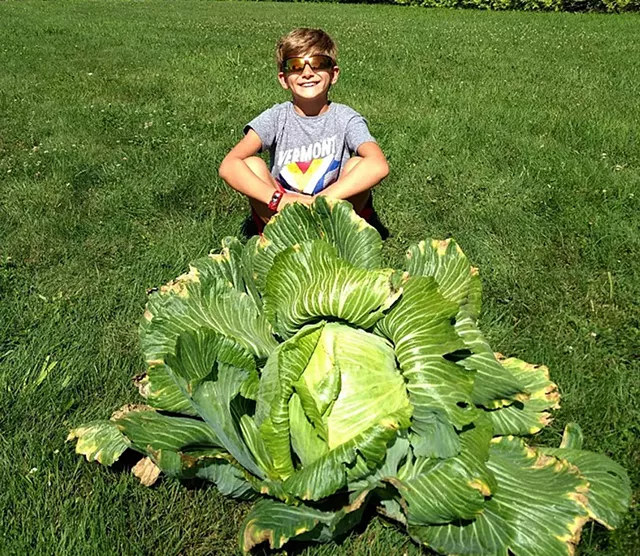 Courtesy Of Zandra Anand
Nolan Anand
He's a head above the rest.
A 9-year-old Williston boy won a $1,000 prize for growing a colossal cabbage. Nolan Anand's leafy, 12.8-pound plant was the winner out of 1,116 cabbages raised by Vermont third graders as part of the nationwide Bonnie Plants Cabbage Program.
He spent about 12 weeks over the summer tending the cabbage in a raised bed in his backyard. "Very happy and very excited," an understated Nolan told Seven Days about his win.
This year, about 1.5 million kids across the country took part in the program; the contest went national in 2002.
Third-grade teachers sign up, and Bonnie Plants, an Alabama-based company, delivers seedlings in the spring for kids to take home and grow. Each teacher then selects a best-in-class winner, who's entered into a random drawing for the state prize.
Nolan, now a fourth grader at the Williston Central School, had his name chosen out of 34 kids and came away with a cool grand. The cash must be used for his education, and his mother, Zandra, said it'll grow in a college savings account.
"We're really excited and can't believe he's going to get $1,000," Zandra said. "That's quite a prize for a 9-year-old!"
Nolan's isn't the biggest cabbage ever submitted. The record is held by a Utah boy who grew a 75-pounder in 2013, according to Joan Casanova, a Bonnie Plants spokesperson.
Regardless, Nolan's has proved plenty for the Anand family. They used half of the head for a corned beef and cabbage feast.
"It was so big, we couldn't fit it all in the pot!" Zandra said with a laugh.
How'd it taste?
"Good," Nolan said.
For next year, he's got an urge to go bigger: He's set his sights on a giant pumpkin.