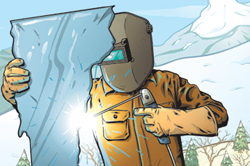 Hazelett Strip-Casting Corporation | Est. 1958 | Colchester | 154 employees
Anyone who routinely travels West Lakeshore Drive in Colchester can be forgiven if they've never noticed Hazelett Strip-Casting Corporation. The view of Malletts Bay across the street is much more eye catching. In fact, it's one of the reasons brothers Bill and Richard Hazelett, both sailors and engineers, set up shop here in 1958.
Hazelett doesn't need local visibility; the company's success derives from consistent global demand for its unique product. While a few other companies build something similar, none has been able to replicate what Hazelett invented. Says vice president and general manager Raymond Clavelle Jr., "We don't have to knock on doors to tell people who Hazelett is. Most of them know who we are already."
Contrary to its name, Hazelett doesn't actually do strip casting. It builds the massive machinery that enables other companies to roll molten metal into solid form — usually bars or coils, which are then made into products such as lead car batteries or copper wire. One of Hazelett's largest machines can cast more than 60 tons of copper per hour; it takes 22 tractor-trailers to ship the parts, which are later assembled on site.
A world map in Hazelett's lobby is dotted with colored pushpins indicating the company's 54 customers in 25 countries: red pins indicate copper casters in Belgium, Italy, Brazil and Romania; white pins indicate zinc casters in Germany, France and South Africa; green ones show aluminum casters in Japan, Spain and Turkey.
There's a proliferation of pins in China. Of the seven new strip-casting machines Hazelett is now building, five are destined for Chinese factories. Says Clavelle, "We envision that we'll be forced to have some of our equipment, or portions thereof, built in China someday."
But Vermont is Hazelett's home. Clavelle insists the company's most valuable asset — aside from 150 acres of lakefront property — is its employees, many of whom are native Vermonters who were hired straight out of college or tech school.
"We've learned over the years that by hiring Vermonters who are used to the Vermont lifestyle and four seasons, that they're more likely to stay," Clavelle says.
And they have — for years, even decades. Many of the gray-haired machinists and technicians on Hazelett's manufacturing floor appear to be approaching retirement age. David Diederich, Hazelett's vice president of finance, admits, "Our inability to find new, talented, technical people … is certainly the most prevalent impediment to our ongoing success."
During the worst year of the recession — 2009 — Hazelett revenues grew 5 percent, from $25 to $26.3 million. In 2010, they jumped to $29.7 million.
Nevertheless, in a business that takes eight to 23 months to deliver just one product, and sometimes 10 years to close the deal, Hazelett is all about long-term planning. It's already working with the Vermont Manufacturing Extension Center, Vermont's high-school-based tech centers and Vermont Technical College to recruit qualified, high-skilled workers for the next generation.
Privately held Hazelett is also free to spend more in R & D because it's not answering to shareholders or the bottom line. The same goes for investing in its employees. Clavelle notes the company recently upped its 401(k) contributions and boasts "one of the best" health insurance plans in the state.
One final perk: Employees with boats get free mooring on Malletts Bay. "Now, that's outside the box!" Diederich says.