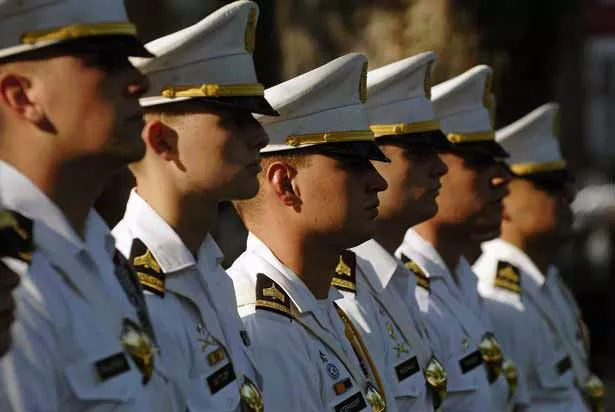 NORTHFIELD - Peaceniks will rub elbows with warriors-in-training next month as the two normally opposing groups gather on the hallowed grounds of the nation's oldest military academy to talk about the situation in the Middle East. Although the gathering sounds potentially explosive, objectors and servicemen both say they welcome the chance to become pals.
The October conference, sponsored by the Vermont Peace Academy, Norwich University and the Vermont Council on World Affairs, is aptly dubbed, "Creating Connections: New Partnerships for Understanding in the Middle East." Its aim? To mobilize grassroots and social organizations into taking action to improve American understanding of the Middle East. Or, as Norwich President Dr. Richard W. Schneider puts it, "to build bridges, and not tear them down."
Some Norwich professors are requiring their cadets to attend the conference, describing it as an opportunity for students to gain a better understanding of the war-torn region. Dart Thalman, professor of international relations and political science at the college, is one of them.
"Exposing students to more than just warfare is certainly part of our mission," he says. As a civilian educator working at a military academy, Thalman has a keen understanding of why outsiders may tend to view Norwich as a stronghold of trigger-happy future soldiers. "I understand, because if I had not come here to teach, I would have had the same disconnect," he says. But Thalman asserts that such preconceptions couldn't be further from the truth. "It isn't a school with a lot of redneck war mongers," he insists.
"I think that there isn't a sailor, soldier, airman or marine that I've met that doesn't love peace," agrees Schneider, a retired United States Coast Guard Reserve rear admiral. "We are American in character, but global in perspective."
Emily Guo, executive director for the peace academy, acknowledges cooperation between peace activists and military personnel may seem "counterintuitive," but believes the association works in favor of both groups. "In a lot of instances, we preach to the choir," says Guo, referring to typical VPA conferences, which are mostly attended by fellow members and other antiwar activists. "We'd like to extend our audience," she says. The Norwich conference will certainly do that.
Schneider believes the peace conference is a golden opportunity for his students to gain a new perception of the Middle East through peace education.
"A good understanding of the world makes you a better military officer," adds Thalman. "We understand that, and I think the military understands that."
But the scope of the conference goes beyond cooperation between VPA and Norwich. Schneider says he hopes it will encourage all Vermonters to get involved with the Middle East peace process at a grassroots level. That begins with understanding the complicated issues facing the region. Organizers intentionally kept the cost of the conference low - $50 - to encourage more Vermonters to attend. Schneider also hopes the central Vermont location of the Norwich campus will attract attendees from throughout the state.
Scheduled speakers include retired U.S. Ambassador Laurence Pope, State Department representatives Alina L. Romanowski and Laura Abrahams Schulz, Al Jazeera Television anchor David Marash and National U.S. Arab Chamber of Commerce representative David Hamod, among others. The conference, from October 5-7, also includes a viewing of the film Imagining Peace, and group discussions starting projects in the Middle East. For registration or info, contact the VPA at 454-8311, x 295, or email vpa@goddard.edu.