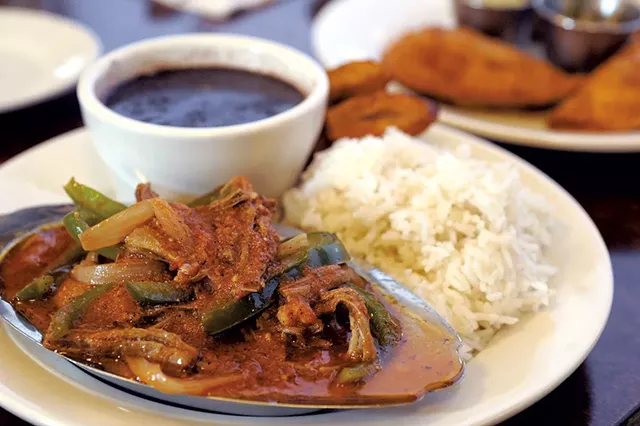 Jeb Wallace-brodeur
Ropa vieja
Most of the diners at Havana 802, a Cuban restaurant in Hardwick, are unfamiliar with the Caribbean island's food traditions. Some expect the fare to be hot and spicy. It's not, although it's redolent of garlic, bay leaves, oregano and citrus juices.
Others aren't sure how to eat the white rice and black beans that come with many of the main dishes. "We usually put the black beans on top of the white rice," says Monica Montero, who owns the restaurant with her husband, John. "But we don't want to force anybody to eat it the way that we do."
Havana 802 opened in October 2016 in the location formerly occupied by A Vermont Place and, earlier, by the fabled Claire's Restaurant and Bar. For the Monteros, the restaurant is an extension of the work they did when they lived in Miami. There, they still own a Cuban bakery and cafeteria, where they serve up guava-and-cream-cheese pastries, flan, and grilled-steak sandwiches with garnishes of cooked onions and crispy potato sticks. They have a robust catering operation, too.
Now settled in the tiny town of Walden, the Monteros hope to introduce Vermonters to the simple, hearty food with which they grew up. John was born in Cuba; when he was 4, his family immigrated to Florida. Monica, from a Cuban American family in Miami, had never left the city until 2013, when John convinced her to accompany him on a New England road trip.
The following year, they traveled around the Pacific Northwest. Having experienced new places, Monica soon asked John if he'd like to move, hoping he'd suggest relocating to Vermont. He did.
"Miami is so fast-paced, dog-eat-dog," John says. "Nobody cares about anybody but themselves." He sees Vermont as a more peaceful place to raise their two youngest children, ages 8 and 12. Monica echoes the sentiment: "I've never seen anybody rude up here. Everybody is so nice."
An accountant by trade and a food fanatic by avocation, Monica was excited to bring authentic Cuban dishes to her new home, adding her own spins. "Cuban recipes are super traditional; they're all the same no matter where you go," she says. "There are some flavors I like more than others, like garlic and thyme, so I enhance and play around with those."
Havana 802 opened right at the beginning of Vermont's "stick season," when trees were bare but before snow started to fly. It's the start of a slow time for restaurants that lasts until mud recedes in the spring, so the Monteros have kept a fairly tight rein on their menu. Still, diners have plenty of options, including exotica such as fried yucca with garlic-cilantro sauce, plantain chips, and cheesecake with a variety of tropical fruit sauces. The current menu boasts 15 entrées, including shrimp Creole and skirt steak with chimichurri sauce. As the weather warms, the Monteros will add daily specials such as oxtail, chicken fricassée and fried whole fish.
While Sunday brunch is also a couple of months down the road, lunch service is coming soon at the request of townspeople. "People keep asking and asking," John says. By the end of January, Havana 802 will offer midday meals consisting of sandwiches, salads, soups and all of the appetizers on the current dinner menu.
Jeb Wallace-brodeur
John and Monica Montero with their children Kaeden and Kearstyn
A sampler of the Monteros' dishes, eaten on a snowy Saturday night, proved homey and flavorful. Monica's penchant for garlic showed in the sauces that accompanied the empanadas — one order brings beef, chicken and ham-and-cheese varieties — and the churrasco steak. An avocado salad was made with ripe slices of the luscious fruit and slivers of onion, perfectly and simply dressed and seasoned with salt and pepper.
The restaurant, which seats 63, consists of two rooms on different levels. The upper level, long and skinny, houses the bar. Down a few stairs is the airy main dining room with high ceilings and a semi-open kitchen that lets diners watch the action. Monica and John worked in the kitchen and the front of house that night, respectively, aided by their young children and slightly older staffers.
While all appeared to be enjoying themselves, the Monteros can attest that running a restaurant in a rural area is not without challenges. Not only must they deal with the vagaries of weather and road conditions, but good help can be difficult to come by — a concern voiced by the restaurateurs who preceded them in the space. According to Monica, many applicants for restaurant jobs are high school students, who aren't available during the school day or allowed to serve alcohol.
Also tricky is sourcing Latin American ingredients, such as properly ripe plantains and Cuban beverages. For now, every six weeks or so, John heads to New Jersey to stock up.
Despite those difficulties, the Monteros are happy with the project of bringing Cuban flavors to their new community. "I think it's exciting," John says. "The kids love it here."
Vermont's agricultural community has reason to be interested in Cuba (see sidebar), and that engagement could inspire more locals to try the Monteros' fare, meet their family and trade stories. And if that leads to greater consumption of yucca, croquettes and Cuban sandwiches, all the better.
Cuba at NOFA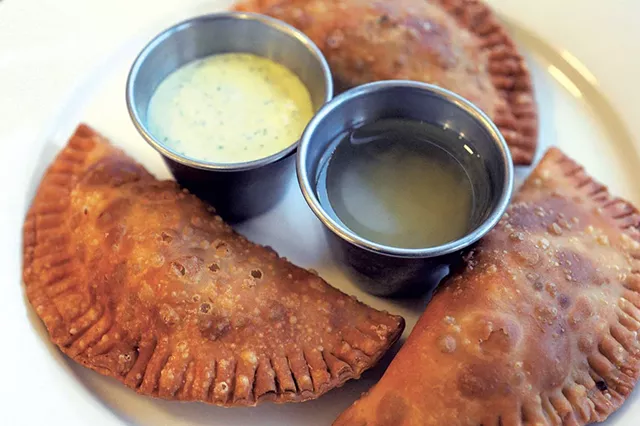 Jeb Wallace-brodeur
Empanadas
The newfound possibility of heading to Hardwick to spoon up ropa vieja — shredded flank steak in a tomato-based sauce — isn't the only reason folks from the Green Mountains should be curious about Cuba. As diplomatic relations between the Republic of Cuba and the U.S. have thawed, reducing restrictions on Americans who seek to visit the island, a robust cultural exchange has opened up between Vermont and Cuban farmers.
In February, at the annual winter conference of the Northeast Organic Farming Association of Vermont, one of the keynote speakers will be Fernando Funes Monzote, an agroecologist, researcher and farmer from Cuba. He and others will address the topic "Beyond Borders: Our Role in the Global Food Movement."
Mimi Arnstein, a Vermont farm consultant who leads dance trips to Cuba through her other business, Salsa Dancing Cuba, strongly recommended Funes Monzote as a speaker. Arnstein has been visiting the island regularly since 2009, when she first attended the biannual International Agroecology Conference sponsored by the Cuban National Association of Small Farmers.
At that event, "I got a lot of inspiration and perspective on the fact that sustainable agriculture is really a global movement," says Arnstein. "Farmers and producers are doing the same things all over the world, and we care about the same things ... We [Vermonters] have a lot to offer the world, and the world has a lot to offer us."
What's so special about farming in Cuba? As Arnstein explains it, something curious happened with the fall of the USSR. In 1991, when the Soviet Union dissolved, Cuba stopped receiving farm inputs, such as fertilizer and other soil amendments, from the motherland. Because of the trade embargo imposed by the U.S., Cuban farmers couldn't purchase those items from American companies, either. They had to learn to create sustainable systems to nourish and protect their soil. "It became a national imperative to grow food in a low-impact, sustainable way," Arnstein says.
She has continued to attend the IAC. In 2015, 17 other Vermont farmers accompanied her, exploring the tastes of Cuba as well as its food production methods.
Historically, the island's communist government has tolerated few private businesses, but economic reforms instituted in 1993 made it easier for citizens to become business owners. That led to the rise of the legal paladar, a term drawn from a Brazilian soap opera that refers to a restaurant located inside a home. Some of these paladares serve simple food to locals, while others are geared more toward tourists. Arnstein likes to frequent both. "The food is good; it's high quality," she says. "Some are really quite gourmet. Some have beautiful views."
Most valuable, she suggests, is the cultural exchange that happens when people dine together. "It's an opportunity for two populations to be talking to each other, exchanging information, exchanging ideas," Arnstein says. "That's the essence of travel."