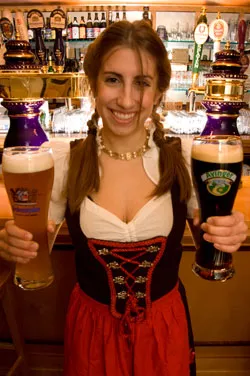 Matthew Thorsen
Kate Accomando
Let's face it, restaurants hardly ever open when their owners say they will. Whether the obstacle is the vagaries of liquor licensing, trouble with contractors or run-of-the-mill "staffing issues," food entrepreneurs have trouble sticking with a schedule. Savvy diners who hear that an exciting eatery will start dishing up dinner in May generally put a visit on their calendar for July.
In the Burlington area, no restaurant has had a more unusual opening trajectory than Das Bierhaus. The bar and restaurant is located on lower Church Street, where the beloved Five Spice Café used to be. After a January 2007 fire shut down the narrow pan-Asian hot spot, the space remained empty. So, in March 2009, when a website popped up announcing the arrival of a German eatery and beer garden, Vermont foodies took notice. The projected opening date for the ambitious project? Some time that June.
The Das Bierhaus buzz was instantaneous and fervent. The business' Facebook page quickly garnered more than 1000 followers, and no discussion of the Burlington food scene seemed complete without a mention of the proposed rooftop beer garden and the possibility of crispy schnitzel. But, come December, there was still no hefeweizen or wurst to be seen.
Finally, midmonth, the restaurant began a series of soft openings for Facebook fans. In late January, regular hours were announced — Das Bierhaus begins serving at 5 p.m., Wednesday through Saturday. Sometimes it's open on other days; sometimes it's not.
When it is, patrons enter through a side door and choose between sitting upstairs in the bustling, Swiss-chalet-style tavern — where they can watch international sporting events on flat-screen TVs — and downstairs in the petite, dark-paneled dining room complete with a cuckoo clock behind the bar.
The list of brews on tap, ranging from delicate Reissdorf Kölsch to intense Ayinger Celebrator, could inspire Teutonic beer connoisseurs to a hearty toast. Those who want greater variety can swig from more than 30 imported and domestic bottles. Glühwein, a sweet red wine laced with cinnamon, cloves and vanilla, is the perfect sip for a cold winter evening.
Compared with the drink list, the food menu is clearly still in development. It includes three kinds of schnitzel — pork, veal and chicken — a handful of traditional sausages and a slew of sides.
On a soft-opening visit last month, I found several of the dishes needing work. Noodles were overcooked and undersalted, and a wurst plate arrived without mustard.
But on a subsequent visit last week, the fare was much better executed. Tiny shreds of homemade spätzle, soft but not mushy, were sprinkled with dill and a trio of cheeses. Potato salad — available warm or cold — featured a bracing dose of vinegar and bits of bacon.
High-quality traditional sausages, such as delicate bockwurst and smoky knackwurst, come in pairs for $7. Dijon mustard, spicy brown mustard and horseradish are available on the side, and curry sauce costs an extra $2. On my first visit, a friend of Indian descent opined that the flavorsome condiment was "better than the Indian food" available at area restaurants. Sad to say, though, none of the more traditional sauerkraut is yet in evidence.
Although it comes with a side dish, the schnitzel seems a touch pricey at $17 to $19, depending on choice of meat. (If that meat is organic or local, the menu has nothing to say about it). While the pork schnitzel was nice and crispy on the outside, it could have been more tender and juicy in the middle.
Accompanying sides run $4 to $6. The healthiest one, Haus Salad, is a simple yet enticing combo of toasted almonds, Locatelli Romano cheese and greens, drizzled with sweet, maple-laced vinaigrette. Massive salt-laden pretzels are available, too.
In addition to the plethora of sausages, the excellent beer selection and the hourly chiming of the cuckoo clock, Das Bierhaus has another notable attribute: Female staffers wear dirndls. The fitted dress is traditional garb in parts of Eastern Europe, where it comes in plenty of styles, including high-necked ones modest enough for a nun. The dirndls at Das Bierhaus are a bit more revealing. Regardless of one's sexual orientation, it's hard to watch a server approach without recalling an English equivalent to the German phrase "Sie hat Holz vor der Hütte," the traditional compliment for a buxom fräulein. (It literally means "She has wood in front of her hut.") Question is, when will male staffers start wearing fitted lederhosen?
Attire aside, the servers are thoughtful, prompt and willing to seek out information when they don't already know the answers to patrons' questions.
Until more German dishes appear on the menu, I'll probably stick with wurst plates paired with potato salad or greens, washed down with pints of incredible German beer. Both my experiences were enjoyable, and knowing that Das Bierhaus is still expanding its menu in expectation of its grand opening, I'm convinced the best is yet to come.
Das Bierhaus may have let one Oktoberfest pass without opening its doors, but come the next one, they'll be ready.