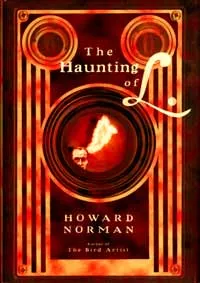 A snapshot of photography in the 1920s: Ernst Leitz introduces the first 35mm Leica camera. George Eastman, of Eastman Kodak fame, goes on safari to Africa. General Electric invents the flashbulb. The spirits of dead Eskimos are captured on film as they drift up to heaven.
One of these developments is the work of an eccentric shutterbug in novelist Howard Norman's new book, The Haunting of L. Bet you can guess which one.
Set in mid-'20s Canada, The Haunting of L. is told from the viewpoint of Peter Duvett, a Londoner lately of Halifax, Nova Scotia, who leaves his newspaper darkroom job to become assistant to portraitist Vienna Linn in the blustery outpost of Churchill, Man-itoba. Problem is, portraits are not all that Linn aims to shoot. He and his wife, the free-spirited Kala Murie, are on the run from one of Linn's clients, the enigmatic and dangerous Radin Heur.
Linn's wealthy patron has a taste for photographs of wrecks — train wrecks, plane wrecks, any wreck so long as there's plenty of death and destruction. One can hardly call them "accidents," though. In the course of arranging just such a "photo op" in Montréal, all did not go as planned. At the start of the book, Linn is in arrears to Heur for failure to deliver the goods.
The "haunting" of the book's title refers to the torment individuals experience upon seeing "uninvited guests" — spirits of the deceased — in photographs. Estranged family members, secret lovers and other souls wracked by "devastating loneliness," as Murie explains to Duvett, are among the unexpected subjects of what became known in the 19th century as "spirit photography."
Murie has educated herself extensively on the subject, inspired by Miss Georgianna Houghton's seminal 1882 text, The Unclad Spirit. As Murie and Linn have traveled the world on Linn's nefarious photographic errands, she has performed "dramatic presentations" on spirit photography for audiences comprising spiritualists, hecklers, folks who have lost loved ones, curious Eskimos — anyone who will listen.
Duvett counts himself among the skeptics, but he is sure that he's falling in love with his employer's wife. Linn is no more a believer than his assistant, but he knows that Heur buys the whole spirit-photography deal — maybe literally. Hence the rising Eskimo spirits — or, as Duvett captions the image, "Esquimaux Souls Risen from Aeroplane Wreck" — a scheme Linn hatches to pay back his patron.
What else is wrong with this picture? Duvett's affair with Murie is going on right under Linn's nose, and Linn knows it. All three main characters are ensnared in a moral tangle that the plot of The Haunting of L. seeks to untie.
The novel's eccentric personalities, northern locales and moral conflicts will strike a familiar chord with fans of Norman's two previous novels in the "Canadian trilogy" — The Bird Artist and The Museum Guard. But like spirit photography, The Haunting of L. requires a willing suspension of disbelief. Its mystery is, on the whole, fairly superficial. What promises to be a kind of Jazz Age Canadian Gothic is more a rogues' gallery of curious obsessions, animated by contrived plot turns and images.
The Haunting of L. is certainly rich with oddballs, a Howard Norman hallmark, but none of the characters is developed in much depth. Linn is a brooding, menacing presence of a volatile sort — a highly intelligent criminal now cornered like a wild animal. Murie, by contrast, flits about airily, almost nymphlike; she's a sensualist with one foot already in the spirit world. What motivates their idiosyncratic proclivities, however, is quite vague. So is the matter of why the two got together in the first place. The question is significant, given that Murie seduces Duvett on his first night on the job.
For his part, Duvett appears rather hapless for the first half of the novel — "one who is acted upon," as Miss Houghton might have described him. While his reason for answering Linn's ad ultimately develops into an engrossing subplot, little suspense surrounds his past until much later in the story.
Some of the minor characters bring comedy to this peculiar mystery. The surly bellhop Samuel Brant adds to the chilly atmosphere at the Churchill Hotel. Pilot Driscoll Petchey could have walked off the set of "Northern Exposure," but his down-to-earth demeanor is a welcome contrast to the hotel guests' polite repartee. Freddy Sorrel, son of the Haliburton House Inn proprietors in Halifax, is convinced that he's a dangerous man — and routinely shows up at the local police station to confess to crimes he has not committed. As a waiter, his tableside manner leaves much to be desired, but he provides comic relief to the main characters' otherwise tense residence.
Strong personalities in close quarters heighten the drama in The Haunting of L. Duvett is especially cramped, as he is forced to work in a darkroom with an exacting, threatening boss. Readers don't necessarily feel this claustrophobia but are instead repaired to this strange, treacherous — but not uninviting — universe of Linn's creation. Author and playwright David Mamet, a summer neighbor of the author in Central Vermont, has praised the "insistent otherness" in his work — a sense of a world within the world.
Duvett also makes note of this quality in his own world: "On certain days and nights, Halifax at large just seemed blocked out," he says. "The Haliburton House Inn, for better or worse — often worse — contained world enough." While the dark forces at work outside this microcosm are not mined to much effect, escaping into the time and place of these grand but half-empty hotels is enjoyable — like the voyage aboard The Titanic before the ship reached the iceberg.
The unsavory activities taking place under these roofs eventually give The Haunting of L. plot momentum in the last of its destinations, Halifax. As Linn curries favor with the local police — he shoots a full roster of their portraits — his villainous potential grows stronger. So does his own "haunting," however — loosening his grip on reality — which leads to a most unpredictable climax and one more catastrophic photograph.
These contrivances in The Haunting of L. are at times unconvincing. The work leaves a lasting impression, but its mysteries will be most compelling to those who already believe: Norman's gathering fan base. Readers who approach this work with a more skeptical eye may find it a bit out of focus.