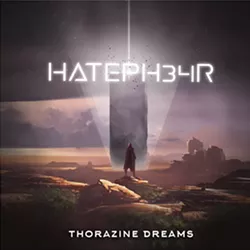 HatePH34R, Thorazine Dreams
(Self-released, CD, digital download)
New Hampshire artist HatePH34R — pronounced "Hate Fear"— brings something seldom heard in these parts with his debut EP, Thorazine Dreams: rap metal. If you're thinking of Rage Against the Machine or Limp Bizkit, this is a very different animal. HatePH34R, also known as Barre expat Jesse Gardner, is a former heavy-metal musician who has gravitated toward hip-hop. The results are big and weird.
Gardner's brand of songwriting is pure catharsis confessional, more influenced by indie rappers such as Cage than Rakim or Kool G Rap. His subject matter orbits death, drugs and that most constant muse: lost love. Despite his menacing pseudonym, HatePH34R is also a pretty quiet guy. Throughout Thorazine Dreams, his performances are oddly muted for a rapper.
After the instrumental collage "Police State," HatePH34R makes his entrance on the second cut, "Not Alone." His vocals are mixed low and so drenched in reverb it's hard to work out the lyrics without his helpful transcriptions. Unfortunately, "Not Alone" also features a guest verse from Seattle rapper Sadistik, whose energetic, effortless performance creates a brutal, unflattering contrast from which the EP never quite recovers.
The EP's beats run toward electronica instead of power chords, which makes for an interesting sonic ride. The best tracks are courtesy of Seattle producer S.A.T. — short for "Space Age Technology." He contributed "Thorazine Dreams" and "Above the Waves," two tracks on which the HatePH34R formula really works.
Those cuts also make it clear that Sadistik's last few albums have been a major influence on HatePH34R's sound. His cadence, the imagery and the hooks all have the same unmistakable fingerprint. Yet Sadistik is a far better writer and performer, having honed his chops alongside underground legends such as Eyedea and Kristoff Krane.
Of course, HatePH34R has a broader base of influences than his favorite emcee, and Thorazine Dreams is not all rap. "Low Grind" is a jarring turn into synth-pop territory, sounding almost '80s New Wave before it washes out into a wall of Ministry-style industrial noise. He's an artist willing to go wherever the muse takes him, but on a six-song EP, there's not enough elbow room for experiments.
All told, Thorazine Dreams stands as proof that HatePH34R can put together an unholy ruckus. It also spotlights the fact that he needs to improve on the mic. Then again, maybe not — 2017 has room for all kinds of oddball, outsider hip-hop. Indeed, HatePH34R's emo-rap claustrophobia is strongly reminiscent of Swedish internet phenom Yung Lean, another rapper who often gets outshined by his beats.
Still, it's obvious that HatePH34R wants to be taken seriously as a lyricist. So, while he needs to evolve, he's at least got a solid foundation. The man is nothing if not honest, and his vision will surely find an audience.
Writing rap lyrics is every bit as technically demanding as a guitar solo, though, and just as difficult to fake. Gardner simply needs to spend more time practicing before he'll be able to really shred.
Thorazine Dreams by HatePH34R is available at hateph34r.bandcamp.com.