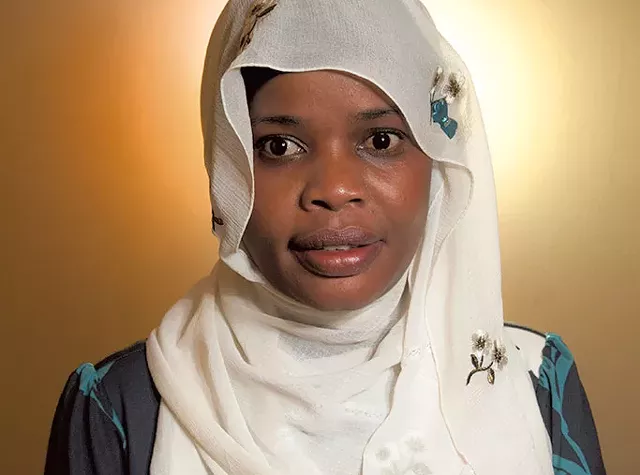 Matthew Thorsen
Fatuma Bulle
On April 26 at about 4 p.m., Fatuma Bulle faced what she describes as the most frightening moment of her life. The Somali Bantu woman and her son, Ahmed, were walking on Burlington's North Champlain Street when a Caucasian man yelled to them, "Go home! Go home!"
Bulle ignored Michael Kochalian, but he continued to taunt her and called her a "terrorist," she later told police. Bulle, who is black and wears a head scarf in keeping with Islamic tradition, stood up to him.
"What is your problem?" she asked.
Kochalian started running toward her. She thought she saw him brandish a gun as he bellowed, "You're my problem."
Bulle remembered thinking, "Oh, my God, if I were to die right now, what would happen to my son?"
It wasn't Bulle's first life-threatening encounter. She was shot in her right arm during the civil war in Somalia. In the Kenyan refugee camp where she lived for almost a decade, she feared getting raped every time she went to collect firewood. She defied elders in her community when she divorced her abusive husband seven years ago. Still, she called the Old North End confrontation her "worst challenge" because she believed Ahmed's life was in danger.
The 7-year-old screamed and hid behind his mother while she extended her arms to shield him. The scene attracted onlookers, but no one intervened until a black man approached. "She's a mother. Stay away from her," the unidentified man told Kochalian. Bulle believes the stranger saved both her and her son.
The Huffington Post listed the Burlington incident on its "Islamophobia" tracker, which recorded 124 hostile acts against American Muslims and those perceived to be Muslims between January and April this year. But Bulle is not just a statistic. She has broken out of the patriarchal confines of her Somali Bantu community to become a leader. She draws on her own experience to advocate for underserved groups, especially women whose children have disabilities.
"She's a very empathetic, sympathetic person who has concern for her whole community — and especially of women in it," said Sandy Baird, Bulle's friend and former college professor. "It comes from, maybe, her idea that there's a mission that's greater than herself."
At Burlington College, Bulle organized a panel discussion in which four Muslim women talked about their experiences wearing the head scarf in the Burlington area. As an employee at the Vermont Family Network, she promotes cross-cultural understanding between service providers and New American families. She encourages Somali families to engage with other communities — and Muslim mothers to sign their daughters up for swimming lessons.
Bulle said that being alive sometimes feels like a "miracle," considering what she's been through. Whenever she faces an obstacle, she's reminded of how far she's come since leaving Somalia and Kenya. "My heart told me, 'You survived there, you survived there. Think about it,'" she said. Her own experience with adversity motivates Bulle to help others. "I know how it feels," she said.
Out of Mogadishu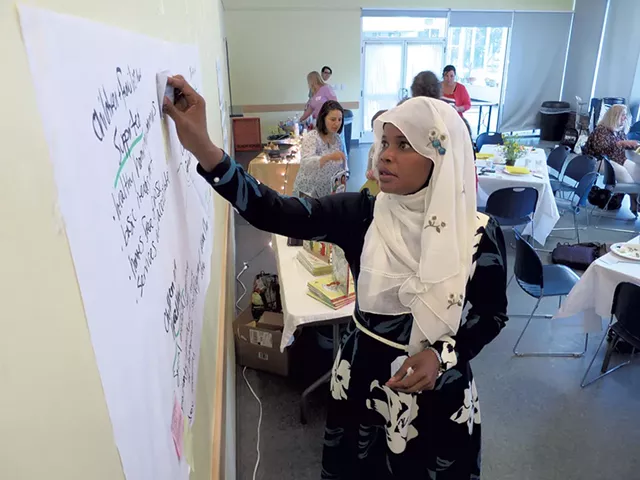 Matthew Thorsen
Fatuma Bulle
Floral paintings and decorative plates adorn the walls of the small living room in Bulle's two-bedroom Winooski apartment. On the sofa are her Burlington College degree and graduation gown. A sewing machine sits on the floor.
At home, Bulle wears the long, colorful, loose-fitting dresses favored by Somali women and keeps her hair in a turban. When she goes out, she rarely opts for the slip-on head scarf favored by older women from her community, choosing instead to style her own wrap. She alters knee-length dresses from Macy's into long skirts and tops them off with cardigans, rings and bangles. Like other Somali women, she never wears pants. Bulle, who was once spotted by a model scout, dreams of opening her own clothing store one day.
Her creative approach to fashion doesn't suggest that Bulle is a less devout Muslim. She interrupts her work or leaves a public meeting to pray five times a day, as required. The same rules apply to her son. Bulle insists that Ahmed read the Koran — her motto: "No Koran, no games" — and reminds him when to worship. Tall and serious, Bulle can seem fierce until she laughs, revealing a perfect smile. That's what happens when she recalls how Ahmed once gave her a back massage before asking if he could have another hour on her laptop.
As strong and capable as Bulle appears, though, there's something fragile about the single Somali mom. She keeps the living room curtains drawn and is afraid to undergo surgery to remove a bullet that has been lodged in her arm since the early 1990s. She said it would be different if her own mother were around to take care of her.
When she arrived in Vermont in 2004 with a group of Somali Bantu refugees, Bulle was a rarity, the only single woman without a family. She didn't know her age — according to U.S. documents, she's now 37, but Bulle believes her age is closer to 30 — because she got separated from her parents in the chaos of the Somali civil war. She was living with neighbors when she got caught in the crossfire.
Although her memory of the Mogadishu firefight is hazy, Bulle said she remembers asking for water after she got shot and hearing soldiers — presumably Americans — speaking a then-unfamiliar language. As an adult, she thought she recognized the skirmish in which she was injured while watching the movie Black Hawk Down.
Clearer is her recollection of the long walk from Mogadishu to Kakuma Refugee Camp in northwestern Kenya. "Some people died. Some people couldn't walk because of [the] long, long journey," she recalled. The camp wasn't safe for women because sexual assaults were common. "You don't have firewood. You have to go to the forest, and you never know if you're going to be raped," she said. There was never enough food. "Maybe tomorrow, one time, you will eat, and then all day, you will stay hungry."
Although Bulle never had any formal education in Mogadishu, she got the opportunity to attend a private school in the Kenyan capital, Nairobi. That's where she learned English. After nearly a decade as an expat in Africa, she was included in a large group of Somali Bantu refugees resettled in the U.S. By that time she could speak four languages: English, Maay Maay, Somali and Swahili.
For the first couple of months in Vermont, Bulle stayed with Megan and Michael Wenrich in Burlington. Megan remembers Bulle waking up early on winter days and gulping down a hot cup of coffee before setting off to catch the bus to her job as an interpreter at the Vermont Refugee Resettlement Program. As Bulle acclimatized to her new environment, she never complained about the cold weather or the stresses of adjusting to a new culture. "I was just amazed," Wenrich said in a phone interview from Florida, where she and her husband now live. She remembers Bulle as someone who "cares very much for family, honesty [and] hard work."
By 2007, Bulle felt ready to start her own family; she didn't want to be alone any longer. She married a Somali man she had known in the refugee camp, and he moved from Chicago to live with her in Vermont. But "life is full of surprises," Bulle said. Her husband turned out to be abusive.
"I remember a night ... my child's father was going to kill me with a pillow," she said. To calm him down, "I said 'I love you,' and then he let me go," she said in a steady voice, as her eyes welled up. "He told me that if I told anybody, I'm not going to be alive."
It's rare in Somali Bantu culture for a woman to divorce her husband, Bulle said, so there was little support from her community. She tried to leave her husband because she didn't want her son to grow up in an unhealthy environment, but for months the elders dissuaded her from doing so, urging her to be patient.
"They wouldn't let me do it. They stopped me many, many times," she said. "They are men. Men always side with the men. They don't listen to women." Her husband eventually agreed to a divorce to avoid a criminal charge after she reported him to the police for domestic abuse.
"Some people may look at her as someone who isn't respectful to the culture [because] she chose to leave her marital home," Thato Ratsebe, a female friend, said. "But over time, people have learned that, in fact, she made the best choices." Many victims of domestic violence wish they were as strong as Bulle, but "they just don't have the strength to stand up for themselves or step out," Ratsebe said.
Sink or Swim
Matthew Thorsen
Fatuma Bulle
The parking lot of the St. Joseph Catholic School was crowded on a scorching Saturday morning last month for New American Safety Day, a project of the University of Vermont Children's Hospital. Drivers waited in line for their vehicles to be outfitted with free car seats. Service providers set up booths in a nearby green space. The Vermont Family Network had a table, but Bulle stood with staffers from the Greater Burlington YMCA.
Two Somali girls approached the YMCA's table, and Bulle zeroed in on them. "Do you want to sign up for swimming?" The pair nodded. A YMCA employee sized up the teens, wrote down their names on her clipboard, and showed them a picture of the full-body swimming suit and head covering that Bulle had recommended to the organizers.
As more Somali families made their way to the table, Bulle greeted them and urged them to sign their children up for swimming lessons during the summer vacation. She pulled out the picture of the swim attire again to assure parents that their daughters would get culturally appropriate swimming suits. By 1 p.m., the crowd had thinned and activities at the booths were winding down. But Bulle stepped up her recruitment effort by looking for more families in the parking lot.
Bulle said that swimming is a way for Somali girls to be active, get out of their house and have fun. "It's good for their body. It's important for health," said Bulle, who enjoyed swimming in the Indian Ocean off the coast of Kenya.
Besides helping her community integrate into mainstream society without forsaking their religious obligations, Bulle promotes wider cross-cultural relations. She used the March forum at Burlington College to educate others on why Muslim women wear a head covering and why it's their right to do so. "We are part of this country. And we have the same rights," she said. As a result of that forum, Bulle has been invited to speak at churches and the Winooski School District.
"To put yourself on the line, I think, given the current climate, is very courageous," said Baird, who attended the event at Burlington College.
The breadth of Bulle's advocacy work suggests that she understands how various communities are connected. She joined a Black Lives Matter rally in St. Albans to protest against racism in schools. She helped the Janet S. Munt Family Room — where she worked as an AmeriCorps member — raise money to stay open. She and Baird organized local events for International Women's Day. Bulle has also volunteered at the Chittenden Emergency Food Shelf and the Committee on Temporary Shelter.
But the work closest to her heart is with children with disabilities, because, frankly, it's personal.
When she worked as a medical interpreter, Bulle saw how refugee parents resisted any suggestion that their son or daughter might have a disability. "Parents say no; doctors say yes," she said. Some parents believe the condition will go away. Others view it as karmic. Others don't understand the system or how to get help. "They don't want people to know they have a child with a disability. That's why they hide," she said.
As a member of the family support staff at VFN, Bulle connects children with special needs to the professionals who can help them. In her first month on the job, Bulle brought 10 kids with disabilities to VFN. After six months, the number was up to 100.
"She holds providers accountable and calls the system on things that do not work well for diverse families and children with disabilities, making recommendations for changes that families think will be helpful," VFN president Pam McCarthy wrote in an email.
That includes her own. Ahmed has a disability, and while Bulle said she doesn't view it as a stigma, she declined to identify what it is. She said she doesn't want to give her son's bullies any more ammo.
That some of Ahmed's tormenters turned out to be fellow Somali kids from their own housing complex was particularly painful for Bulle — in fact, some of her fellow tenants are relatives. When she complained to the parents, she said they responded: "'Oh, my son doesn't listen to me.'"
Ahmed's teachers and program mentors at Winooski's JFK Elementary were more responsive. As a result of Bulle's intervention, his bullies were suspended from a special program for three weeks and warned to stay away from her son. These days, Ahmed takes the bus to school so that he arrives just in time for class. He eats lunch with his teacher.
'It Hurts My Feeling'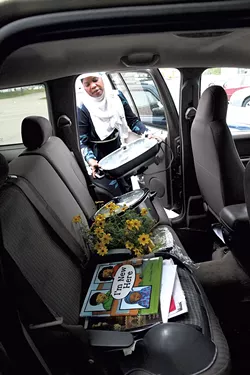 Matthew Thorsen
Fatuma Bulle
Nothing Bulle has experienced in the U.S., including Ahmed's struggles, could have prepared her for Kochalian. A few hours after the incident on North Champlain Street, the police identified and arrested him at his home on Murray Street. They didn't find any weapon. A witness, Susan Loyer, said Kochalian was carrying a black plastic bag, but Bulle insisted that Kochalian had a gun. Regardless, the incident triggered memories of her previous traumatic incidents. She continues to suffer from the effects of these experiences, including sleepless nights, the dull ache in her injured right arm and the fear that someone might break into her house.
In his affidavit, Burlington Police Officer Derek Hodges wrote, "Based on the current political and social climate, I believe that Kochalian's statement about Bulle being a terrorist was based on Bulle's race, ethnicity or religion." As a result, Kochalian, who has an extensive criminal history in Vermont, was charged with aggravated disorderly conduct with a hate crime enhancement. As of June 6, he was being held at the Brattleboro Retreat, where he's undergone an inpatient evaluation and been declared incompetent to stand trial.
Bulle has tried to put the incident behind her, and she continues to visit the Old North End. But recently she had a similar experience in Williston, where someone outside the Hannaford supermarket called her a "terrorist." This time, she simply walked away. "People judge me without knowing me first," she said, adding, "It hurts my feeling."
Even within the safe confines of the mosque that she attends, Bulle said she faces discrimination based on her skin color. Bulle doesn't hesitate to clean the toilets of the mosque if she happens to find them in need of attention. But that willingness has led other, lighter-skinned Muslims to assume she'd work as a house cleaner. They've offered her jobs. Her reaction: "I've never been a maid my entire life. Why would I be a maid in America?"
Besides the dream of opening her own dress shop, Bulle is considering a master's degree program in mental health so she can one day open her own counseling clinic.
It couldn't be as hard as getting her undergraduate degree turned out to be. Bulle had to quit her job as an interpreter and find a new one because her working hours weren't flexible enough to allow her to return to school. At one point, she was so broke she couldn't afford to buy diapers for her son. She remembers crying in her car because she couldn't find childcare while she attended classes at Champlain College. In 2012, she transferred to Burlington College because she was allowed take Ahmed, who was then 3, to class with her.
Bulle values education in part because her mother benefited from it. It's easy to imagine the elder Bulle, with whom Fatuma reunited in Africa six years ago, posing the same rhetorical question to young women that her daughter does: "Don't they want to achieve their goals and succeed?"
Bulle said she was encouraged to run for mayor in the city of Winooski. But she has grander ambitions. She's interested in changing the face of Vermont politics. As the state becomes more ethnically diverse, Bulle thinks it's important for minority women, Somali and Muslims to have political representation. "I want to see myself at the Statehouse," she said.
Cover Girls
About a year ago, when I was a journalism student at Columbia University in New York City, a mentor had some advice for me. I don't remember her exact words, but the message was clear: It would be difficult for me to find a reporting job in the U.S. because my head scarf would make me stand out too much.
The head scarf, which Westerners refer to as a hijab, is an object of interest and mystery to many Americans. "What's that thing on your head?" "Are you bald?" "Can I take a peek?" "Do you wear your scarf when you shower?" "Do you wear it when you're at home?" These are some of the questions asked of Muslim women. I've gotten some of them myself.
Hijab means "barrier" in Arabic and is part of the Islamic concept of modesty. The head scarf, which observant Muslim women generally wear in public, is just one of its manifestations.
I choose to wear the hijab because it's a symbol of my commitment to my beliefs. As Fatuma Bulle said during her thesis presentation at Burlington College, religious dress is not unique to Islam. Statues of the Virgin Mary always have a head covering. It's not uncommon for Christian women to wear hats when they go to church.
Whether the anti-Islamic rhetoric is in reaction to bombings in Brussels or last weekend's mass shooting in Orlando, Muslim women who wear the head scarf are easily identifiable and thus more susceptible to unwelcome attention.
In the past few months, I've heard insensitive remarks about mine. Since I'm from Singapore, where 14 percent of the population is Muslim, I don't go about my day expecting such comments. When I do get them, I'm caught off guard. For example, a source once assumed I was an English Language Learner student because those were the only Muslim women with whom she interacted. Another time, a colleague used my "otherness" to explain why his dog started barking at me. A different one said September 11 wasn't a good day to wear the head scarf. It's hurtful to be associated with a group of murderers who acted against Islamic values.
But there is reason to be optimistic. First of all, that I have colleagues at all proves my mentor was wrong; I've been on staff at Seven Days for a year now. I think my fellow reporters realize that my head scarf does not prevent me from having a personality, ambitions and opinions.
Noor Traina feels the same way. Last month, VTDigger.org published "Being a Muslim American Woman," a commentary that she wrote for a class at the Community College of Vermont. "As an American belonging to a religious minority, I ask my audience to treat that Muslim neighbor, employee, or classmate as one of their own," the 16-year-old college freshman wrote.
"Next time you meet a Muslim, ask them how the weather is, what motivates them, and how they find joy. In their response, you might find greater similarities than you might have imagined," Traina continued in her written piece.
"It's important for Muslim women to have relations with non-Muslims, because that will help normalize who we are in society," the California native told me. She hopes to start a blog on Muslim American women and their contributions and achievements after she moves to Boston this summer.
Feyza Basoglu, a child and adolescent psychiatrist, said she has never felt uncomfortable at work. "I've been blessed, almost in a privileged way," the 40-year-old said. Her colleagues have been trained to accept people from diverse cultures. Turkish-born Basoglu sometimes hears stories of a Muslim "being given the middle finger," but generally, "there are more good stories than bad stories."
Not everyone has the opportunity to educate others and overturn stereotypes. I learned from other Muslim women in Vermont that they've been called derogatory names by passing strangers.
Zahra Mohamed, 20, remembers walking home from sports practice two years ago when a motorist yelled, "Go back home. We don't want you here." The Winooski resident said a fellow student once asked her, "Why are you wearing curtains on your head?" She tried to explain to him, but he wasn't interested, she said.
Sometimes, the head scarf can be a psychological barrier between people, said Lule Aden. When the 19-year-old started her freshman year at the University of Vermont, she felt isolated. Her classmates hardly talked to her. I cannot survive this campus, she remembered thinking. She considered transferring to another college.
But for a week, Aden carried out an experiment. She tucked her hair up in a turban similar to the head wrap that black American women wear. "It did allow me to pass as an African American and not a Muslim right away," she said. She noticed her classmates were friendlier. "I felt like another student. I felt like I fit," the Somali said.
None of the Muslim women I spoke to faced anything like the alleged hate crime directed at Bulle in April in Burlington's Old North End. But they do witness occasional discrimination. Since Jennifer Billings of Colchester started wearing the head scarf three years ago, she noticed that she's subject to searches whenever she takes the ferry to New York. The trunk of her car has been inspected six times since she converted to Islam.
Nothing similar has befallen her in the realm of housing or employment, according to 50-year-old Billings, a para-educator and former Army brat who characterized Vermonters as "genuinely accepting and welcoming."
But it's possible Muslim women wouldn't even know when they're being victimized, according to Rachel Batterson, director of Vermont Legal Aid's Housing Discrimination Law Project. "Most people don't come out to say, 'I don't want to rent to you because you're Muslim.' People are educated enough to know they're not supposed to say that, even if they're thinking it," Batterson said, noting that Muslim women who wear the head scarf, are black and have a foreign accent are among the most vulnerable.
Some young Muslim women in Vermont are trying to transform public perceptions — most notably, a quartet of slam poets who call themselves Muslim Girls Making Change. The team is preparing for the Brave New Voices International Youth Poetry Slam Festival, a conference and competition for youth, in Washington, D.C. The inspiration for most of their poems comes from their experiences as young American Muslims juggling multiple identities and expectations.
Hawa Adam, who just finished her sophomore year at Burlington High School, said the inspiration for her solo piece, "Balance Beam," comes from being black and a Muslim. "It's hard enough being one color, one person, one identity, imagine being two ... This is a young girl telling you that her life isn't Hannah Montana, it's not the best of both worlds," her poem reads.
These days, it's harder being black than Muslim, the 16-year-old said. When she was a freshman at South Burlington High School, she was teased about her skin color. Whenever the lights were dimmed during class, a couple of students would say, "Oh, we can't see Hawa. Where are you, Hawa?" she recalled. She ignored or laughed along with them as a coping mechanism. But she was annoyed and felt hurt. "I thought we had passed this point. I guess it's still there," she said.
The experience of black Muslims is an issue that's being increasingly discussed in Muslim communities. Although Islam preaches equality, racial divisions remain a grim reality. Aden noticed that African women at the Islamic Society of Vermont's mosque in Colchester are often tasked with babysitting and cleaning duties. "It's very low-key, and it's not happening to other minority groups," she said. The African women continue to do these jobs because they want to be involved in community events. "Hearing comments like, 'If you ever need a babysitter or your house cleaned, just call one of the Somalis' used so lightly in discussions among the women is very disturbing," Aden said.
The Muslim women with whom I spoke are trying to work and get an education, while taking care of their families in the best way they can. As the slam poets say in their breakout poem, "Wake Up, America": "We are the advocates, award winners, the bilinguals ... We are the 4.0 students, honor roll students, the star athletes — but we are also the misunderstood."