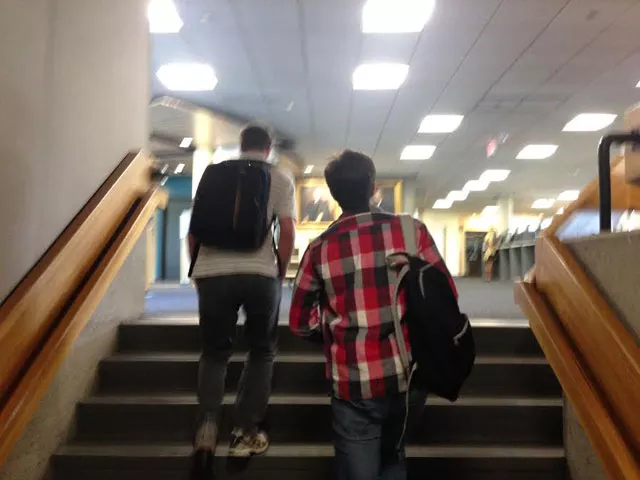 Paul Heintz
The two mystery men pictured leaving Bailey/Howe Library last Thursday afternoon
Librarians at the University of Vermont's special collections say interest is spiking in the "Bernard Sanders papers" — 30 boxes of meticulously organized material documenting Sanders' eight years as mayor of Burlington.
That should come as no surprise, given the independent senator's rapid rise in the polls in New Hampshire and Iowa, which hold the nation's first presidential nominating contests.
Media outlets, such as the Guardian, have drilled deep into the archives and unearthed tasty tidbits — but they're not the only ones interested in getting to know the senator.
Last Thursday, two casually dressed twentysomethings were spotted combing through the Sanders files and decades-old Vermont newspapers. As they were on their way out the door at the end of the day, Seven Days asked what they were doing.
"No comment," said one of the young men, dressed in a T-shirt and flannel. "No comment."
As they emerged into the sunlight outside Bailey/Howe Library, Seven Days pressed again: "Come on! We're all doing the same thing."
"No, we're not," Flannel Man shot back.
"We're just looking," said the other one, dressed in a white shirt with black stripes.
"Looking at what?"
"Old newspapers," Stripy said. "Vermont history."
So who were these mysterious characters? Opposition researchers working for one of Sanders' rivals? Earlier that day a super PAC supporting former Maryland governor Martin O'Malley launched the first negative ad of the race targeting Sanders.
Asked if Team O'Malley had dispatched Flannel Man and Stripy to Burlington, campaign spokeswoman Lis Smith said, "We have not, and they are not affiliated with our campaign."
But wait! Here's a clue: That T-shirt Flannel Man was wearing? It read, "New Hampshire for Jeanne Shaheen."
Earlier this year, Hillary Clinton absorbed much of Shaheen's political operation to run her Granite State campaign: state director Mike Vlacich, senior political aide Kari Thurman and spokesman Harrell Kirstein.
Asked if Flannel Man and Stripy belonged to Team Clinton, Kirstein did not respond.
Welcome to Burlington, Hillary. Next time, tell your people to leave their Shaheen shirts at home.
Updated July 2, 2015, at 10:12 a.m.: The Clinton camp now says it wasn't involved. In an email to Seven Days, Kirstein writes, "It wasn't us."