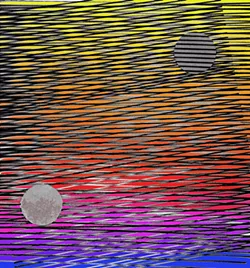 (Como Tapes, cassette, digital download)
Some things that went through my mind as I listened to Transparency, the recently released split record from Burlington-based experimental composers Harvey Bigman and Sci-Fi:
I'm scared.
Is that a ... duck call?
I need to change my laundry over, but I'm not sure I should go to the basement alone.
The only thing creepier than carnival music is carnival music slowed down and detuned.
Braaaaaaaaaains.
Seriously, was that a duck call?
Transparency is the second of two local releases from experimental label Como Tapes, which was founded in New Jersey last year but recently set up shop in Burlington. The other release is Wand, by local electronic composer Amelia Devoid, which was reviewed in these pages last week. If the kaleidoscopic Wand is the bright, colorful entryway to the funhouse that is Como Tapes, then Transparency is when the doors slam shut behind you and your rickety car clicks down the tracks into the ominous darkness of the unknown.
The release is divided into two individual suites, each called "Transparency" and composed of numerous, unnamed smaller movements. Bigman's piece, nominally the project's Side A, is by far the more harrowing of the two. In the album's liner notes, the work is described as a "symphony of 'soulcode,'" a synthesizer-based experiment in ... well, it's hard to say what, exactly. Over the course of 32 minutes, Bigman's chief intention appears to be to concoct as much dissonant and disorienting sound as he can. The frightening mechanical bent to his electronic orchestrations is cut with trembling organ, ghastly sound effects and discomfiting spoken-word segments that play like a demonically possessed animatronic figure.
Side B, composed by Sci-Fi — aka Griffin Jones — in collaboration with Bigman, is more accessible but offers just as many twisted aural apparitions in its 30 minutes. Jones trades in offbeat indie pop of the no-fi variety. His songs would still work well if stripped bare to the simple melodies and Casio keyboard beats around which they appear to be written. But Bigman surrounds Jones' fragile voice with some of his own sonic curiosities. He yields to Jones' more gentle approach yet still finds a way to craft weird, compelling soundcapes with winding tones and subtly shifting beats.
Transparency by Harvey Bigman and Sci-Fi is available at comotapes.bandcamp.com.