It's sad to say goodbye to summer, but autumn's bounty of harvest festivals is a nice consolation prize. Flannel-clad families celebrate the changing season with good old-fashioned fun — parades, field games and pumpkin picking. And let's not forget the yummy pies, cider, donuts and corn that accompany the fests. We've compiled a list of local harvest festivals happening in the next few weeks. Bring it on, fall!
[jump]
Sam Simon Imaging
Harvest Fun Run for Sustainability
Bristol Harvest Festival:
Family fun commences with bandstand music, kids activities, a tug-of-war and a pie-eating contest. Bristol Town Green, Saturday, September 27, 10 a.m.-4 p.m. Free. Info, 453-5885.

Underhill Harvest Market:
A parade at 9 a.m. on Saturday morning kicks off a weekend of fun, including old-fashioned kids games, hay rides, food stands and a performance by Joey the Clown. 7 Park Street, Underhill. Saturday, September 27, 9 a.m.-5 p.m. and Sunday, September 28, 10 a.m.-4 p.m. Free. Info, 899-1722
Burke Fall Foliage Festival:
Families fall in love with autumn during daylong festivities including a parade, rubber-duck race, bounce houses, face painting, wagon rides, a farm-animal petting zoo and a live raptor show. All ages. Village Green, East Burke. Saturday, September 27, 9 a.m.-3 p.m. Free. Info, 626-4124.


Nineteenth Century Apple & Harvest Festival:
Visitors churn ice cream, press cider, sample heirloom apples, play old-fashioned games and hike the Lookout Trail at this state historic site. All ages. Justin Morrill Homestead, Strafford. Sunday, September 28, 11 a.m.-3 p.m. $5-10 admission includes lunch; preregister. Info, 765-4288.

Garden Harvest Party:
Free veggie burgers and ice cream, kids activities, tours of the Homestead's grounds and the famous smoothie bike make for a lively harvest celebration. Ethan Allen Homestead, Burlington, Sunday, September 28, 3-6 p.m. $5 suggested donation or bring a garden side dish to share. Info, 861-4769.


Sam Mazza's Harvest Festival:
Pick your own pumpkin straight from the patch and nibble on pies, doughnuts, fudge and more. Pony rides, face painting, fall games and a petting zoo round out the fun. Sam Mazza's Farm Market, Colchester. Saturday, October 4, 11 a.m.-4 p.m. Free. Info, 655-3440.
Harvest Fun Run/Walk for Sustainability:
Fleet feet romp through farm fields in 1K and 5K races followed by family activities, healthy snacks and pumpkin prizes. Proceeds benefit the Sustainability Academy. Burlington Intervale Center. Sunday, October 5, 9 a.m.-noon. $5-15; $30 per family. Info, tillmanleddy@gmail.com


City Market Harvest Festival:
Foodies meet local producers and sample their delicious products. Face painting, door prizes and live music add to the fun atmosphere. Memorial Auditorium, Burlington, Sunday, October 5, noon-4 p.m. Free. Info, 861-9700.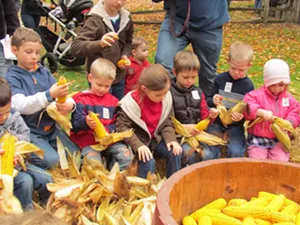 Harvest Weekend at Billings Farm & Musem
Marshfield Harvest Fest:
An afternoon of family-friendly fun includes face painting, cider pressing, field games and a chili cook-off. Jaquith Public Library, Marshfield. Sunday, October 5, from 11 a.m.-3 p.m. Free. Info, 426-3581.


Franklin Harvest Hoe-down:
An autumn celebration filled with dancing and snacks means a good time for all. Franklin Town Hall, Friday, October 11, 7 p.m. $3-5. Info, 868-3970.
Harvest Weekend:
Visitors revel in the seasonal bounty with a husking bee and barn dance, cider pressing and root veggie harvesting. Spiced cider and homemade doughnuts are free for the noshing. Billings Farm & Museum, Woodstock. Saturday, October 11 and Sunday, October 12, from 10 a.m.-5 p.m. Regular museum admission, $4-14; free for children under 3. Info, 457-2355.