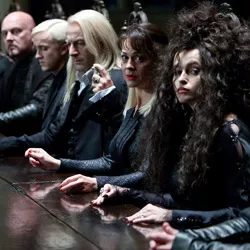 DOOM AT THE TABLE Death Eaters have their day as the? Potter saga finally draws near its close.?
So, there's this kid named Harry who can do magic. He has a male friend who's kind of jealous of him and a female friend who has the best handbag in the world: It can hold a tent, a stylish wardrobe and a set of rustic camping furniture. Harry and his friends are fugitives, because this evil guy with a face like a snake has it in for our hero, even though he and Harry sometimes seem to experience a mind meld. We know Snake Guy is evil because he and his goth-looking crew like to oppress Muggles, who are non-magic-doing, non-amazing-bag-having people like you and me.
There are about 274 other important characters in this movie, each with their characteristic quirks. Most of them have names that are hard to say without cracking up, like "Bathilda Bagshot," and some of them will die. In between, Harry and his friends will camp a lot, look for something called a Horcrux and dance to a Nick Cave song, because this movie is Dark.
If you belong to the tiny fraction of this film's audience who aren't up on your Potter, this is probably all you'll get from the first cinematic installment of book seven of J.K. Rowling's fantasy saga.
Your confusion won't prove too perturbing, though, because virtually every theme and motif in Rowling's world is already familiar from something else. When Ron Weasley (Rupert Grint) faces his demons in a dark forest, the scene is reminiscent of Luke Skywalker's Jungian test in a cave. When Harry (Daniel Radcliffe) and Hermione (Emma Watson) wander a barren landscape carrying a talisman that corrupts its wearer's will, devotees of The Lord of the Rings will nod in recognition. And the fascist underworld bureaucracy of London under the new Ministry of Magic looks like a cross between Metropolis and Terry Gilliam's Brazil.
So, if the plot proves baffling — and it will, since Steve Kloves' script prunes much of the novel's exposition — never fear. Sit back and enjoy the performance of Rhys Ifans as Luna Lovegood's father, Xenophilius (as weird as you'd expect). Let director David Yates' experiments with handheld you-are-there camera work rock your world. Laugh at the mugging of the three actors who play frumpy functionaries as whom our heroes disguise themselves in the film's most manic and Gilliam-like sequence. Marvel at a four-minute shadow-play-style animation by Swiss director Ben Hibon that serves to explain what the Deathly Hallows are. It's leaner, meaner and more memorable than the rest of the film.
At this point, deeper and fuller appreciation of Harry Potter movies is for the fans, and they are not few. They can be assured that, as complicated film fantasies go, this installment is closer in mood, style and spirit to The Two Towers than to Attack of the Clones. Still, if I were a hard-core Potterite, I might be bothered by the downplaying of an ominous undercurrent in the novel: the slow crumbling of Harry's faith as he reads a muckraking history of his deceased mentor, Dumbledore.
Then again, maybe Kloves and Yates saved that for Part 2. There were so many colorful characters and tragic deaths to get through. No doubt the Potter movies will finally cohere, like shards in a kaleidoscope, when they can be watched end to end in a 20-hour marathon. But that will really be just for the fans.