Courtesy Of Harry Bliss
Illustration
About midway through A Wealth of Pigeons, the new book of cartoons by Harry Bliss and Steve Martin, readers will come across a toon that Bliss finds especially emblematic of the duo's partnership.
A line of six primped and preening poodles dance on their hind legs for a crowd. Smack in the middle of the prancing parade of pooches, a fat, slobbering mutt of indeterminate breed — some kind of bulldog, maybe — lies on his belly, a pool of drool at his paws. In the foreground, a dog in a sport coat turns to his seatmate in the audience — a bearded man in a top hat — and says, "Isn't my nephew great?"
"I always feel when you're writing cartoons that the caption and picture really need to be inseparable; they have to rely on each other," Bliss told Seven Days in a recent interview with him and Martin. "And that's a great example."
Anyone who's ever sat beside an irrationally proud parent at a school play is likely to agree.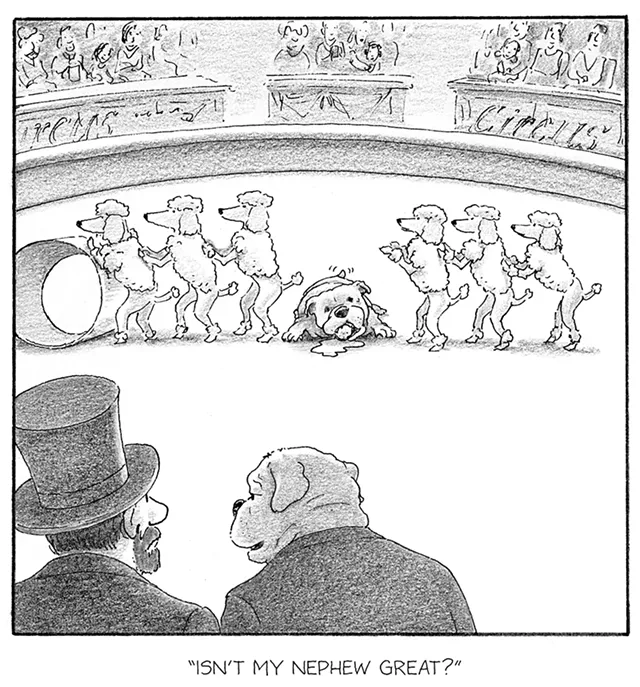 Courtesy Of Harry Bliss
Cartoon
Bliss should be familiar to Seven Days readers. His internationally syndicated single-panel cartoon, "Bliss," has appeared weekly in this paper for years. The Burlington- and Cornish, N.H.-based cartoonist is also a regular contributor to the New Yorker and has illustrated more than 20 books for children.
Martin is ... well, he's Steve fucking Martin.
The 75-year-old is an entertainment icon: a comedian, actor, musician, author and playwright whose mantel holds an Oscar, five Grammy Awards, a Mark Twain Prize for American Humor and a Kennedy Center Honor. Next year, he might well add an Eisner Award — the cartooning world's version of a Grammy. To paraphrase Martin's character Navin Johnson from The Jerk: He's in the phone book. He's somebody.
Courtesy Of David Clinch
Steve Martin
For nearly two years, Bliss and Martin have been collaborating on single-panel cartoons. About 150 of them can be found in A Wealth of Pigeons, which was released this week.
In the book's intro, Martin recounts how he and Bliss came to meet. Chatting at a cocktail party with Françoise Mouly, the art and cover editor of the New Yorker, Martin mentioned that he had an idea for a cartoon and wondered whether Mouly knew someone who could draw it. She did.
"Harry Bliss turned out to be the ideal partner," Martin writes. "We rarely speak to each other, and we live in separate states."
Their pairing is indeed ideal, if unlikely. Whether riffing on the vagaries of the art world, marauding aliens or the peculiarities of pets, Bliss and Martin share an absurd yet sweet sense of humor — and an affinity for dogs — that's apparent in the pages of A Wealth of Pigeons.
Bliss draws many of the cartoons based on ideas Martin sends him, a process that Martin calls "working forwards." They also work "backwards": Bliss sends Martin "orphan drawings," or unfinished cartoons, for the comedian to caption as if in his own personal New Yorker caption contest.
"I loved the process of the 'caption contest for professionals,'" Martin writes.
The book reveals that, in addition to their complementary senses of humor and interests, Martin and Bliss share a sly and self-deprecating self-awareness.
Courtesy Of Harry Bliss
Harry Bliss
A Wealth of Pigeons is largely composed of single-panel toons like those of "Bliss," interspersed with multipanel strips in which the two authors explore — and poke fun at — their odd coupling. (The duo's next project will be a collection of strips, according to Bliss.)
The strips portray Martin, gently, as an oblivious Hollywood big shot in contrast to Bliss' equally played-up New Hampshire-bred everyman. It's a gag, of course, rendered with equal parts affection and signature wit.
Take, for example, a panel in which Martin, Bliss and the latter's dog, Penny, stroll through an idyllic winter woodsy scene. "I feel sorry for people who can't enjoy this moment," Martin says. Then he delivers the withering, Martin-esque kicker: "Like me."
Seven Days spoke with Bliss and Martin by video chat about collaboration, letting it flow and how to embrace "I don't get it."
SEVEN DAYS: Steve, you joke in the intro of the book that one of the keys to your collaboration with Harry is minimal communication...
STEVE MARTIN: Wait a minute. That's not a joke.
SD: Oh. Um ... Steve, you sagely point out in the intro...
SM: Yes, that's right.
SD: So, why do you think this partnership works?
SM: Obviously, we must have a similar sense of humor, because more cartoons end up drawn than don't. But I love Harry's drawing style. First, it's just high-level; it's very clear and cleanly drawn. And I like humor that is sharp, focused.
At first, I just tried to fit into Harry's thing, which was animals, dogs, the occasional oddball gag. But then, as we'd talk, Harry would say, "You know, I really like to do spaceships." Or I'd look at his previous work and there'd be these beautifully drawn giant lizards and other creatures. It's almost like kids' cartoons for adults.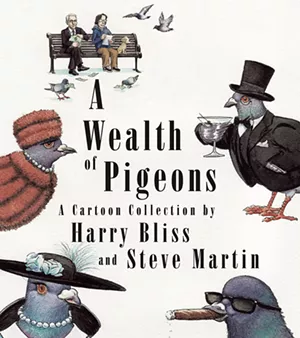 Courtesy
A Wealth of Pigeons by Harry Bliss and Steve Martin, Celadon Books, 272 pages. $28.
HARRY BLISS: The thing for me, working with Steve, is that he's a collector; he appreciates art. So he appreciates drawing and the amount of detail that goes into a drawing in a way that very few people have in my working relationships.
SM: You can say to Harry, "We need a Rembrandt here," and he can draw it. Or a Monet or a Modigliani, an Edward Hopper. If you look in the book, all these are drawn so beautifully. Almost anything you ask for, he can deliver.
HB: Something else that came up in working with Steve: In those strips, I was able to drop in my dog, Penny. I was reluctant at the time because I didn't want to be guilty of ... what's the word when you use your family for something?
SM: Nepotism? Dogotism?
HB: Exactly. But Steve encouraged me to have Penny comment on things, which was a joy.
SM: It's always nice to get another voice in there, especially a dog voice.
SD: Harry, in the first strip in the book, "They Meet," you're surprised that Steve is funny, which I understand is a gag. But is there an element of truth, too? Were you actually surprised that Steve Martin is funny?
HB: Well, no, because ... he's Steve Martin. I don't even want to get into it. He's hilarious. But writing cartoons is a different medium. It's tricky. It would be like me trying to write a play or do standup. It's just not in my wheelhouse.
But that cartoon is very accurate. I was sitting there drawing and thinking as these ideas came in almost daily, These are actually good.
And this is not the first time someone has sent me ideas. Many people have, and most of them are toss-aways. So, yes, I was impressed.
SD: Steve, I was intrigued by the idea of working forwards and backwards, which you write about in the intro. Having done this for a while now, do you have a preference for one method or the other?
SM: I like them both. If Harry sends me one, it's like a puzzle. And sometimes I can come up with three [captions], four, one or none. The hardest ones are when Harry sends me something, and it's just a guy and a dog walking. [Laughing]
But if it's a bear and a guy, you've got someplace to go...
HB: I think that speaks to my ... I don't want to say laziness, but I love to draw a man and a dog walking in a beautiful landscape. There's just something that appeals to me about that. But it's gotta be tough for Steve to keep coming up with stuff.
SM: No, I like it! It makes you kind of reach into your mind to think, What's the oddball thing that's going on here you wouldn't expect? But of course, sometimes the expected is absolutely perfect.
SD: Harry, you told Seven Days when this project started that you initially had to take your perception of "Steve Martin" out of the equation. I imagine that's easier to do as you've gotten to know Steve better. How has that process evolved for you?
HB: That's true. Steve's albums and movies were a major part of my youth and developing humor. So in the beginning, yes, I was hearing Steve's voice, and I had to kind of trick myself into just reading the gag.
But it's twofold, because what happened over time is that I became very comfortable with Steve. It's a working relationship that's very easy and fun. But it was tricky in the beginning.
However, as someone else pointed out: The audience, knowing that Steve wrote the gag — they may also hear Steve Martin's voice. So that's something else I didn't consider in the beginning that may make the gags funnier.
SM: I think when the cartoons appear in the newspaper, nobody reads that I was a part of it. It's just a cartoon to them. But in the book, definitely, there's a sound. But I'm not even aware of me having a voice.
SD: Oh, I think you do. [Laughing] Steve, how has your process evolved working with Harry?
SM: We've probably written 300 cartoons and some strips in close to two years. That's a lot. At first, I was just lying in bed awake at night just running through things and thinking and sitting in front of the typewriter to really try and write something. Now I just let them come, or say, "Hey, what if I wrote a cartoon?" and kinda close my eyes.
It's a really fun process because it's almost like — what do they call it? — automatic writing, where you just start flowing through words and things and images.
HB: Automatic writing, I like that. That's what the surrealists did, André Breton. I'd never thought of that, but I like that analogy.
SM: Sometimes in my career I have to think and work — write and rewrite, fix it, think. But now I've learned to let these sort of pop into my brain, almost with subconscious thought. And there is a strip in the book that really is the process where I'm lying in bed going, Are eggplants funny? Will anybody get this? And that's really a description, for me anyway, of how it works.
SD: Is there a correlation to your other pursuits?
SM: The only thing that is similar to anything I've done before is dialogue. But other than that, there is absolutely no similarity. [A cartoon is] not quite a one-liner because I don't have to set the scene; the scene is already set. But it's unique to everything, except when two people are talking.
Any other book I've written, I get to read it — many, many times — before it's published. But here, it just arrives. And I was so impressed that, as I turned the pages, the book started to take on its own little world and universe. I just love going into the drawings and looking at the expressions on the faces, the skill in drawings of the animals and the horse — I'm in love with that horse. So I get into the book in a different way than joke after joke after joke.
HB: There are certain cartoons that Steve has sent me, just words, that when I get them, I will laugh out loud because I see them in my brain and it's kind of done in my head.
SD: Steve, at the end of the intro you write about how you've embraced "I don't get it." How does one embrace "I don't get it"?
SM: Well, if you're putting a book out of 150 cartoons, there's bound to be some in there that people just aren't gonna get. And sometimes I look at them and go, "I'm not sure I get that one anymore."
The New Yorker has published books on cartoons that no one got, and they explain them. I love that book. So I guess we wouldn't be doing our job if we didn't have a couple cartoons that were just kind of reaching too far.
This interview has been edited and condensed for clarity and length.