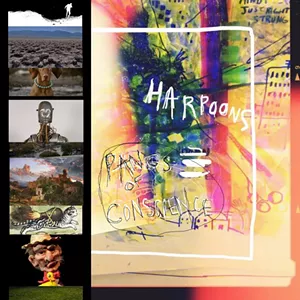 Courtesy
Harpoons, Pangs of Conscience
(Self-released, digital)
There's a memory bubbling around in the back of my brain. It's been there since I was a child, and I honestly don't remember what it's from, or even if it's real or something 6-year-old me imagined. I'm sitting in the living room, prostrate before a big-box TV and watching a comedy sketch in which a character is in a sinking rowboat. He's looking everywhere for a bucket to help keep the boat afloat, but he keeps finding things such as eggbeaters and rubber chickens. While the studio audience howls, the character pantomimes increasingly alarmed expressions toward the camera.
The sketch has come to mind more often this year as new music has filtered out in fits and bursts. I'm frantically searching for something to return that feeling, the excitement that a scene as good as Vermont's can give when incredible, unknown records drop. After some months of listening to a lot of bedroom albums made by quarantined and rather depressed songwriters, listening to Pangs of Conscience by Harpoons was like finding the bucket in the sinking boat.
Over 11 tracks of dark, punk-driven shoegaze, the trio of Liam Elder-Connors (bass, vocals), Nick Kennedy (drums) and Nate Lewis (guitars, vocals) achieves that hardest-to-cultivate feat for bands: a sonic aesthetic all their own. To be sure, Harpoons owe a debt to bands like Joy Division and Television. With driving bass lines and austere synths, the group leans hard into that style of angular rock. But there remains a sense of punk playfulness and sudden aggression. Stabs of surprisingly welcome saxophone — by Henry Epp, reporter and host at Vermont Public Radio — elevate Harpoons above any sort of hero worship.
The band can also find a deep-pocket groove, as on "The Camera." Elder-Connors, who also daylights as a reporter for VPR, pushes and drives his bass with all the energy of the Replacements' Tommy Stinson, while he and Lewis trade distorted vocals. It's a blast of post-punk energy, and one could forgive the band for making an entire record with that feel. But Harpoons resist the temptation. This is an excellently sequenced record, a rare capital-A album with that impossible-to-fake feeling of flow. The tracks just blend into one another seamlessly, all while retaining individuality.
Perhaps the most refreshing aspect of Pangs of Conscience is how weird it can get. Ambient noise, ghostly snatches of dialogue and eerie intros color the record, adding a subtext of the unknown, like a subplot in a great mystery story. "GABASIO" briefly ventures into prog-rock territory, and "Titans of Soft Rock" starts with a saxophone figure right out of an '80s detective movie.
There are many reasons that so many of this year's releases have been sedate and occasionally mournful affairs. But if, like me, you've been waiting for something more adventurous, sonically dark and high energy, Harpoons have finally delivered the goods. Get out the buckets and start bailing water, people.
Stream Pangs of Conscience at harpoonsmusic.bandcamp.com, and turn it up a little while you're at it.