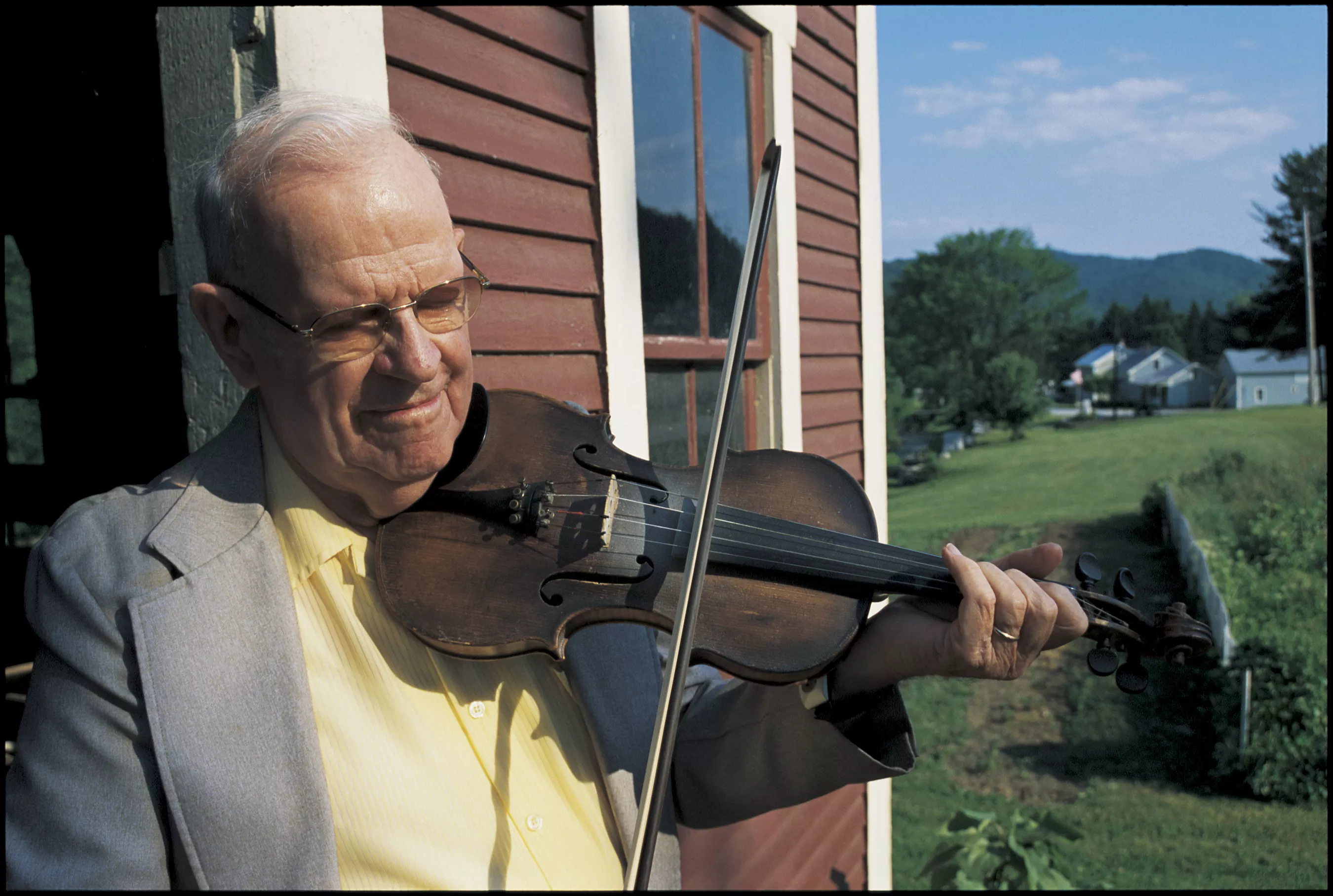 Photo courtesy of Jon Gilbert Fox
Harold C. Luce
Harold C. Luce, 95 passed away Wednesday, August 13, 2014 at Dartmouth Hitchcock Medical Center in Lebanon, N.H. after a brief illness.


Born on October 11, 1918 in Chelsea, VT Harold was the son of Ernest E. and Lizzie L. (Dickinson) Luce. He attended school in Chelsea. On February 8, 1939 he married Edith Keyes of Brookfield, VT. Harold and Edith ran the family dairy farm in Brookfield for fifteen years before moving to Chelsea. For over nineteen years, Harold worked as a machinist at Cone & Blanchard Machine Co. in Windsor, VT. After his retirement, he drove for the Stage Coach of Randolph, VT. On October 13, 1997 Edith, his wife of 58 years passed. In his later years he traveled and spent time with his companion, Marion Gilman until her death on May 4, 2013. 


Harold was a hardworking man, a good neighbor, great parent, enjoyed people and always tried to do right by everyone. At a young age, playing the fiddle was a large part of Harold's life. He spent time playing for the Ed Larkin Contra Dancers beginning in 1934, taught others to play, played at the Tunbridge Fair and two different World's Fairs in New York and he loved playing at Senior Citizen's groups. He also performed at weddings, funerals, hospitals, talent shows, birthday and anniversary parties. 


He was a member of the Ed Larkin Contra Dancers for eighty years, Northeast Fiddlers Assoc., Southern Vermont Fiddlers, Champlain Valley Fiddlers, Chelsea Grange #362 and the Brookfield Grange. He had been a 4-H Leader in Brookfield, served on the school board and enjoyed teaching others to play the fiddle and older style dance. 

Harold is survived by three sons, Russell and his wife, Cheryl of Hudson Falls, NY, Clayton and his partner, Ginny of Bakersfield, VT and Kevin of Chelsea, VT; three daughters, Donna Weston of Middlesex, VT, Martha Pickett and her husband, Lawrence and Cynthia Manning and her husband, Glenn all of Chelsea, VT; nineteen grandchildren; thirty-seven great grandchildren; eight great, great grandchildren; a sister, Ruby Traverse of Richmond, NH and several nieces, nephews and cousins. He was predeceased by his wife, Edith; his companion, Marion Gilman; a brother, Edwin, three sisters, Mabel Chambers, Nettie Thompson and Marion Barcomb; a son-in-law, Frederick Weston Sr. and a daughter-in-law, Barbara Luce.
Calling hours were held on Sunday, August 17, 2014 from 6-8 p.m. with a Grange service at 7 p.m. at the Boardway & Cilley Funeral Home, 300 VT RT 110, Chelsea, VT. A funeral service was held on Monday, August 18, 2014 at 3 p.m. at the United Church of Chelsea in Chelsea, VT with Pastor Tom Harty officiating. In lieu of flowers, memorial contributions may be made to either: Chelsea Area Senior Citizens, P.O. Box 44, Chelsea, VT 05038 or Ed Larkin Contra Dancers, 17 Angell Road, Chelsea, VT 05038. A private message of sympathy for the family can be shared at boardwayandcilley.com.
Related Stories:
Harold Luce, Consummate Fiddler, Dies
Listen to Harold Luce & Adam Boyce, Chelsea, VT 2007