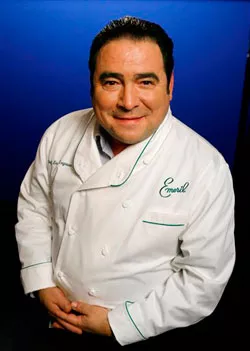 Brassy show-biz chef Emeril Lagasse usually spends the half hour of his Planet Green TV show, "Emeril Green," teaching gardeners to use homegrown herbs in their cooking or adding pizzazz to date-night meals. But he's planning an interesting departure: filming a handful of episodes and an hour-long special on the subject of food providers in Vermont, with a particular focus on the Northeast Kingdom.
According to show producer Karen Katz, "After researching many areas within Vermont, we came across the town of Hardwick and found that this was a community truly committed to creating a healthy food system for the 21st century." Hardwick's "food system" has already been featured in a much-ballyhooed article in the New York Times, as well as in the pages of EatingWell, Gourmet and, of course, Seven Days. Katz says Lagasse's show will address some nearby foodie destinations that most other media outlets have overlooked.
The Lakeview Inn in Greensboro will serve as a home base for the crew, which will film on its grounds and in its kitchen when not on location. Whole shows will be devoted to Cedar Circle Farm, where Lagasse will spotlight cooking with pumpkins and gourds, and Woods Cider Mill for its cider and maple products. Also in the limelight: Chef Jason Tostrup of the Inn at Weathersfield, who works only with environmentally responsible suppliers; and Long Trail Brewing Company, the largest company to sign on to the Central Vermont Public Service "Cow Power" program, which supports farmers by using methane to power buildings.
The one-hour "Emeril Green" special will focus on the Hardwick-area food system as a whole, with segments filmed at Pete's Greens, Jasper Hill Farm, Claire's Restaurant, Vermont Soy and High Mowing Organic Seeds. The last two businesses are owned, respectively, by Center for an Agricultural Economy founder Andrew Meyer and the organization's president, Tom Stearns.
Stearns shares that High Mowing Seeds will also be featured on an upcoming episode of HDNet's original series "Dan Rather Reports." Though Stearns says he pushed for an hour-long show to cover all that Hardwick has to offer, the town will most likely garner only a 15-minute segment. If that's the case, "Dan Rather himself won't come up, but the whole camera crew will," says Stearns. "They may want to do an in-studio appearance with one of us while the show is airing."
Amid all this attention, Stearns still needs to find time to host the annual Field Days at High Mowing Seeds on September 13. At the Wolcott farm, he will preview unreleased veggie, herb and flower varieties, Meyer and representatives from the University of Vermont will educate prospective farmers on growing soybeans, and NECI cooks will prepare an array of free local food.