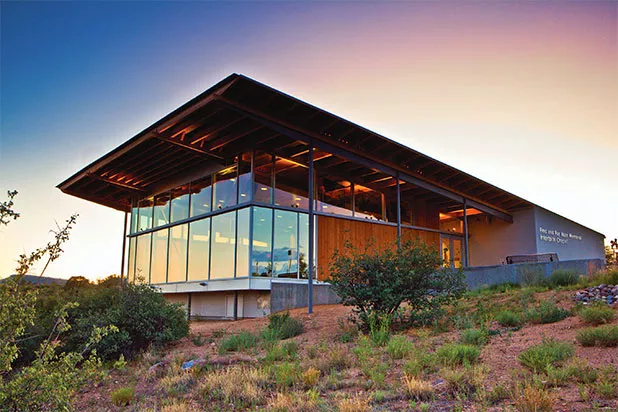 Fred and Fay Haas Memorial Interfaith Chapel, Embry-Riddle Aeronautical University, Prescott, AZ
Patrick Kane was surprised when he got a call from the New England chapter of the American Institute of Architects saying he had won one of the association's annual awards. After all, he has a solo practice in tiny Hardwick, Vt., and was up against stiff competition from big firms in Boston and Connecticut.
So much for underdog status. The NEAIA jurors compared the chapel that 44-year-old Kane built for Embry-Riddle Aeronautical University, in Prescott, Ariz., to Frank Lloyd Wright's Wayfarers Chapel in California. "With an almost equally spectacular site," they wrote, "the work modestly conveys the notion that the building should take second place to the landscape, while yet calling attention to the latter's great beauty."
Modesty is actually what Kane says he was going for. The university approached him for the project after another design team couldn't meet the building's budget. Kane worked with his brother, a landscape architect based in Prescott, and looked for ways to cut costs. One of the strategies was to simplify the site work to minimize impact on the natural habitat, which includes a rare seasonal wetland. "We saved money and saved the site at the same time," Kane explains.
The Fred and Fay Haas Memorial Interfaith Chapel, located at the edge of the suburban college campus, comprises 3000 square feet and accommodates 100 people. Its most distinctive feature is a large roof overhang above big glass walls facing the desert. The roof was conceived to block the strong summer sun, yet still let in the low-angle light in the winter. The design has clean aesthetic lines, but is also practical because it cut the building's air conditioning needs in half. Constructing the roof out of wood, Kane adds, allowed them to give the inside ceiling the warm feel of a religious sanctuary.
Though Kane is based in Vermont, he designs buildings all over the United States, so he says working with the southwestern climate wasn't a problem. "The principles are the same," he asserts. "The question is: How do you make a beautiful building that responds to the climate in a simple way?"
Part of that simplicity is using regionally appropriate building materials. In the Southwest, for example, concrete block and stucco are inexpensive, so Kane incorporated more of that than wood, which is the preferred material in Vermont.
The result was an award-winning building that came in $600,000 under budget. "We are proud of the building and how much it does with a minimum of effort," Kane says.