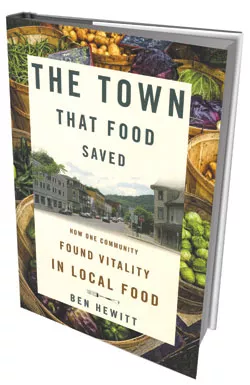 When Marian Burros of the New York Times wrote about Hardwick — a hardscrabble Northeast Kingdom town once best known for its porno theater — she called her feature "Uniting Around Food to Save an Ailing Town." Since that October 2008 story, the 3200-person burg has received an unusual amount of national attention. Last September, Chef Emeril "Bam" Lagasse came to the area and filmed a series of shows — and a longer special — for his TV series on Planet Green. A team from "Dan Rather Reports" showed up, too.
All these news stories showcase a group of youngish Hardwick-area entrepreneurs with big plans for selling premium products — organic seeds, artisan cheese, soymilk made from local beans — that will help them create jobs, support their community and earn bucks. Perhaps because those new businesses are indeed thriving, or perhaps just because it makes a great story, the media were quick to pronounce the ills of the economically depressed region practically cured.
When Ben Hewitt wrote an article in Gourmet magazine called "The Town That Food Saved," his thesis was similar: He said Hardwick was on the verge of becoming "one of the most important food towns in the United States." But then the writer, who happens to live in Cabot, a 12-mile drive from Hardwick, decided to dig deeper.
The result is Hewitt's just-released book The Town That Food Saved: How One Community Found Vitality in Local Food, which has already drawn national attention — including positive reviews in Publishers Weekly and the Los Angeles Times.
Hewitt didn't just speak with Hardwick's so-called "agrepreneurs" about their ideals and successes. He also offers a handful of dissenting voices, such as an old-time farmer, Forrest Foster, who's afraid efficient new enterprises will put folks like him out of business. A pair of back-to-the-landers, Steve Gorelick and Suzanna Jones, see their chosen locale turning into the equivalent of a company town. The local-food movement "[is] not an opportunity for us, it's being imposed on us," Jones insists.
Hewitt also makes his own trenchant observations. He asks why a movement built on the "localvore" ethos is generating products — tofu, $20-per-pound blue cheese — that many locals neither desire nor can afford. And he wonders if all the press, including his own Gourmet story, has done more harm than good.
Tom Gilbert wonders about that, too. He's executive director of the Highfields Center for Composting in Hardwick, and one of the agrepreneurs referred to in the book. When Hewitt interviews him, Gilbert seems more reluctant than his peers to sell America on the "inspirational" path the region is taking. "I think we let the media get ahead of us," he says. "People read all this amazing stuff that was happening, and it put everybody's expectations on steroids."
Hewitt doesn't just question the principles behind the ag developments. He also paints accurate — and sometimes unflattering — portraits of the main characters, some of whom, he acknowledges, are his friends. Tom Stearns, president of High Mowing Organic Seeds and designated mouthpiece of the movement, bears the brunt of this descriptive acumen. "He laughs easily, loudly, and somewhat girlishly and stops talking just often enough to avoid appearing self-centered," writes Hewitt. He notes at other points that Stearns sometimes seems like a florid politician who's always on message.
But there's a tenderness to Hewitt's descriptions, too. And his dissections cut both ways. In one passage, he and Claire's Restaurant co-owner and chef Steven Obranovich try to suss out whether people who think local food can't be affordable simply aren't looking carefully enough.
"[Obranovich] believes that Claire's … is perhaps being unfairly maligned for its prices," writes Hewitt. The chef points out that the cozy diner across the street has some $12 entrées, and so does his localvore restaurant, which is still perceived by the community as "high end." "Last time I checked, that's the same amount of money," Obranovich says.
"He makes a good point," Hewitt concedes. Maybe average Hardwickians eschew local foods because they perceive them as more expensive, even when they're not.
In the end, Hewitt comes down firmly on the side of the agrepreneurs. A small-scale farmer himself, he's wooed by the idea of the interconnected, farm-based businesses that have sprouted near his hometown — and have created between 75 and 100 jobs so far.
If Hewitt believes what's happening in the Hardwick area is somewhat overexposed, he also sees it as truly important, given that the petroleum-based food system on which we now rely can't last. The writer concludes that the agrepreneurial movement "is, in fact, the only sane response to the fractured vulnerability of our national food culture … It's this little town's greatest gift to the rest of the world."