Courtesy Of Catamount Trail Association
Uphill skiing
One morning last winter, lured by two feet of fresh overnight powder, I hit the parking lot at Sugarbush Resort's Mount Ellen an hour before the lifts spun. Early, but not early enough in a powder-poor season. As I joined the crowd milling up from the lot, four rime-encrusted figures came striding down against the tide. They had skis over shoulders, headlamps on helmets and endorphin gleams in their eyes.
"How was it?" I asked, trying to peel the envy out of my tone.
"Dude," one said in an awe-whispery voice, "you just would not believe."
Actually, I believed him completely, knowing that those "uphill skiers," as they're called, had skinned up to get first shot at all that new powder. They were off the mountain by 7 a.m., obeying Sugarbush winter trail use policy and finishing their fluff feast before the rest of us even started ours.
Uphill skiers, also called skinners, forsake lifts and "earn their turns," climbing on Alpine touring (AT) gear both at ski resorts and in the backcountry. This gear tends to be much lighter, and more expensive, than downhill equipment. AT boots look like their downhill cousins but flex forward as much as 60 degrees for ascending a mountain with skis or kicking steps and then lock solid for skiing down it.
AT bindings let bootheels rise free of the ski, à la telemark mode, for climbing but then secure them like downhill bindings for descent. Snowboarders ascend on splitboards — snowboards divided into two parts that can be reunited for descents.
Climbing skins originally came from reindeer and seals, because their hair lies flat when moved in one direction but rises up — preventing slippage — when pushed the opposite way. Modern skins are made from mohair, nylon or combinations of the two.
Uphill skiing is the first true boom to hit winter recreation since the snowboard craze. Snowsports Industries America, the "trade association for all of winter sports," reports that uphill gear sales increased by more than 200 percent last year. The U.S. Ski Mountaineering Association estimates that the number of uphill skiers and riders has jumped almost 20 percent annually over nearly a decade.
Tyler Cohen, editor in chief of the national bimonthly Backcountry Magazine, based in Jeffersonville, confirmed in an email, "There's definitely been a major spike in backcountry skiing and riding, both nationally and locally."
That holds true on the resort side, as well. The nonprofit association Ski Vermont names the rise of uphill travel as one of the state industry's major trends for 2017-18. Operators of Magic Mountain Ski Area in Londonderry have seen a "twofold increase in traffic going up either by skinning or snowshoeing," according to a Ski Vermont press release. Sugarbush Resort management reports huge increases in popularity in recent years, as well.
Uphill skiing isn't new. Archaeological evidence suggests that, more than 5,000 years ago, Stone Age residents of Asia's Altai Mountains region were using skis with fur bottoms that functioned much like modern climbing skins. In Scandinavia and elsewhere in Europe, where Nordic and Alpine skiing are as much a part of the culture as baseball is here, uphill skiing has long been part of the mainstream.
In the U.S., mountaineers and backcountry enthusiasts have been uphilling for decades, yet, until recently, skinning remained a niche activity. No longer, as national media including Bloomberg News, the Wall Street Journal, Condé Nast Traveler, the New York Times, the Boston Globe and CNN have noted.
I was skinning up mountains in Alaska and Colorado 35 years ago, and I know two things about uphill skiing. One, the rewards are — as that powder poacher at Mount Ellen affirmed — often incredible. And, two, reaping those rewards is damned hard work. So why, in Supersize Land, would mobs suddenly start grunting and sweating uphill when they could be whisked aloft, sitting down, faster and more smoothly than ever before?
David Goodman, Vermont's venerable backcountry ski guru, wrote the seminal book Best Backcountry Skiing in the Northeast: 50 Classic Ski Tours in New England and New York in 1988; he's now working on the 30th-anniversary edition. Asked why this uphill boom is happening now, he cited a kind of first principle: humans' timeless need for communion with nature.
"Nothing satiates people's hunger for freedom like untracked expanses of white all around you, the silence broken only by rattling of icy branches and the whisper of your own breath," Goodman said. "The same thing that leads people to hike and fish."
Naturalists have extolled solitude seeking for centuries — think John Muir and Henry David Thoreau. But Goodman cited a second driver, as did others interviewed for this story.
"The evolution of equipment is remarkable," he said. "Alpine touring gear now is light and capable, and you don't have to learn a new technique like telemarking to use it. So, really, anybody can become a backcountry skier."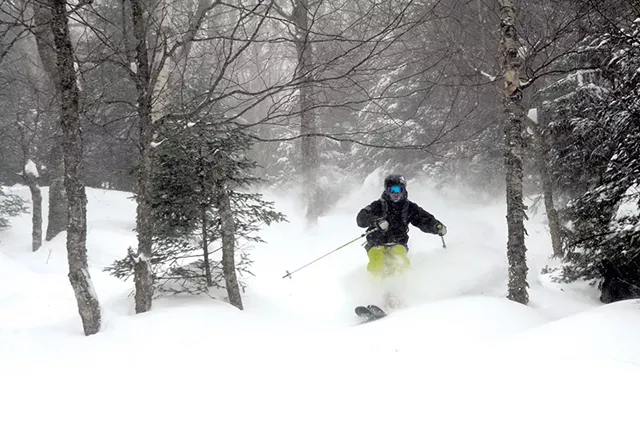 Courtesy Of Ski Vermont/jeb Wallace-brodeur
The backcountry at Mad River Glen
Ryan Rubino, a former gear tester for Powder magazine, is now sales manager at Burlington's Skirack and an exemplar of the uphill trend. At 31, he has been skiing for almost 20 years but started uphilling just six years ago. Why did he cross over?
"I finally saw the gear starting to evolve," Rubino said. As evidence, he pointed to the store's boot and binding displays.
"Five years ago, we had zero AT gear here," Rubino noted. "Today, half our bindings and 40 percent of our boots are AT models."
He picked up a Fritschi Diamir Tecton model AT binding heel unit and toepiece. They resembled components of an alien spacecraft and weighed about half a pound per pair. And the AT boots Rubino proffered turned surprise to amazement. They looked like chunky downhill boots but weighed less than two pounds each.
It's a mountaineering truism that a pound on your foot equals five on your back, so going light equals less pain and more gain — though not without cost. Light does not come cheap. A recent Outside magazine article itemized "everything you need to start skinning laps before work." The bill: a staggering $4,186. And that did not include the shovel, beacon and avalanche probe that big mountain excursions require.
But are we seeing an influx of true newcomers to winter recreation, as happened with snowboarders back in the day? Rubino suspects not. Rather than expanding the overall market, the boom may be cannibalizing other populations. "Sales of telemark gear and snowboards have dwindled," he said. "I think both groups are migrating to AT."
Data support Rubino's comment. Snowsports Industries America reports that snowboarding's popularity crested with 8.2 million participants in 2010-11 and has dropped every year since. According to the National Sporting Goods Association, snowboarding equipment sales have shrunk by $60 million annually since 2007.
If the urge to cozy up with nature and better gear are fueling uphill skiing's surge, so is the fitness factor. Scientists have long known that cross-country skiing provides one of the best overall workouts in sports. Uphill skiing is just cross-country with more weight and fewer, or no, descents, making extreme cardio demands while working most major muscle groups. That appeals to busy fitness buffs who like the idea of combining a hard workout with great skiing.
As Goodman noted, "A lot of people just looking for exercise and fitness get it by skiing uphill at a ski area. It's a huge scene of people with headlamps skinning up and maybe skiing down in powder — or not."
So, who exactly are the uphillers these days? Rubino pointed to urban-dwelling millennials hungry for adventure. That was confirmed in a recent Forbes article, which called this age cohort "the most important consumer generation for the travel industry" and suggested that its members long for "exploration of the unknown." That's not a bad definition of skiing woods and backcountry.
Families are jumping in, too. Jay Silveira is an affable fortysomething professor of biochemistry at the University of Vermont's Larner College of Medicine. He began downhill skiing at age 10. Then, a decade ago, Silveira said, "I started hiking up at resorts because of wind holds [chairlift closures caused by high winds] and crowds. It was a natural progression."
His wife is also an accomplished downhill and avid uphill skier, as are the couple's two sons, now 12 and 14. The family still skis lift-served runs at Bolton Valley Resort but also uses skins and uphill gear on developed slopes and in the backcountry.
Baby boomers are in the skin game as well. June Anderson, now in her fifties, publishes the Mad River Valley 4-Season Guide. A fit woman with short blond hair and a flashbulb smile, she's a powerful skier who got started at Okemo Mountain Resort in the 1970s. Romance drew her to Vermont and into uphill skiing, though not right away.
"When my friend suggested we ski in the trees, I said, 'God created trails for a reason, darling,'" Anderson recalled. Nevertheless, into the woods she eventually went, and her experience is instructive.
"At first it was daunting. I thought, There's no way I could do this," she said. "But then I did!" Anderson now skis on both AT and telemark gear, depending on mood, conditions and companions. "I love so many things about backcountry," she said. "It tightens your focus. You get fresh snow. No wind. The silence. Now we almost never go on the [lift-served] trails."
One indicator of uphill skiing's growth: All major Vermont ski areas now have official uphill skiing policies. Among the friendliest are Mount Snow's, which allow uphill access to the entire resort during operating hours with an uphill ticket; and Magic Mountain, which rewards skinners with a free lift-ride token. Bolton Valley has long welcomed skinners with the best of both uphill skiing worlds — 1,200 backcountry acres accessible from resort lifts. This year's addition of new, top-line rental AT gear will make uphilling even easier and more popular there.
It's one thing to climb up and ski down groomed trails at ski areas. It bears stating that the backcountry is different, and experts interviewed for this story offered warnings to downhillers contemplating a switch.
Do not underestimate the difference between lift-served and backcountry skiing. As Skirack's Rubino noted, "It's the difference between spin class and extreme mountain biking."
Before tackling the backcountry, perfect essential skills at resorts: skiing in the trees and in deep, untracked snow; route finding in the woods; and emergency procedures.
Be in excellent physical shape.
Never go alone.
Goodman offered a parting thought that backcountry uphillers — and midnight resort skinners, for that matter — would do well to remember: "Nothing necessarily goes as planned, and that can be a good thing. Or not."
Access and Resources
The U.S. Ski Mountaineering Association website has links to all Vermont resort uphill policies: ussma.org.
Many organizations in Vermont are working to advance uphill skiing with information, clinics and workshops, trail work parties, and more:
Rochester/Randolph Area Sports Trail Alliance
Northeast Kingdom Backcountry Coalition