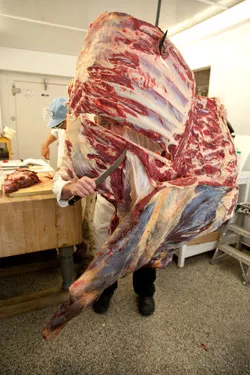 "The saddle is a lot like moose, only moose is a lot smaller," shouts Don Collette over the din of a bone saw wielded by his daughter, Dawn Collette-Parker. The 40-year veteran meat cutter has been providing his services at the Basin Harbor Club for 11 years, but this is the first time he's deconstructed an entire animal at the resort.
That's because it's one of Collette's first times working with executive chef Rod Rehwinkel, who took the position this spring. A founding member of the Vermont Fresh Network, Rehwinkel is refurbishing the culinary landscape at the 126-year-old summer destination. Creating steaks and ground meat out of a bison from Townshend's East Hill Bison Farm is just part of the plan.
Like our Native American forebears, Rehwinkel uses every part of the animal. Peppered bison carpaccio with arugula and Parmigiano-Reggiano will be on the menu at Basin Harbor's elegant main dining room. Ground bison will appear in burgers at the casual Red Mill — a renovated sawmill — as "a red-meat alternative to red meat," he says. Bison also will make its way into lunch specials, perhaps sausages or stews, at the resort's Ranger Room. Bones will be boiled into stock. Leaf lard is reserved for charcuterie.
That resourcefulness is one of the reasons Basin Harbor co-owner Pennie Beach chose Rehwinkel of Clear Culinary Consulting to replace longtime chef David Merrill. Rehwinkel's other credits include corporate-chef gigs and serving as opening executive chef at the University of Vermont's Davis Center. "He really gets it about fresh and local," says Beach, whose family has run the resort for four generations. "He's been wonderful for the morale of our culinary staff."
And that staff is a small village. Some 70 people populate the sprawling kitchen and make everything from bread to ice cream from scratch. Even the staff dining hall, which Rehwinkel dubs "the zoo," feeds more than 300 employees each day. International flags lining the cafeteria ceiling represent workers who have come from as far away as Moldova or Jamaica. But the employees' fare leans more toward the local — and high end. Two different lobster dishes are among the offerings when Seven Days visits. Rehwinkel explains that, at an upscale resort, even leftover ingredients are of the highest caliber.
Planning how much to make each night is a complex balancing act, since Rehwinkel oversees dining for the entire resort. For every meal, he must guess how many resort guests, golf-club members and local diners will visit each restaurant, and prepare accordingly.
Visitors will have plenty of options. Besides the main dining room and the Red Mill, Rehwinkel offers a special outdoor Harbor Dinner several nights a week. On Tuesday nights, the Harbor Fair allows kids to cavort in a bouncy castle while families sup on a buffet of kebabs, sliders and make-your-own sundaes. The Thursday Shore Dinner is an elevated lobster boil — the requisite corn isn't just buttered; it's topped with chipotle aioli and grated Manchego. On Sunday evenings, the North Dock is the site for the Vermont Artisan's Dinner on the Lake.
Rehwinkel began spreading the locavore gospel in the late 1980s as executive chef for the Perry Group, which owned Perry's Fish House, Perry's Market and the Sirloin Saloon. He serves the Farm to Table Buffet indoors on Saturdays, and a six-course Chef's-Table Dinner on Monday nights, but he says the Artisan's Dinner is his favorite locavore showcase. Perhaps his years working at Tony Perry's restaurants and running his bison-focused farm have made Rehwinkel particularly passionate about — and well versed in — local meat, which takes pride of place at the Artisan's Dinner, along with a miniature re-creation of a farmers market. On the Sunday following the bison deconstruction, Long Trail Brewing Company offers sips of its beers, while Vergennes' Good Companion Bakery sells croissants and loaves of bread for diners to enjoy the next morning. To the accompaniment of a jazz quintet, guests can also purchase nonfoodie artisan products, from felted wool to animal-themed stained glass.
As for food at the event, forget the stodgy chafing dishes of other buffets. Beach says Rehwinkel has revolutionized the service at Basin Harbor with small, artfully arranged displays. Think radishes carefully carved to resemble bouquets of flowers; zingy, bright-yellow saffron cauliflower; sesame-laden green beans; and tender roasted beets with chèvre from Vermont Butter & Cheese Creamery.
But the focus of the Artisan's evening is the Harborside Smokehouse, which provides whole, herb-stuffed Maine salmon. The lightly smoked fish goes quickly — and is replenished regularly — because the surprisingly mild flesh is too moist and tender to resist. The buffet also holds chunks of spice-rubbed local chicken and Boyden Farm beef brisket. Rehwinkel had hoped to use the bison instead of beef but found it too lean to stand up to the long smoking. A sample from the middle of the aborted bison brisket proves his point: While it's tender and juicy, its flavor is more like that of sirloin than creamy, fatty brisket.
Another reason to make the drive to Vergennes on a Sunday night is the ribs. Cut into single bones and piled high, the pork may not look irresistible, but one taste demonstrates otherwise. The juicy meat stays just slightly too firm to fall off the bone, meaning that it's gloriously tender but also easy to eat. It is a tad messy, though, courtesy of a thick sauce made with Maker's Mark.
Even the kids table is packed with surprisingly sophisticated selections. For homemade tater tots, Rehwinkel mixes potatoes with Taylor Farm gouda, then coats them with powdered Cabot cheddar. A plate of '50s-style gelatin molds filled with fruit wiggle stands in front of a tiny sculpture of a hoodie-sporting teddy bear.
Desserts for grown-ups include blackberry cobbler and raspberry pie crafted so carefully that the berries remain whole and true to their natural flavor.
During the Artisan's Dinner, Rehwinkel shuttles between the dock and the kitchen, where he's overseeing dinner preparation for the main dining room. Though his special-event meals stay more or less constant from week to week, dishes change nightly in the main room, depending on what Addison County farmers bring to the kitchen door. Appetizers might include Peking-duck pancakes with blueberry-jalapeño-scallion jam, or profiteroles filled with foraged mushrooms and Champlain Valley Creamery Triple Cream. Four of the entrées on the menu appear every night: cider-brined pork chop with white grits; brick-roasted chicken with risotto and yuzu pan jus; salmon served with beluga lentils and flavored with kaffir lime butter; and sirloin with ultra-creamy mashed potatoes in Cabernet-peppercorn demi-glace.
Rehwinkel creates an additional four items for each night's menu, allowing for relatively eccentric choices such as Viennese spiced goat with spaetzle or pan-roasted guinea hen with pancetta and potato hash. "The cooks appreciate it, because they get the opportunity to see something different every day," says Rehwinkel. According to Beach, guests are similarly pleased. Until recently, longtime visitors were accustomed to choosing from one menu all summer, regardless of whether the ingredients were in season.
Less adventurous diners still have options. Rehwinkel, who has pored over the dense archive of menus from years past, features one "vintage" dish every night. The chef says that retired third-generation Basin Harbor owner co-Bob Beach, 92, appreciates the gesture. "He comes back and likes to have a few things that represent his time," Rehwinkel says. "He has the gray-sole meunière every time we run it."
That dish's origins at the restaurant date to 1971, but some items can be traced back as far as 1925's Vermont turkey dinner. The recipes, however, are not vintage but Rehwinkel's own, as a taste of the duck magret á l'orange attests. His version includes a scallion pancake, pea tendrils and ginger-orange glaze. "It's not your standard Long Island duck," he says. "It's become one of our best sellers."
Though much of the equipment in Basin Harbor's kitchen has been around since the '50s, Rehwinkel's cuisine is cutting edge, especially for a 59-year-old kitchen veteran. The chef explains that he keeps his food fresh by listening to his often-younger colleagues. "I learn from everybody," he says. "If you think you can't learn anymore, you're not doing yourself any favors. Everyone always has a good idea of — something that creates another idea or a new way of doing something that can make a product better."
This consultant has no problem asking others for their counsel. According to Pennie Beach, between the old-guard vestiges that still work and Rehwinkel's new ideas, the revamped Basin Harbor Club is exactly what she hoped for.
Back in the prep kitchen, the hanging quarters of bison have been stripped of their flesh, the steaks vacuum packed. Rehwinkel seems satisfied. "I have fun here every single day," he says earnestly. The chef surveys his domain and then moves on to the next task: another dinner.
Basin Harbor Club, 4800 Basin Harbor Road, Vergennes, 475-2311 or 800-622-4000. basinharbor.com