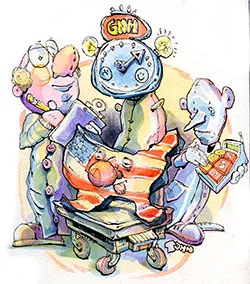 Linda Wheatley can list many reasons why gross domestic product is an inadequate measure of economic progress, but instead she offers this simple illustration:
"You could tear up that road outside, repave it, tear it up again and repave it again, and that would contribute to GDP," Wheatley says during an interview at a Burlington coffee shop. "But it wouldn't do anything for measuring 'progress.'"
Seated beside her, Chris Wood notes a few more shortcomings of GDP as an indicator.
"Hurricanes, wars — it all contributes to GDP," he says. "GDP doesn't measure damage to the environment, doesn't measure volunteerism, doesn't measure strength of communities."
And it doesn't measure a nation's quality of life or overall well-being. That's why Wheatley, Wood and a handful of Vermont activists are promoting "gross national happiness," or GNH, as an alternative to the consume-and-spend formula that fuels GDP.
The concept has its roots in Bhutan. When that country's fourth king, Jigme Singye Wangchuck, took the throne in 1972, the story goes, a reporter asked him what he intended to do about development. The king reportedly replied, in so many words, "We don't care about stuff. We don't want gross domestic product. We want gross national happiness." In 2008, the Buddhist kingdom made that its official national index.
Vermont's a long way from Bhutan, but Wheatley, Wood and Tom Barefoot have formed a local nonprofit, Gross National Happiness American Project (GNHUSA), that is hosting the first-ever GNH