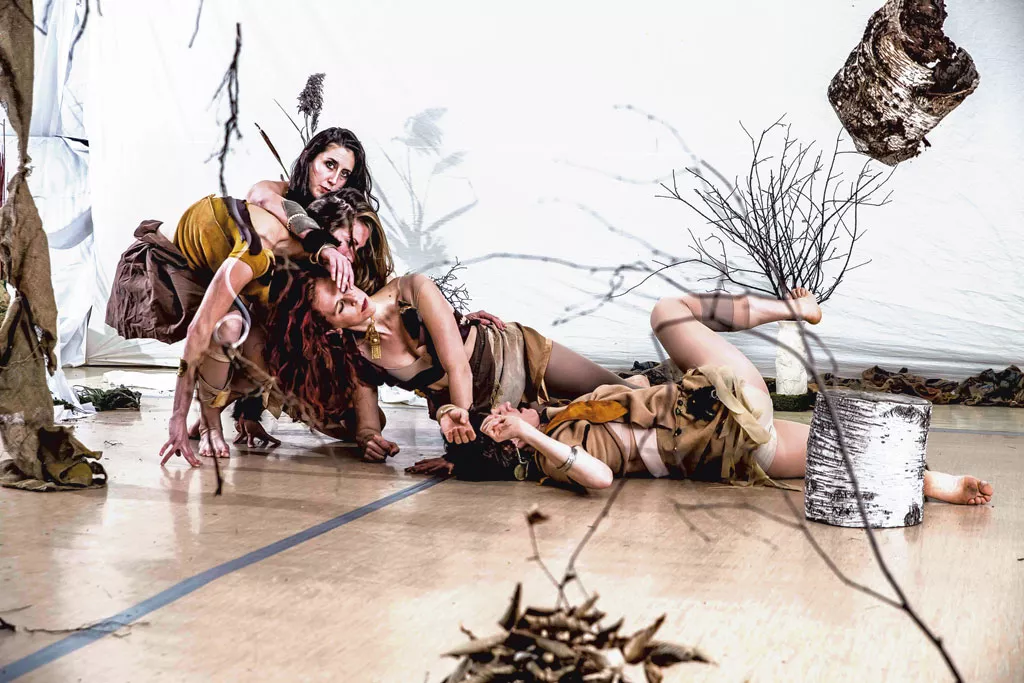 Courtesy of Joe Shelley
Hanna Satterlee and co. in Animal
"Owl. Snake. Newt? Large feline." Those were among the words I jotted in my notepad while hanging out on the sidelines of the Contemporary Dance and Fitness Studio in Montpelier on a blustery afternoon last week. I was there to see a rehearsal of Animal (Draft #1), the solo choreography debut from Hanna Satterlee, director of professional programming and artistic director of the teen jazz ensemble. The dance features Satterlee along with local movement artists Maura Gahan, Marly Spieser-Schneider, Avi Waring and Sharyl Green.
Billed as "an athletically inclined dance piece that uses various abstract compositions to explore the animal-self in all of us," Animal is a two-year series of public dance performances developed by Satterlee, who said she's eager to showcase local dance talent and up the number of performances in her area. The project also has photographic and video components; Satterlee has tapped friends in various fields to record her and her dancers performing the movement piece in nature.
The artists have been developing Draft #1 since last August and plan to perform ever-evolving drafts in indoor and outdoor venues across the state in the coming years, with a final performance slated for summer 2016. They will present an evening-length, fully produced performance for the first time this weekend in Montpelier.
As the dancers flapped, slithered and slunk their way around a makeshift stage, my brain went into overdrive trying to keep up with the different animals they were embodying. I didn't realize at the time that my guess-the-creature game would have driven Satterlee nuts.
"It always makes me shudder when people say that we're trying to be animals in this piece," she told me after rehearsal, over chai in a nearby café. "Because we're not trying to be any animal other than the one we already are."
The goal of Animal, Satterlee said, is for her and her artists to get better in touch with the "intuition and instinct" that one associates more with the animal kingdom than with socialized humankind. But she initially took the task of "finding the animal within" fairly literally. The first segment of the piece is based on dancers giving form to the various stages of the spine as future humans evolved — from tadpoles to four-legged standing animals to two-legged ones.
"It was like verbatim, out of the book, this kind of spine to that kind of spine," Satterlee explained. So when her dancers make cat movements onstage, they're not pretending to be cats; they're trying to find the memory of a four-legged existence in their human spine's evolutionary past.
Satterlee found that her scientific research was a useful starting point — a "backbone," if you will — for artistic exploration in a performance that is her first foray into solo choreography. From there, Animal becomes more abstract, even improvisational. It plays with flight instinct, pack behavior, power dynamics and intuitive physical reactions to external stimuli. Given the project's extended time frame, Satterlee was able to encourage her dancers to find movements that felt authentic to them.
"The movement [in the piece] is so complex and inverted and strange, but so complex and clear on each body, because it was made based on them," she said. "And they had pretty much 95 percent input on how the dance was going to go. We structured it from point A to point B, and [made it about] how you get there in your own physical journey."
Satterlee, a Montpelier native, began dancing when she was young. She got her degree in dance and psychology at Goucher College in Maryland, then went on to teach yoga and dance professionally in New York and San Francisco. In 2010, she returned to Vermont to take the artistic director position at the Contemporary Dance and Fitness Studio.
Satterlee culled her Animal dancers from past collaborations and performances in the local dance scene, including ones with the Montpelier Movement Collective and Big Action Performance Ensemble (Big APE), which has since moved from Middlebury to Florida.
For her first choreography project, Satterlee said, she wanted to give the work time to develop, using an ensemble of seasoned dancers who would embrace the immersive experience and thematic exploration of the show.
"With this group of dancers, I'm so lucky. They're so physically intelligent. They have a lot of history with training their bodies, and most of them with improvisation," Satterlee said. "And the thing with improvisation is that it's honing your instincts, finding out what your impulses are. So they all came to [Animal] right away."
She also selected dancers of her "own breed," in her words — women taller than 5-foot-10, with a similar physical form. In part, that's because, for Satterlee, the show's emotional center rests on strength and physical prowess. It's something of a personal obsession for Satterlee, who credits her older brother with testing her strength at an early age.
For Animal, she wants her dancers to "test their perceptions of their own strength" and to delve into the ways that strength plays out in movement. To that end, there's "a lot of crawling, a lot of specific pathways [onstage], a lot of strength in the shoulders and articulation of the spine," Satterlee explained. "There's this aesthetic of power and physical awareness and energetic phenomena. Just really focusing on what we are not verbally and nonculturally, [when we are] just taken out of context, in physical form."
INFO
Animal (Draft #1), choreographed by Hanna Satterlee. Friday, February 28, 7 p.m.; Saturday, March 1, 2 p.m.; and Sunday, March 2, 7 p.m. Film screenings on Saturday, March 1, 7 p.m.; and Sunday, March 2, 2 p.m. All events at the Contemporary Dance and Fitness Studio in Montpelier. Suggested donation $10-20. The venue is not handicap-accessible. cdandfs.com