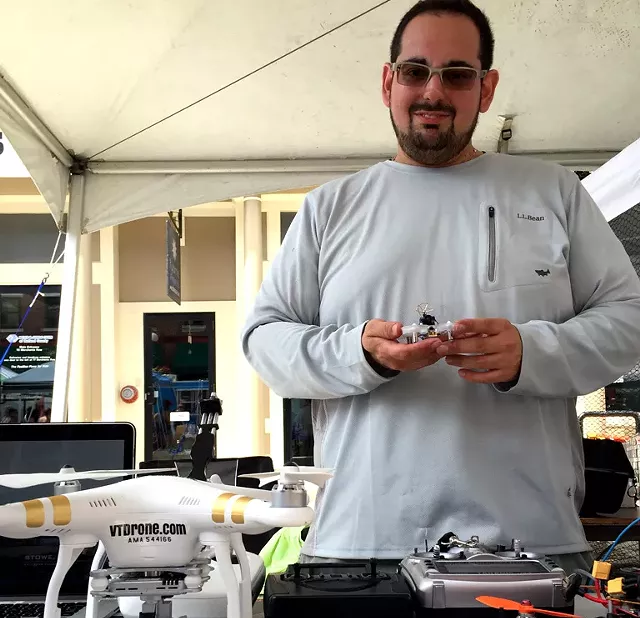 Steve Mermelstein of Vermont Drone
Drones were flying and bots were battling on Merchants Row when my family and I arrived in Rutland last weekend. We'd come for the Mini Maker Faire, a show-and-tell exhibition of DIY inventors and homegrown creations.
This wasn't my first such event. I've attended the Champlain Mini Maker Faire, which since 2012 has filled Shelburne Farms for an annual weekend with local hackers, innovators, robotics teams and other outside-the-box thinkers. And homemade rockets. And ham radios.
In an effort to explain to my 2-year-old daughter, Joni, where we were going, I said, "We'll see some drones. And robots. And definitely lots of blinking lights."
This was Rutland's second annual Mini Maker Faire. Both times, organizers — including the Rutland Economic Development Corporation, Castleton University and Champlain Mini Maker Faire producer Doug Webster — paired it with the Sidewalk Sale Days, a bustling street fair that draws thousands of visitors. Which meant bouncy castles and bubble machines and throngs of people in the hot sun.
Under one of the tents that enclosed the fair, the buzzing of drones lured us to our first booth. Steve Mermelstein, a professional drone pilot and photographer, was displaying his fleet of unmanned aircraft. The biggest and most impressive took him nine months to build. It's equipped with a camera and can fly for up to an hour before needing to be recharged.
Beside his booth, kids were learning to fly much smaller drones inside a net. "We're trying to get the community into the hobby," said Mermelstein, who is part of the Northern New England Drone User Group. He handed me his card, which read, "Promoting the use of civilian drone technology for the benefit of humanity."
Farther into the tent, I discovered three model train cars big enough to sit on. Kids climbed onto the spinning seats mounted on one car, while the trains' creator, Aaron Gonthier, lifted a lid to reveal a 500-watt motor. Like many of his motors, this one came from a used electric scooter he ordered online from China.
At his home in Windsor, Gonthier — who makes a living doing voiceovers and video production — has built 955 feet of track for his trains. He runs a website for railroad hobbyists called the Rail Channel.
Moving on, we passed a 3D printer that was very slowly churning out maker faire swag, then a display of adorable hand-felted creatures. Another booth offered buckets of dirt-cheap "Technorubble," including beat-up laptops, cables and other used electronics that inventors might use for parts.
My daughter lingered at a booth where kids were creating robots out of paper plates, paper clips, simple motors and batteries. Two of the robots had markers for feet. Joni got them moving on a large piece of paper and watched in awe as they drew colorful squiggles all by themselves.
We made our way to an intriguing display of dioramas. Their creator, Lou Scott, is an 80-year-old retired New York City ad man who now lives in Chittenden. He told me he has built 230 politically charged tableaux featuring animal figurines and other found objects.
Scott hates war, admires Stephen Hawking and worries about endangered big cats. In his installation titled "The Giraffe, Virtual Reality and Artificial Intelligence," a robot giraffe with gears on its feet lifts its long neck through tree branches. In the accompanying description, Scott writes, "It has been predicted that within 25 years, robots will be able to outperform the human mind. Couple this level of computational power with the imagery of virtual reality — then you must ask, 'Why do we need anything real?'"
Scott serves on the board of the Greater Rutland Makerspace, which is due to open next winter, because "I want to give back," he said. The operations committee, which includes members from REDC and Castleton University, is still nailing down a location, but the nonprofit will offer 3D printers, laser cutters, a metal shop and a woodshop. Members will have access to tools, work space, classes and workshops.
Like many of the maker faire participants, Scott is excited to see the makerspace become a reality. "It's good for the economy," he said. "It's good for everyone."
Tyler Richardson, REDC's assistant director, sees the makerspace as a way to create local jobs, especially for young Vermonters who might otherwise leave the state. "It's an up-and-coming way to build businesses," he said. Richardson was hired earlier this year as part of a new partnership between REDC and Castleton University that addresses the question: How do we keep our young people here?
Nirav Shah, of Burlington's Laboratory B, with Fluffy the laser-shooting robot
And then there was a robot battle. Dan Bisbee, a member of the Foundry, a makerspace in Lyndonville; and Nirav Shah, a member of Burlington's Laboratory B, each operated a foot-tall spiderlike robot. Shah's, called Fluffy, was equipped with a camera, a one-watt laser and a penguin head wearing a top hat and monocle. Bisbee's, called Yuri, was more bare bones but had a more powerful two-watt laser.
With Bisbee and Shah at the controls, the robots walked, somewhat awkwardly, around a course filled with black balloons. Their goal was to pop as many as possible by shooting them with the lasers.
Beside the action, Lab B members taught a beginner's soldering course. Across the street, one could see Michael Divoll, the Santa Claus lookalike who owns Michael's Toys on Merchants Row, engaging in a more traditional style of making: creating a wooden sign with a hammer and chisel.
It was hard to say which robot was winning the battle. But each pop delighted the audience. While my daughter leaned over the two-foot wall enclosing the course, I asked Bisbee what would happen if the laser came in contact with human skin.
"It can't point any higher than this wall," he reassured me. "If you get it in your eye, though, that would be bad."
One of the robot's lasers struck a piece of tissue paper, which promptly went up in flames.