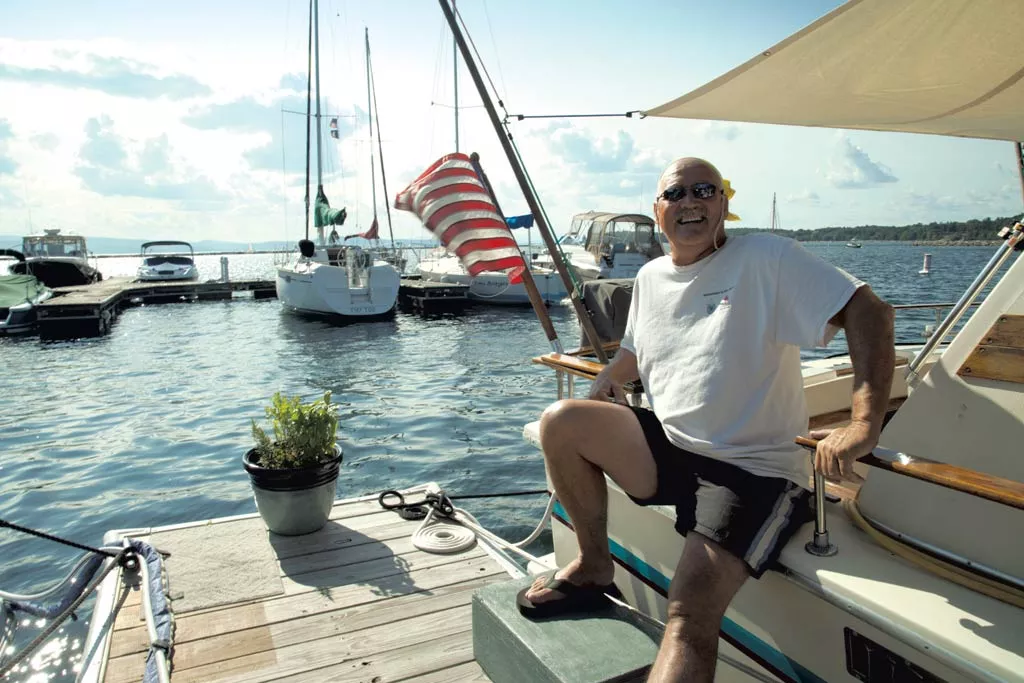 Kent Cassella aboard Mazie C.
Kent Cassella has played 11 characters over 226 episodes of "Law & Order: Special Victims Unit," an analyst in 2001's Oscar winner A Beautiful Mind and a smattering of other supporting roles in television and film. Each summer, though, he returns to his favorite role: the "mayor" of D-Dock at the Burlington Boathouse. He's among the many boaters who don't just explore or dive into Lake Champlain during the summer months — they live on it.
On a blindingly bright day in early August, Cassella, 58, squints down D-Dock and ushers me aboard his boat. It's a 1978 30-foot live-aboard — named Mazie C., for his grandmother — and resides at slip 87, a $3,400-per-year prime slice of real estate near the end of the finger pier.
On shore, the foot of College Street is a swarm of activity: Vendors hawk creemees and artisanal chocolate pops, visitors wander into the ECHO Lake Aquarium and Science Center, bicyclists whiz past teens making out on the grass, and the Spirit of Ethan Allen III docks with a rumble. Out near the end of D-Dock, the actor gestures at his virtually unencumbered view of the Adirondacks and the forthcoming sunset.
"Slip 87's home," says Cassella with a broad smile. He and Mazie C. started out 10 years ago in a slip closer to the Boathouse ramp. Each summer, Cassella moved down the dock until he got a coveted slip farther out in the water. "I wanted to be [in 87] because I have a great view of the fireworks," he explains. "I have a great view of the sunset. I'm still somewhat protected, though the north wind can be heavy.
"And," he adds, "there's a real community here on this dock."
Stuck In Vermont: Kent Cassella
Cassella owns a house in Burlington that he rents out during the summer, and he stays in New York City when he has acting work. But what keeps him coming to northern Vermont, he says, is the lake — and the people he finds on it.
"We're always doing something on the weekends," he says. "It's a neighborhood, almost. And I'm here so much they call me the mayor."
Cassella shows off the wooden gavel his D-Dock friends made for him, which reads "His Honor Sir Kent Cassella, Mayor of D-Dock." The title isn't entirely a joke. "I have the keys to everyone's boat," Cassella says, "because they know that when they're away, I'll look after their boat. I'll make sure no one gets in."
At just past 4:00 on a weekday, D-Dock is deserted aside from Cassella. He walks me down the dock, pointing at boats and rattling off the names of some of his part-time neighbors. "Wolf and his wife, Gudrun, they're in the granite business in Barre; they come up on Thursdays, usually, but sometimes they'll come up on Tuesday nights 'cause they just got this new big boat, so they want to be on it as much as possible," Cassella says.
"That's Jim's; he's always traveling. He'll be back Labor Day. Leo and Marilyn down at the end there will come up pretty much every weekend. They live down south a bit, but Leo practices law up here. There's a new guy, Paul, who's got a sailboat down there. Paul and Brenda. Paul's retired now, so he's here every day — he's out sailing now."
Cassella is casually dressed in swim trunks and a sleeveless shirt, and boasts the kind of tan a person gets after months in the sun. He also has the kind of mustache that lands an actor work as an Italian extra on TV shows. ("Except 'Boardwalk Empire,'" Cassella notes ruefully. "'The Sopranos,' too, I never got cast in. I'd get called in because I had an Italian last name, but I go in and I don't really look as Italian as those guidos you see [in New York]," he jokes. "I mean, they've got the chains and everything.") This summer, he's working at Trader Joe's in South Burlington to supplement his cash flow.
While living in D-Dock all summer may not be the norm, overnight guests are not uncommon at the Boathouse and other downtown docking areas, where visitors can walk up the street for an evening out. "Every night you get a nice sunset," Cassella points out, "and then you walk right up and you go to Leunig's [Bistro] or L'Amante. You see a movie at the [Merrill's] Roxy [Cinemas] ... You're up in a marina in Colchester, and you don't get to just go do that. You gotta get in the car."
As Burlington's Parks and Recreation waterfront division coordinator, Erin Moreau points out, the community comes to the Boathouse, too. "Many of the other marinas are private," says Moreau, 32. "But this is a public facility. Anyone can come down here to watch the sunset, be near the boats and walk around the docks."
The D-Dock crew, she adds, contributes significantly to that vibe. "They really make what's wonderful about the Boathouse," Moreau says. "With them, you walk down the dock, you're a part of something."
From the time the Boathouse opens — this year in mid-May — until it closes in the fall, Cassella sleeps on Mazie C. He says he likes the pared-down lifestyle on a boat. "It simplifies things," he says. But it's hard for him to pin down the appeal. "It just, I don't know, it lulls me to sleep. Maybe there's just something in the blood. I just always want to be in the water or on the water."
But not many people have the kind of work life that accommodates a full summer on a boat. "I'm probably the only one who lives here all the time," Cassella acknowledges. "But if you come back on a Friday or Saturday afternoon, you'll catch everybody. It gets a little crazy."
Indeed, back at D-Dock on Friday evening, I find Cassella lounging next door in slip 86, on the deck of Wolfgang and Gudrun Noetzold's shiny new 35-foot "dream boat." The lake is glassy, the sun is sinking and strains from the Offspring concert drift down from Waterfront Park.
"When there's a north wind, we get really great sound from the concerts," Cassella observes lazily. One time, he remembers, when Grace Potter was playing, he took a photographer out on the water to get shots of the concert; the guy repaid him and a group of friends with festival passes.
"We get the best of everything," Gudrun Noetzold agrees, offering me iced coffee in a wine glass with a straw.
Gudrun and Wolfgang Noetzold, Kent Cassell
The Noetzolds own Stone Tech, a Barre-based company that sells diamond-cut tools to the granite industry. Originally from Germany, the couple moved to the U.S. in 1986. "Two weeks later, Wolf bought our first boat," Gudrun Noetzold says.
"It was $600," Wolfgang Noetzold remembers. "And I didn't have the money to pay for it, either. I had a hundred dollars. It wasn't enough. Then I went to the Northfield [Savings] Bank and a guy there gave me the money. Today, he makes sausages; I still buy them from him."
"Was that the sausage we had the other day?" Cassella asks, and Wolfgang Noetzold nods.
Down the dock, a group of three kids dive-bomb into the lake. In her slip at the end of the pier, Marilyn Bisson calls her dog, Angus. ("He was voted 'best deck dog' last year," she tells me later.) Across the way, commercial painter Ryan Mabel hangs out in his family's boat. Closer to the ramp, Bill Magnus, a real estate agent, is preparing to go downtown with his family.
"All of us, we love this spot here," Gudrun Noetzold says. "It was one of the things, when we were thinking about getting a bigger boat — [Wolfgang and I] didn't want to go any longer than 35 feet, because we would've lost the slip."
The Noetzolds say they spend just about every weekend of the summer on the lake; they've been on D-Dock for six years, and they're planning to stay.
Other docks in the area are arguably better suited to regular overnighters, Cassella opines. And you won't find a bona fide houseboat in the Boathouse marina, since those tend to be longer, ocean-going boats; the maximum boat length the docks can accommodate is 35 feet.
And docks at privately owned marinas, such as Bay Harbor Marina in Colchester and Point Bay Marina in Charlotte, tend to be cushier than those at the city-owned Boathouse, Cassella says.*
But that doesn't matter to the die-hards at D-Dock. "It comes down to: We got the view and we got downtown, and you just can't beat that," Cassella says.
"And we have Kent," Gudrun Noetzold interjects.
Plus, Cassella adds, everything you need is already onboard. "I have a full-sized refrigerator, a shower and I can cook. I have a really nice bedroom. It's great. It's the only waterfront property I'll ever be able to afford! Unless I move to a pond."
The original print version of this article was headlined "Life's a Beach"
*Correction 08/14/14: An earlier version of this article stated that the Boathouse marina did not have restrooms or showers; the marina does, in fact, provide these amenities.