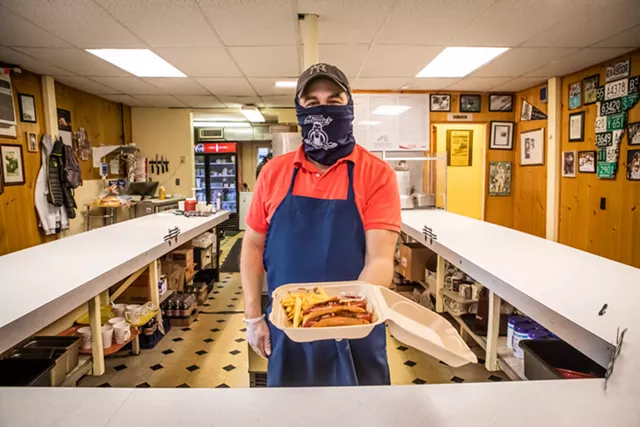 Luke Awtry ©️ Seven Days
Earl Handy
Earl Handy closed up his small Burlington diner for the day at about 2:30 p.m. on December 3. On the way out, he paused to offer commentary on some of the pieces of memorabilia that hung in the entryway of the third-generation restaurant.
A framed flyer describes the "new charcoal steak room" at Handy's Lunch, featuring T-bone steaks for $1.89. It dates back to the early 1960s, when the family briefly served up steak dinners in a room beside the existing diner.
Another frame holds a December 1995 proclamation signed by then-mayor of Burlington Peter Clavelle in honor of the landmark eatery's 50th anniversary.
"Whereas, Handy's Lunch serves great eggs & bacon, hot hamburg sandwiches, and just about the best plain home cookin' type food for the price in the entire City of Burlington," the proclamation reads. "Whereas, if you ever want to know what's going on in Burlington, go to Handy's Lunch," it continues.
"My dad was so proud of that," Handy said. Then he added offhandedly, "We turn 75 next week, December 7."
In any other year, that anniversary might have involved a big celebration, but in 2020, Handy, 46, has other things on his mind. Like many other small-business owners, he's doing everything he can to navigate through the challenges of a pandemic year.
And he's fighting not just for a business but for a family legacy, a community hub and a longstanding tradition.

Handy's paternal grandparents, Earl and Flora Handy, emigrated from Lebanon and opened Handy's Lunch in 1945. In the winter of 1958, the couple left their son, Robert, in charge of the family grocery store and five-stool diner while they wintered in Georgia. They returned to find that the grocery store had been replaced by an expanded diner with the now-signature horseshoe counter.
"My grandfather was furious," Handy said. "He fired my dad, but my grandmother smoothed it over."
Robert Handy never encouraged his own son to take over the family business, though Earl started helping out when he was very young.

"As soon as I could reach the bottom of the sink, I had a job," he recalled. "My dad said, 'Go get health insurance. Go get weekends off. Go get paid vacations. Go do something more than this.'"
Earl was a 21-year-old college graduate working as a car salesman in the summer of 1996 when his dad was diagnosed with pancreatic cancer. Robert died soon after. The young man stepped in to help his mother keep the diner running. He never intended to stay, but gradually, he recalled, "It started to feel right. People were glad I was here."

Luke Awtry ©️ Seven Days
Handy's Lunch
His mom, Janet, stayed involved with the diner by making brownies, cookies and potato salad until she retired in 2018. "She turned 80 and said, 'I'm done,'" Handy said.
Handy believes the diner is the oldest restaurant in Burlington still owned by the founding family. "When I was a teenager, I had to be here. Now I have to be here, but it's different," he said. "My mission is to keep it going."
In mid-March, Handy quickly transformed his business into a takeout-only joint. On social media he posted a video of his son, Nicholas, picking up an order dressed in his Saint Patrick's Day finest and exuding the slightest hint of "Dad, I can't believe you're making me do this" attitude.
Early on in the pandemic, local businesses donated more than $10,000 to pay for Handy's Lunch to prepare 1,000 meals and deliver them to the Boys & Girls Club of Burlington, the King Street Center, and staff and patient families at the University of Vermont Medical Center's Neonatal Intensive Care Unit.
"That money allowed me to keep paying my bills and let me keep doing what I do," Handy said. "It was just a blessing."
As 2020 ground on, Handy continued to serve up takeout orders of his signature McHandy breakfast sandwiches, Texas chili dogs and over-the-top creations, such as the Macho Man — a patty melt stacked on top of a pastrami Reuben.
On October 3, Handy reopened the neat clapboard building with red trim on the corner of Maple and South Champlain streets to a carefully managed, reduced number of diners.
Customers could once again sit around the horseshoe counter, banter with Handy and one another about sports, and see the latest photos of his 12-year-old twins. (An unabashed Yankees fan and huge supporter of UVM sports teams, Handy has filled the diner walls with photos of past Catamount greats, such as National Hockey League stars Martin St. Louis and Tim Thomas.)
But these days, patrons come at a trickle for indoor dining. Breakfast, especially, is markedly slower, Handy said. "We lost the college kids and the offices, and then the tourists," he lamented. "People just aren't going out to eat as much."
Takeout now comprises more than three quarters of his business, flipping the pre-pandemic ratio. Catered office lunches, which used to generate significant income, have all but disappeared. Overall, business is down by 40 to 45 percent, Handy said.
A conversation with U.S. Rep. Peter Welch (D-Vt.) convinced him to apply for a federal Paycheck Protection Program loan. "It helped us get through the summer. But now, with winter coming …" Handy said, trailing off.
Cash flow challenges aside, Handy just plain misses hanging out with his customers, many of whom are friends. "It's hard because I'm such a social people person," he said.
Handy stays connected as much as he can. He doesn't offer online ordering or use food-delivery services. When he and his customers don't interact, "You lose the personal touch," he said.
That personal touch was evident during a couple of recent visits to Handy's.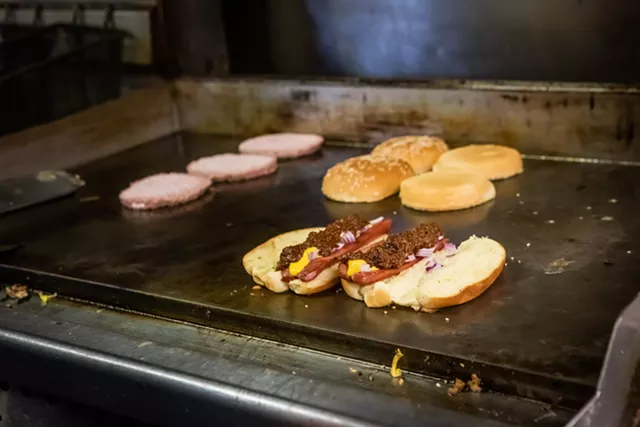 Luke Awtry ©️ Seven Days
Texas dogs
On December 1, I paused for a few fresh-off-the-flat-top bites of a Texas hot dog before taking my order to go. As I relished mouthfuls of buttery, griddled potato bun and juicy all-beef hot dog dressed with tangy, secret-recipe chili sauce, lightly pungent raw onion and just the right touch of sharp yellow mustard, I heard Handy gently admonishing a customer on the phone: "No, no, no. You don't put mayonnaise on a Texas cheeseburger."

A couple of days later, I sat at the counter enjoying a thickly stacked Hot Mama — a Reuben made with pastrami, as Handy's wife prefers it, instead of corned beef. A scattering of other patrons, mostly longtime regulars, sat at the counter chatting with Handy and one another as they ate.
Neil Brodeur of Milton had ordered his usual, no matter the time of day: the egg, sausage and cheese sandwich on French toast, named the SST for an old friend of Handy's.
"This is the family of Handy's," Brodeur said, looking around the horseshoe. The Rice Memorial High School athletic director, now 53, has been coming to the diner since he was a teenager working for the Burlington Electric Department. Back in those days, Brodeur joined coworkers to eat the Lineman's Special, a cheeseburger omelette named in their honor.
Among those linemen was Sean Quinn, now 66, who happened to be painting my house last week. He's been a devoted Handy's customer since 1976, when the diner was the go-to break spot for the city's electrical and street maintenance crews. "It's a family business. You always felt welcome there," Quinn said.
"Tom Brennan used to joke on the radio, 'What's big and orange, parks in front of Handy's, and sleeps three? A Burlington Electric line truck,'" Quinn told me, referring to the beloved former UVM basketball coach who also cohosted a radio show for many years.
Quinn has decades of Texas-dog fandom on me. "Nothing like starting the day with a couple of Texas dogs, then climbing a 50-foot pole," he said with a chuckle.
He remembers Earl Handy as a kid. Handy recalls watching "The Magilla Gorilla Show" on the diner TV with Quinn and other linemen on their afternoon coffee break.
On December 3, after Brodeur and the few other customers left, Handy sat down for his own lunch: a pair of Texas dogs wrapped in foil as if to go.
He almost always has his that way, even when he's eating them at his own counter. "It takes me back. It reminds me of when my dad used to bring them home from work," he explained.
Handy knows the months ahead will be tough. He's taking heart in the diner's long history and its most recent accolades, including being named best diner in the state by the Food Network and the home of the best Vermont hot dog in People magazine.
"In 1981, my dad watched GE across the street pick up and leave. He survived," Handy said. "Three years ago, I went from April to October with the street looking like the Grand Canyon when they put in the new water main. We survived."
He is planning to survive this, too.

"I don't have 'give up' in my vocabulary," he said. "Any day I can unlock the door is a good day. If I only make $50, it's more than if I hadn't opened at all."