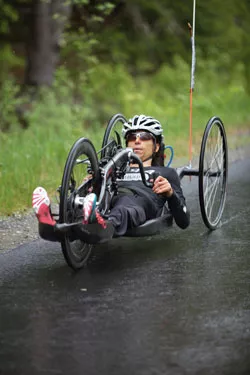 No matter how fast you run, no matter what number bib you're wearing, and no matter how many miles you've sweated in your Sauconys, you're not going to elbow ahead of Alicia Dana at the start of the KeyBank Vermont City Marathon & Relay this Sunday. Or Patrick Standen. Or Jillian Duda. Or Bryan Bathalon.
And, unless you've got rockets in your Reeboks, you're probably not going to catch them on the clover-leaf route through the Queen City, either. These four athletes are some of the top handcyclists who will be rolling through the 25th anniversary event, clocking miles faster than you can whip up a smoothie. They start three minutes earlier, finish hours earlier, and generally school much of the VCM able-bodied field in what it means to be a tenacious and driven athlete.
So emotions run high at the start for these competitors. This year, in the wake of the Boston Marathon bombings, those feelings will surely be amplified.
"Looking out at my fellow wheeled participants next to me will be a potent reminder of what many of the bombing victims will be facing over the next few years as they adjust and adapt to their new lives as persons with disabilities," says Standen, the founder and president of the Northeast Disabled Athletic Association. "Who knows? Maybe next year we'll see a few of the survivors on the VCM start line in handcycles."
VCM organizers expect a total of 17 handcyclists and one wheelchair racer this year; though they start together, at 8 a.m., they are two distinct groups.
"A handcycle is like a bicycle, and a racing wheelchair is like running," says Putney's Dana, age 44. "Wheelchair racers tend to do marathons and shorter races, while handcyclists — we have the same events as cyclists, such as time trials and road races."
In fact, Dana, who won the 2011 event and set the course record with her time of 2:00:19, got hooked on handcycling because of its similarity to cycling, not running. A competitive cyclist before she fell out of a tree at age 17 and broke her back, Dana has since become one of the top handcyclists in the country. She landed a berth on the U.S. Para-Cycling Team, won the 2012 National Criterium Championship and placed fifth in the time-trial event at the London 2012 Paralympic Games.
Dana also likens the movement of handcycles to rowing; she spends her winters working her pectoral muscles, deltoids, biceps and triceps in a series of exercises provided by her coach. Like able-bodied runners and cyclists, she also spends hours racking up the miles, typically on a stationary trainer she sets up on her porch. Despite her rousing playlist of Michael Franti, the Red Hot Chili Peppers, Nirvana and Pearl Jam, she says, tedium can set in.
"It can be a little dull being on the trainer for hours and hours," admits Dana, who has tried Nordic sit skiing but struggles with balance issues because of her scoliosis. Handcycling outdoors is her preference, though it can feel scary sometimes, she says, fraught with the risks of a collision or of something happening to her handcycle. A few years ago, it was stolen from its parking spot — an incident that triggered a communitywide fundraiser to buy her a new one.
Then there is Jillian Duda, who won the 2010 handcycle division of VCM in 2:12:38, was second (to Dana) in 2011 and won again last year when Dana did not race.
"I haven't been able to train at all," says the 32-year-old, who recently underwent a colostomy that curtailed any preparation on the handcycle. "My first day out is going to be the Vermont City Marathon. But I'm doing it for Boston, I'm doing it because it's the 25th anniversary and I'm doing it to show my son that anything can be accomplished when you set your mind to it."
Duda adds with a tentative note, "It should be amazing."
While Dana and Duda will most likely be battling for the women's handcycle win, the men's side will probably see Standen going wheels-to-wheels with an athlete he convinced to try handcycling five years ago, Bryan Bathalon. A 19-year-old from Colchester, Bathalon has finished seventh twice and notched a third place in 2010.
"I've always been naturally competitive and always want to win, but this is the first year I've had a serious goal of trying to win VCM," Bathalon says. He has a shot at that goal because Jeremy Shortsleeve, who has repeatedly won by several minutes, won't be racing this year.
Gunning for a time of about one hour and 40 minutes, Bathalon has a strategy of not blowing past fellow handcyclists so much as staying with them — a departure from his long, solo endurance rides in training. "I do enjoy riding with others during races," he says. "I find it much easier to keep at a pace if you have someone that you are focused on keeping up with. It keeps your mind off any physical stress you may be feeling, as well."
For Dana (whom Standen also encouraged to try handcycling at VCM), race day means a CamelBak filled with water, bottles filled with energy drinks, maybe a protein smoothie or apples with peanut butter, coffee and a strategy of benefiting from the peloton. "Just like in a bike race, the more you can draft and work with other people," she explains, "you can save your energy that way. There's a little talking, but mostly we're all heads down and working hard."
Well, except on Church Street, perhaps, where Bathalon really feels the adrenaline pumping. "It's a wonderful feeling to have hundreds of people cheer you on as you bike through the streets," he says.
Or on Battery Street, which Bathalon describes as the "make or break" moment of the race.
Standen shrugs off Battery Street, with its Taiko drummers and spectators, as a challenge; he focuses instead on slogging through the Beltline, which is grueling for many runners, too. "It is lonely, long, unsheltered," Standen says, "and that climb back up into Burlington is relentless."
And there are still many miles to go.
"I look at the marathon as a 10K with a 20-mile warm-up," says Standen, employing an approach familiar to many runners. "I pace myself the first two thirds and then do a mental check of all my physical symptoms — joints, muscles, hydration, etc. If it's 'all systems go,' I start laying down the hammer."
The race's conclusion serves as a memorable bookend to the emotional start. "I almost cry every time I finish," says Standen, who celebrates another 26.2 miles with a dunk in Lake Champlain. "The colder the better — it's like a giant ice-water bath and great for the muscles and joints."
When Dana finishes the VCM, she'll just be getting started on her handcycle season, which includes the national championships in July and training to qualify for World Cup races and world championships.
"It's been a whirlwind," Dana says. "Here I am with the U.S. team, and my coach says I still haven't reached my potential yet.
"I'm amazed. I feel grateful, incredibly appreciative of all the people who have helped me in various ways," she adds. "It was really thanks to the Vermont City Marathon that I got back into this sport."
KeyBank Vermont City Marathon & Relay, Sunday, May 26, in Burlington. vermontcitymarathon.org
The original print version of this article was headlined "Arms and Hammer."