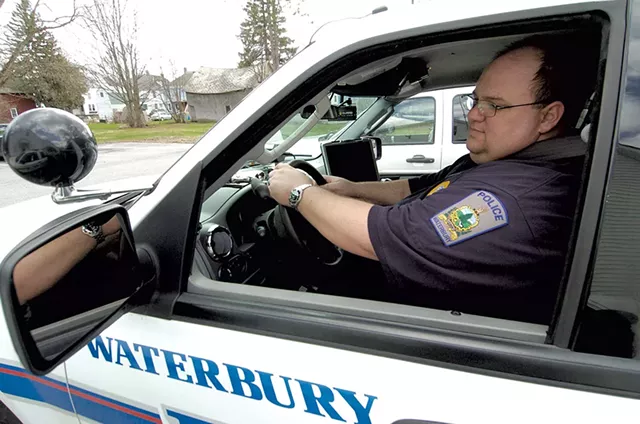 File: Jeb Wallace-brodeur
Waterbury Police Chief Joby Feccia
Waterbury Sports co-owner Chuck Hughson likes knowing the names of the police officers who patrol the streets where he lives and works. He finds comfort in the cop cars stationed next to his South Main Street store at night.
"We literally have two cruisers parked in our parking lot," an advantage of sharing a building with the local police agency, Hughson said. "There's something to be said about a local department."
But those police cars, the department and the officers will disappear at the end of the year when Waterbury Village, the downtown section of the larger 5,000-person municipality, dissolves its police force. The decision made earlier this year leaves the entire town of Waterbury — a burgeoning beer mecca and home to a major state office complex — without a local police force and grappling with an uncertain public safety future.
"I don't think anybody disagrees with the need for a police department," said Waterbury Village Trustees President Skip Flanders. "It's a question of who pays."
Waterbury is not alone in facing that question, nor the question of how much local policing is needed. Later this month, the Senate Government Operations Committee will launch a series of hearings around Vermont taking a closer look at those issues.
One proposal: a requirement that municipalities, regardless of their size, provide some level of police service. Towns could create their own police force or contract with a nearby department or county sheriff, as some already do, according to Sen. Jeanette White (D-Windham), the committee's chair.
"In my opinion, state police should be covering major crimes, special investigation units and highways," but they should not be serving as de facto town cops, White said.
Across Vermont, 57 municipalities field their own police departments. Others contract with state police, a sheriff's department or neighboring police agencies for a specific amount of coverage. Several more rely entirely on state police without paying extra.
"You're subsidizing all those towns that don't have anything," said White, who considers such arrangements unfair.
Sen. Brian Collamore (R-Rutland), the committee's vice chair, said he's unsure what the legislature will decide, but he sees the need for a discussion. "In Vermont, we have this patchwork quilt of police," he said. "There's sort of a question of jurisdiction at times."
White contends that every municipality should at least provide "primary coverage," either through their own police agency or a contract. "So if somebody beats up on somebody, you know who to call," she said.
Working out the details of who is responsible for exactly what level of coverage will take some work, White conceded: "We haven't defined primary coverage."
But she has supporters who agree that Vermonters can no longer count on state police to respond to low-level crimes such as mailbox vandalism, fender benders and shoplifting.
"Every municipality has a fire department. You also need police services," said Vergennes Police Chief George Merkel, president of the Vermont Association of Chiefs of Police. "We've got to start looking at regionalizing services."
Windham County Sheriff Keith Clark agrees. "State police are spread too thin," he said. "They're not for policing small communities the way they're set up."
Col. Matthew Birmingham, commander of the Vermont State Police, wouldn't take a stance on White's proposal. But he did make clear that his agency feels the strain under the current model. Staffing has remained level, while criminal investigations have grown more complex, Birmingham said.
"We have really had to specialize in the last five to 10 years," he said, noting the creation of special units to handle major crimes, sex investigations, and search-and-rescue operations. This year, the agency added a technology unit to focus on the growth of cyber attacks and other crimes that require computer skills to investigate, Birmingham said. "Every crime has a technology component that could be the difference between solving the crime or not," he said.
Birmingham argued that state police should focus on that core mission of offering specialized investigators. But, like it or not, communities also expect troopers to be the local cop on the beat. A state police station is located in Derby, for example, a sizable community that lacks its own police department.
"It's a challenge for us," Birmingham said. "Having a barracks physically there might give the false impression that we can provide policing at a higher level."
When a Walmart store opened in Derby last year, the volume of calls for retail theft, parking lot car crashes and the like increased, he said. Local station commanders ultimately determine which calls they can handle, but Birmingham said his troopers have to prioritize emergencies over "quality-of-life" incidents.
Communities can get a higher level of service by contracting with state police for a set number of patrol hours each week. Last year, 23 Vermont towns chose that option, paying a total of $433,842, according to state police.
But Birmingham warned that such arrangements, which involve troopers working overtime either before or after their regular shifts, are not a statewide solution to policing rural regions.
"If every town contracted with state police, we couldn't do it," Birmingham said, because the money towns pay reimburses the state for troopers' overtime — but doesn't allow him to hire more troopers.
For other communities, hiring a sheriff's department or neighboring police agency can offer more flexibility.
Vernon, which disbanded its three-member police department in 2014 after the 650-employee Vermont Yankee nuclear power plant shut down, contracts with the Windham County Sheriff's Office. The town spends about $250,000 a year for 20 hours of daily coverage, about $65,000 a year less than running its own department, Vernon Selectboard chair Josh Unruh said.
Even that might be more coverage than the town needs, he said: "It's a huge debate every single year at town meeting about the large amount of money we spend."
Clark, however, said he found Vernon's police needs to be greater than he expected. Local police had made four drunk-driving arrests in five years, he said, while his department made 16 in the first three months of coverage. Such contracts can be a viable option, but Clark argued that the state needs a more comprehensive approach.
It's not for a lack of trying. Studies on the issue date back decades. "The state is at a crossroads," declared a 2009 report to the legislature that recommended regionalizing police services to ease the burden on state police.
"We've almost studied this to death," Clark said. "It's having the political will to act."
White said she is ready to act. But she also knows there will be resistance.
At least one organization has said as much: The Vermont League of Cities and Towns will oppose the legislation, according to Karen Horn, the coalition's lobbyist.
"Towns need to figure out for themselves what level of coverage is going to work," Horn said.
Townspeople will get a chance to weigh in. White's five-member Government Operations Committee will hit eight locations this fall seeking public input on policing: September 21 in Bellows Falls and White River Junction; September 26 in Manchester and Brandon; October 10 in St. Johnsbury and Newport; and October 24 in St. Albans and Waterbury.
When White's committee gets to Waterbury, members will find a community already hip-deep in the debate. It revolves around a beef between the village, which is more densely populated and has long paid for its own police force, and the rest of town, which depends — fee-free — on the state police for its coverage.
Village residents voted in June to dissolve their government after years-long efforts to merge with the town failed, in part because town residents didn't want to pay for a police department. The village, which has struggled to fund its department since 2011's Tropical Storm Irene dented its tax base, has seen its police force shrink from 10 full- and part-time officers to just two full-timers working five days a week. State police have been providing basic coverage in the village overnight and on weekends.
It's not the busiest beat in the state. Over the last five years, Waterbury had an annual average of about 1,500 calls for service — nearly three-quarters of them in the village. Police also issued an average of 457 traffic citations and averaged 24 arrests annually.
The decision to disband, which puts all Waterbury residents under a single town government, awaits legislative approval next year and would take effect July 1, 2018.
In anticipation, the village plans to stop funding its $325,000-a-year police force as of December 31. Police Chief Joby Feccia and Cpl. Anthony Mazzilli will lose their jobs.
The question of what to do next is very much up in the air. A 10-member committee is studying Waterbury's public safety needs and the cost of police forces in seven similar-size communities. Costs range from $460,000 for three officers in Bristol to $1.2 million for 10 officers in Morristown.
"What we're looking at is trying to establish a range of options," said Marc Metayer, a town selectboard member, retired state police captain and former deputy commissioner of the state Department of Public Safety. He is heading the committee.
Voters will ultimately decide, possibly in November, after a process that will include surveys and public hearings, Metayer said.
If Waterbury decides to rely solely on state police coverage, residents should understand that they won't be getting immediate service for nonemergencies, said Birmingham, the state police commander.
"Yes, we can provide police services to the town of Waterbury," Birmingham said. "The level to which we provide it is the question."
Hughson, the Waterbury Sports co-owner, is wary of just that. His store hasn't had any crime problems, but when local police are off, people have come in and asked how to reach the police, including one woman whose phone had been stolen. He keeps the state police phone number handy but wonders what response those calls bring.
"I think a department that's at least seven days a week is a start," Hughson said.