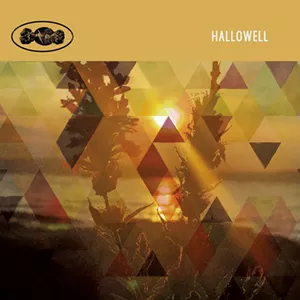 (Great Comfort Records, digital, vinyl)
When I was 7 years old, a singer-songwriter visited the church my parents took me to. As he sat in front of the Sunday school kids, he crooned about God and all things God-related. Maybe it worked for some of the other kids, but I was so turned off by his shitty songs that I lost all interest in the message, for better or worse.
I wonder how different life would have been had that guest been Joseph Pensak playing the songs of his project Hallowell. If someone had turned up in church that day playing airy folk rock, blanketed in warm strings and gorgeous harmonies — instead of hokey, boring tunes — would I have been drawn to the message?
Pensak is the organizing pastor of Redeemer Burlington, as well as the organizing director and head curator of New City Galerie. But he is in full bandleader mode on Hallowell's self-titled debut record, a modern devotional work. Over 10 tracks of lush, delicately arranged music, Pensak opens up a dialogue with God.
The first track, "The Wreath," follows a laid-back beat with a building progression that picks up horns and strings as it goes, before slowing to a Latin-esque breakdown. It's an early display of the range of movement Pensak puts into his songs. These are well-crafted pieces of music, a testament to multiple influences. You can hear the imprint of R.E.M. alongside a love of sunny, 1970s southern California rock.
Before coming to Burlington, Pensak cofounded an ecumenical religious organization called Bifrost Arts. In 2009, Bifrost released a compilation record titled Come O Spirit!, featuring contributions from Father John Misty and Damien Jurado, among others. The pastor once again has assembled a wide array of talent, this time dipping into Vermont's rich pool.
In addition to the contributions of producer and multi-instrumentalist Christopher Hawthorn, Pensak brings in more than 20 guest performers. Cricket Blue's Laura Heaberlin sings harmonies all over the album. Her bandmate Taylor Smith supplies horns, along with Hawthorn and Nate Reit. TURNmusic, a local chamber music collective conducted by Anne Decker, applies a Technicolor wash to Hallowell, its strings providing transcendence to Pensak's songs.
Perhaps the most out-of-left-field guest is François Clemmons, aka Officer Clemmons of "Mister Rogers' Neighborhood" fame — and retired artist-in-residence of Middlebury College. Clemmons, trained in opera as well as gospel singing, lends vocals to "Another World." The tune, which features sound clips of the late Fred Rogers, would be the record's high point were it not for the penultimate track, "Greenland."
That song has a Damon Albarn quality, where if you just threw on a guest verse from De La Soul, it could be a lost Gorillaz track. Pensak and Heaberlin's voices entwine beautifully as they sing "Grace from heaven flows" over a synth bass line right out of the '80s.
I don't know if the quality of Hallowell's music would have gotten me past my spiritual skepticism as a boy. But I know it would have made me look at devotional music in a different light. And for Pensak, maybe that's the point.
Hallowell is available at hallowellmusic.bandcamp.com.