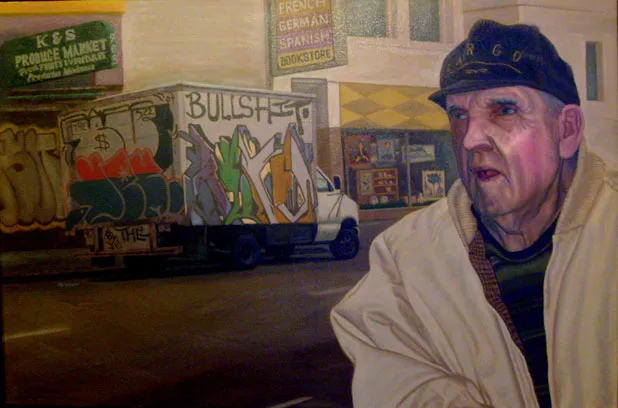 "Captain of Tenderloin, Tenderloin District, San Francisco" by Isaac Graham
Four mini-exhibitions span the walls of the Artpath Gallery in Burlington's Wing Building this summer. The shows represent solid bodies of work by a quartet of Vermont painters: Deborah Hillman and Sarah Milton seem dedicated to Abstract Expressionism; Linda Durkee produces mixed-media collages; and Isaac Graham is a traditional realist who takes on a range of subjects, from figures to animals.
Milton's collection, entitled "Abstract Reality in Color," presents a dozen skillful oil paintings that demonstrate a firm grasp of composition. Her off-balance - though not off-kilter - planes add tension. But, as Milton's title suggests, color is the driving force behind these works. "After Arizona" is a 27-by-38-inch aggregation of reds that support two areas of soft geometric shapes in scumbled greens, a patch of white and a judicious use of purple. The 24-by-20-inch "Evening Blues" relegates red to the right third of the canvas; cool gray-blues occupy the remainder of the space.
Montpelier painter Hillman wrote in her artist's statement, "The beauty and the wonder of the inner world is the primary focus of my art." She has entitled her Artpath exhibit of seven canvasses "Art of the Inner World." A 48-by-24-inch oil, "The Secret Passion of the Elements," is an atmospheric horizontal vista of pale lavender. A few threads of yellow create cross-currents in the chromatic harmony, like eddies in a stream. Hillman's "There Is a Field" evokes landscape painting: Naples yellow covers the lower two-thirds of the image, while above, lavender with blue passages suggests sky. Irregular circular forms appear both above and below the canvas' "horizon" line.
Henri Matisse famously described collage as "drawing with scissors," and Durkee's collages reflect that tradition. She writes, "My imagery looks to nature for the vocabulary of shapes and colors." Indeed, the Danby-based artist organizes those shapes and colors into intricately rhythmic abstractions. "Transformation" is a 24-by-30-inch horizontal scene with finely cut layers of shapes rolling along undulating green hills beneath a cerulean-blue firmament. Durkee's 13-by-9-inch vertical, "On the Move," layers snippets of primary and secondary colors onto blue paper with deckled edges. The space is organized to suggest that two figures compose the central axis, surrounded by leafy greens and browns.
Several of Graham's oils in his "Coast to Coast" mini-show are based on his experiences as a student at the Academy of Art University in San Francisco. He's a realist, but there's nothing romanticized about his figures. A group of tourists clustered to the right in Graham's "View of Alcatraz, Fisherman's Wharf, San Francisco" have a totally different air to them from the seated figure at far left, who faces away from the view. Is there a hint of alienation in the latter? Graham seems to approach psychological portraiture in this 24-by-36-inch cityscape. In his slightly smaller "Captain of Tenderloin, Tenderloin District, San Francisco," an old man's gritty face becomes a portrait of the city's seediest district.
Graham was raised on a Vermont dairy farm, and many of his paintings are inspired by life in the Green Mountain State. "New Perspective, Morrisville, Vermont" is a vertical 12-by-24-inch life-size portrait of a newborn baby, clothed in a pink sleep suit. Hanging on the wall, she's a little creepy, but Graham demonstrates what's laudable in his intriguing realism by not making the infant overly cute, and by finding distinct textures to differentiate her wrinkles from those of the surrounding blankets.
Graham's low point at the Artpath is his paintings of sheep and geese. If he can avoid depicting only what's "nice" about rural life, he just might become one of the region's most important artists. We don't need more paintings of grazing ovines; we need insightful, uncompromising views of the real world outside Vermont Life. Graham is just the painter to provide them.
The Artpath four are on distinct paths but equally productive journeys. These selections offer snapshots of where they've been and tantalizing hints of where they may be headed.