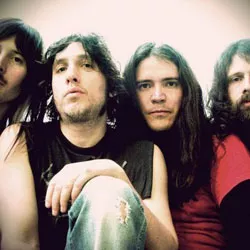 When Township pull up to a gig, you almost expect the motley crew to pile out of a cherry IROC-Z, a plume of smoke billowing out of the sports car's doors amid the strains of Foghat's "Slow Ride." Since forming in 2006, the Boston-based rockers have gained widespread regional renown for their brand of classic-rock-inspired, metal-ish musings. But, unlike other long-haired, cock-rock acolytes now mining the genre's archetypes as a gimmick — (cough) Wolfmother (cough) — Township ply their trade without a shred of skinny-jean irony. These dudes mean business. And business is booming.
In advance of the band's two upcoming Vermont performances — Friday at Charlie O's in Montpelier and Saturday at The Monkey House in Winooski — Seven Days caught up with drummer Greg Beadle by phone from Somerville. Prior to his current stint manning the skins for Township, Beadle was a Burlington fixture, playing with the late, great hardcore-metal band Rocketsled and, more recently, math-rock outfit the Cancer Conspiracy.
SEVEN DAYS: What's the first thing that comes to mind when you think about your days playing in Burlington?
GREG BEADLE: Definitely the scene. Going back to the Rocketsled days, it seemed like there was very much a "scene." A lot of bands that were vying for attention and notoriety. A sort of healthy and playful sense of competition. A good 10 or 15 bands that would end up in the same circle, and show up in Good Citizen magazine or whatever. But that was really my introduction to pretty much any music scene, what it meant to be in a scene, in general.
SD: Going from the Cancer Conspiracy, an intellectually challenging instrumental band, to something like Township, which is so viscerally but basely appealing, is an interesting progression. How'd you get there?
GB: When we started Cancer Conspiracy, I had just gotten out of playing with Non Compos Mentis, which you may or may not know was much more of an extreme metal band. Cancer Conspiracy allowed me to spread my wings and exercise a lot of influences I had growing up, like Genesis and Rush and Yes — a lot of progressive bands at the time. And the fact that we didn't have a singer … I mean, everybody was a singer in that band as far as I'm concerned, because we wouldn't have had room for a vocalist. Every guy in that band wanted to be heard and to shine with what he was doing. Even when we played out live, very seldom would we set up with a typical format. It was always the three of us across the stage, thus symbolizing that we all had our own voice.
That being said, I come from a wide variety of influences, obviously progressive bands. But with Township, I was in a place where I felt that maybe having a little more accessibility with a singer, being a little more recognizable, or not playing so much to — and I mean this with no disrespect — to the geeky, musician-type crowd, which the Cancer Conspiracy certainly did, Township would maybe reach out to anybody, from your average music fan to people who appreciate musicianship to whatever. But definitely touching on more of the classic-rock influences, whether it be a Grand Funk Railroad or a Thin Lizzy.
SD: You've had a fair amount of success in a short period, some critically acclaimed records and, of course, winning the 2007 WBCN Rock 'n' Roll Rumble. Does that reception surprise you?
GB: We came out swinging. And if I can toot everybody's horn in the band, we are all relatively proficient at what we do. We had all come out of fairly reputable bands that had had a fair amount of success. And I think people expected us to be good, which helped us, initially, get some recognition.
The Rumble was a great opportunity. But it really doesn't mean much in the grand scheme of things, or at least as much as it used to. There's even something called "the Rumble Curse," where you win, but then a year or two later your band is dead. But we never fell prey to that. It was cool, it was an honor. But I don't think about that much anymore.
SD: I guess I meant more that you are succeeding with a decidedly unhip, dated style of music. And where some bands might play it ironically, Township are straight-up legit, the real deal.
GB: That's been a blessing and a curse. There are people that got it, and it was very nostalgic for them in some sense. Or maybe it was entertaining because at first people thought it was a gimmick. Bottom line, we came out wearing our influences on our sleeves.
But in the last year or so, I have found a real fault with that approach. I kind of regret how we started. I think we reached capacity with the amount of fans we could attract doing that sort of thing, people who are middle-aged and maybe go out once or twice, have a nine to five, gotta get someone to watch the kids, or whatever. But as far as being hip enough to attract a new generation of fans who want to spend money on your band, follow you on Twitter, My-Space … we couldn't have less of that. So, I think in the last year we've tried to take those influences and still be very sincere about them, but come up with a much more original sound, more identifiable to Township. As opposed to a record where somebody thinks we sound like Thin Lizzy or Whitesnake in 1982. We were really good at doing a lot of things. But one thing we weren't good about was forging an identity that was strictly Township.
SD: And what is that identity?
GB: That's something that probably has yet to be heard. We're in the process of recording a new album, and I'm really excited about it. Alex [Necochea] from [hard-rock Boston band] Bang Camaro has joined us in the last year and he's really brought a lot to the table. He brings a little harder edge, which is something we'd been leaning toward anyway. We've taken a somewhat darker direction. It's still accessible. But for once, there is a batch of songs that are truly Township's.