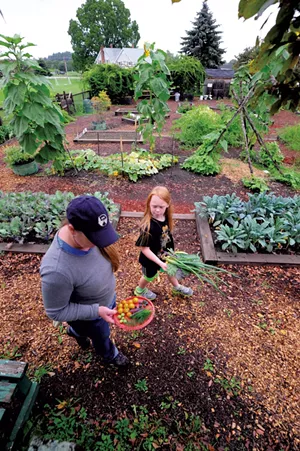 jeb wallace brodeur
Rowan Moran, 8, and mom, Karen, harvest vegetables
It takes a village to grow a garden. That's one lesson to be gleaned from Barre Town Middle and Elementary School, where teachers, staff, students and volunteers work together to nurture a collection of raised beds throughout the year.
The project, called Crops by Kids, was established in the spring of 2005 as part of the school's efforts to teach kids about healthy food choices. Deborah Curtis, a University of Vermont Extension Master Gardener, is the school's part-time garden coordinator. She runs an after-school garden club for students in the fall and spring, in addition to a weekly summer program for families that incorporates literacy and gardening.
In the winter, she organizes a seed-selling fundraiser and, as the weather gets warmer, heads into the garden with kids and teachers to weed, haul compost and mulch. Throughout the spring, students in grades pre-K through 4 use some of their physical education class time to plant seeds and work in the garden. There's also a pergola, where sixth-grade teacher Jess Van Orman said she occasionally brings her students to read and write.
Before school gets out in June, families sign up to tend the raised beds during the summer, when the space functions as a "community garden," said Curtis. Families are free to bring home produce that's ready to harvest.
jeb wallace brodeur
Twins Jordan and Taylor Parker-Martin, 10, feed the chickens
The school's chicken coop is also a year-round endeavor. Teacher Kyle Dubois designed and built the structure three summers ago, after brainstorming with his third-grade class. On weekdays during the school year, classes take turns replenishing the chickens' food and water and collecting eggs.
During summer and on weekends, families sign up for coop duty on a website Dubois created, complete with a Google calendar and informational chicken-care videos. Kids bring the eggs they've collected into the school, where they're sold to families during the summer months and incorporated into cafeteria meals during the school year. The school's food scraps are used to feed the chickens, completing the cycle.
Working in the chicken coop not only instills a sense of responsibility in kids, Dubois said, but it teaches them about where food comes from and connects them to Vermont's agricultural roots.
When kids return to school in the coming weeks, they'll be back in the coop and the garden with their teachers. Curtis proudly described their annual event held in September, during the school's pre-K through 4 open house. A spaghetti dinner for families incorporates tomatoes, garlic and basil harvested from the garden, and the gym holds a farmers market where their produce is sold alongside items from local farmers and artisans. Money raised is used to purchase compost, soil, mulch, seeds and supplies. And another school year in the garden begins.
The Garden's Goods
Around 30 raised beds are surrounded by a fence to keep out critters.
Crops include lettuce, tomato, garlic, herbs, kale, pumpkins, beans, carrots and flowers.
A vine-covered pergola and picnic tables function as an outdoor classroom.
The Scoop on the Coop
The 10-by-10-foot coop includes a larger section that houses eight chickens.
A smaller area stores chicken feed, plus muck boots and smocks for kid helpers.
A 10-by-12-foot covered chicken run is attached.