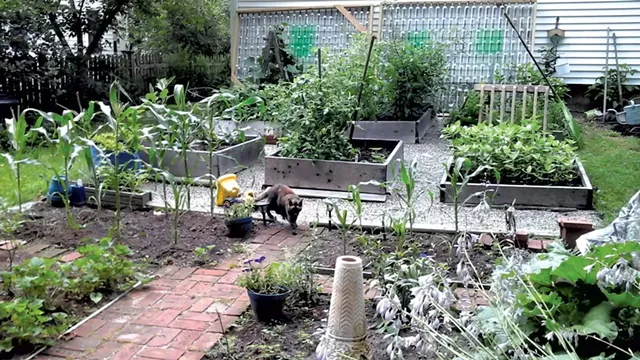 Greenhouse frames in progress
If Elaine Coeyman were to write a book about how to live well, it would include sage advice about tackling big projects — like growing your own food and renovating your home — on a budget, without sacrificing style.
I know this because, as her daughter, I've seen the chapters come together. Since my mom, a retiree, moved to her house in Essex Junction in 2009, she has painted nearly every surface, tiled her bathroom floor and built a backyard patio. All with thrifty tricks, like scoring free bricks on Craigslist.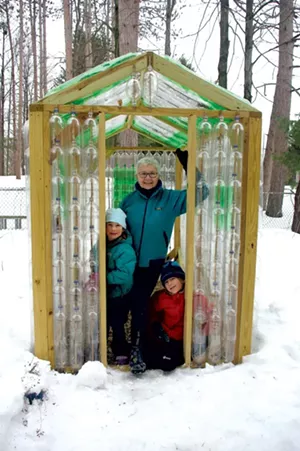 Elaine Coeyman with grandchildren Mila and Leo
For her raised-bed garden, she got a deal on soil after discovering, by accident, that the hardware store discounts damaged bags. In summer, her garden explodes with carrots, potatoes, beans and tomatoes, all of which my kids, ages 6 and 8, love to harvest.
Like many Vermont gardeners, my mom lamented the short growing season. So when she saw fencing made from plastic bottles on the internet, her wheels began to turn. She wondered if the transparent material could be used for a greenhouse, where she could start plants before the last frost and continue cool-weather crops into the fall.
Turns out it had been done. She found an instructional YouTube video and, last summer, began collecting clear two-liter bottles from family — and a few green ones for "windows" and decorative touches.
"I quickly realized it would take me forever to collect as many as I'd need," she told me. So she started paying 5 cents per bottle for large batches at the local redemption center. She also posted a request on her Front Porch Forum and soon started coming home to plastic-bottle presents on her front porch. Her newspaper deliveryman brought some along with the paper.
To get them greenhouse-ready, she cut an inch off the bottoms and removed the labels. Next she soaked them in her claw-foot tub to remove any residue, then dried and stacked them, upside down, on bamboo garden rods. When pushed together firmly, they formed sturdy, rigid columns. Gaps between the columns let rain in, making the greenhouse self-watering. A contractor friend helped build and erect the frames to create the 5-by-8-foot greenhouse.
My mom prepared around 600 bottles, a feat she said she achieved a bit at a time, while watching Boston Red Sox games and sipping tea. She even enlisted my kids to help tear off labels and pick out a thermometer for inside the greenhouse.
Recently, she described the finishing touches over breakfast as the early spring sun shone through the window. She'll attach the door, install shelves purchased from the ReSource Building Material Store in Burlington, lay a gravel floor and surround the greenhouse with a wooden-pallet patio, which she sketched out in my notepad.
Though my mom's greenhouse chapter is nearly complete, her enthusiasm is seemingly endless. "I actually did a cool project," she says, reflecting on the process with a touch of disbelief. "I'm excited all over again!"
For instructions and a shopping list, Elaine suggests visiting reapscotland.org.uk/downloads/ and downloading the Plastic Bottle Greenhouse.pdf.