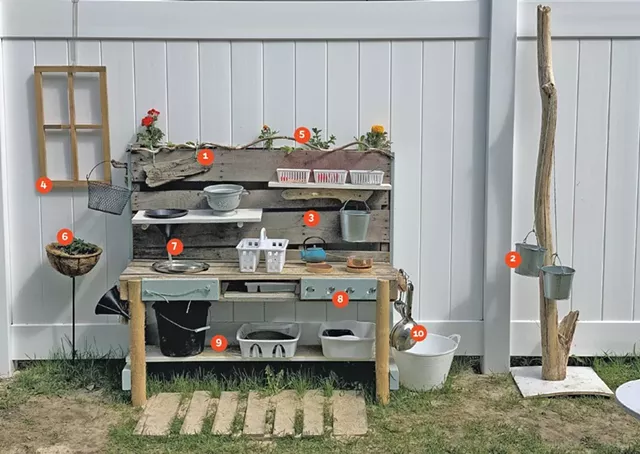 Alison Novak
1.) Driftwood from Shelburne Beach 2.) Buckets on a pulley let kids explore weight and balance 3.) Wood pallets picked up on the side of the road comprise the bulk of the structure 4.) Window frame from Goodwill 5.) Lemon balm, chamomile, mint and basil — with nasturtium still to come — look pretty and provide handy ingredients for teas and tinctures 6.) Strawberries 7.) Removable shelves, funnel and metal sink basin allow for flexible play 8.) Glass knobs (they turn and double as hooks) from Gravelin's mother-in-law's house 9.) Storage area — or a pretend oven! 10. Using real equipment — pots, pans, and measuring cups and spoons — is empowering for kids
Early childhood educator Tara Gravelin grew up around tools. Her father is a woodworker and, as a child, she used to watch him cut, sand and build. That secondhand knowledge has been useful in Gravelin's latest endeavor — building mud kitchens. The 38-year-old Burlington mom of two boys, ages 4 and 6, has designed and built custom outdoor play kitchens for local childcare centers, including two in South Burlington: the Davis Studio Preschool and the Homestead: A Part 2 Preschool, where she works part-time.
Gravelin believes that young children benefit from open-ended, self-directed play, which mud kitchens provide. Giving kids "loose parts" — natural or synthetic materials like pebbles, sand, water, buttons, blocks, buckets and plastic tubes — to use however they see fit, leads to creativity, exploration and learning, Gravelin says.
She recalled a scene she witnessed recently that illustrates the philosophy. A preschooler was trying to push wet sand through a funnel in the Homestead's mud kitchen. When he realized it wouldn't work, he poured it out and tried dry sand. Voila! It went right through. The boy had figured it out by himself.
Gravelin scoured hardware and secondhand stores for mud kitchen building supplies. Other items she scavenged along the side of the road. She used a variety of tools to construct the kitchen.
Her sons watched as the project came to fruition, with her youngest proclaiming, "Mama, you are strong," after watching her wield one of the power tools. When Gravelin loaded the kitchen into the back of her truck to deliver it to the Homestead, her sons were sad to see it go. Not to worry, she told them, she'll build one for them, too.