What's the connection between a world-class brewery and a small, rural library?
The employees at Hill Farmstead Brewery in Greensboro — named best brewery in the world for five years in a row by RateBeer — have an annual tradition of pooling their gratuities each year and donating them locally. "Since the very humble beginnings of the brewery, I have worked and donated to local charities in an effort to help revive and benefit the local community in which I was born and have lived," Hill Farmstead owner Shaun Hill wrote in an email.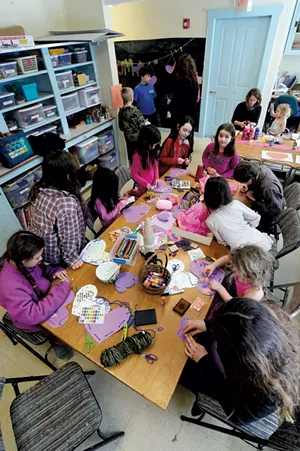 Jeb Wallace-brodeur
Creating Valentine's Day crafts at the Greensboro Free Library's maker space
One beneficiary is the Greensboro Free Library. With its staff of three and a dedicated crew of volunteers, the library used the 2017 gift of $3,173 to transform a back room into a maker space. Geared toward young kids and their caregivers, the space serves residents of Greensboro and more than a half dozen surrounding towns. The shelves are stocked with bins of creative materials, like Legos and Play-Doh. Techy supplies like Snap Circuits — a kit which helps kids develop problem-solving and engineering skills through building electronic projects — are particularly popular. A long table in the space has shortened legs, making it the perfect height for small children. Some money was used to buy musical instruments and a microscope. Funds remain to replenish supplies like paint.
In tiny Greensboro, with a population of less than 800, the library building has played a central role in town history. Originally constructed as a hospital, the building has served as a nursing home and a health care clinic. Now, the library attracts both year-round residents and summer visitors, when the town's population swells with an influx of out-of-towners, drawn there by pristine Caspian Lake.
Brett Stanciu
The space includes a collection of dress-up clothes
Part-time children's librarian Emily Purdy encourages families to drop in, explore and use the maker space, even when she's not present. She often leaves materials with step-by-step instructions on a table, such as how to make slime, or seasonal activities like seed starting in small pots. She says she's pleased to see materials in some disarray when she returns, as that's a sign folks have visited.
Emma Podolin, a local potter, who never used the library before having her two young daughters, describes it as "so essential to my mothering. We rely on the community that happens in this space." She emphasizes the importance of friendships and connections she and her family have made with other patrons. Podolin has also used the maker space room to teach a few children's pottery classes.
Her sentiments are echoed by teacher Rose Modry, who frequents the library with her 3-year-old son, Fox. Modry says the space enables her to "feel connected to a great community with lots of small children."
Brett Stanciu
Painting on an icy February morning
Soft-spoken Purdy's relaxed and welcoming attitude is a key component of the space's success. She hosts two story times a week, with additional programming for families in the summer months. Nivine Kotok, whose family recently moved to the area, describes Purdy's approach as "kind of like a mama group." During Kotok's first visit to the library with her toddler, Aisha, Purdy baked homemade buns in a toaster oven and brewed tea.
Children happily painted with watercolors on an icy February morning while their mothers and a few grandmothers chatted. Later, the 3- and 4-year-olds clustered in a corner, playing an imaginative game, using handfuls of Legos as pretend dinosaur eggs — a fitting illustration that if you build it, they will come.