brett ann stanciu
Heather and Natalie Layn with chicken club member Orion Ronark and a foster dog
Don't plant your sweet corn beside your cow corn," warns 8-year-old Natalie Layn. "Corn cross-pollinates, and your sweet corn will taste terrible."
The vivacious ponytailed girl knows what she's talking about. She's part of the fifth generation of Layns to live on the 960-acre Monkton dairy farm where her father, Curtis, grew up.
Curtis and his wife, Heather, are raising Natalie and her two older siblings on the property, along with pigs, beef cows, llamas, peacocks, quail, ducks and geese. Their farm products also include maple syrup and felted wool.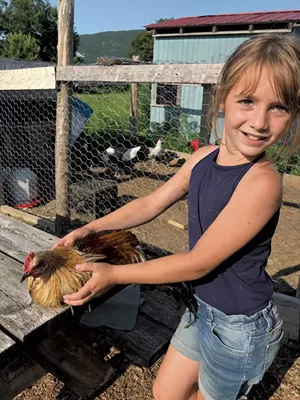 brett ann stanciu
Natalie with Coco the chicken
Since 2018, Heather has run a chicken club for families to learn basic chicken care and decide whether they are ready for their own flock. This year, 22 local kids — from toddlers to young teens — signed up for the season, which began in the spring and ends in October. Attendance fluctuates; usually no more than a dozen members participate every other Sunday afternoon.
During each meeting, Heather, who grew up on a nearby farm, teaches youngsters what she calls "a small something" about the birds, like the names of their body parts, stages of their life cycle, and how to identify males and females. The children feed and water the hens, clean the coop and tend the birds — which might mean treating them for mites by washing their feet and legs with vinegar and water and rubbing Bag Balm on them. Each child has his or her own chicken, identified by a foot bracelet. When the birds are eaten by predators like foxes, Heather explains it is a part of the life cycle. Monthly $7 dues enable members to take home half a dozen eggs after each meeting.
Though Heather claims not to be much of a carpenter, she and the Chicken Club kids took apart a donated coop and rebuilt it. Inside the enclosed yard, they constructed a swing set for the birds to use as a perch. Around the fence, the children planted a garden with nearly two dozen medicinal herbs for chickens, including calendula, sage and thyme.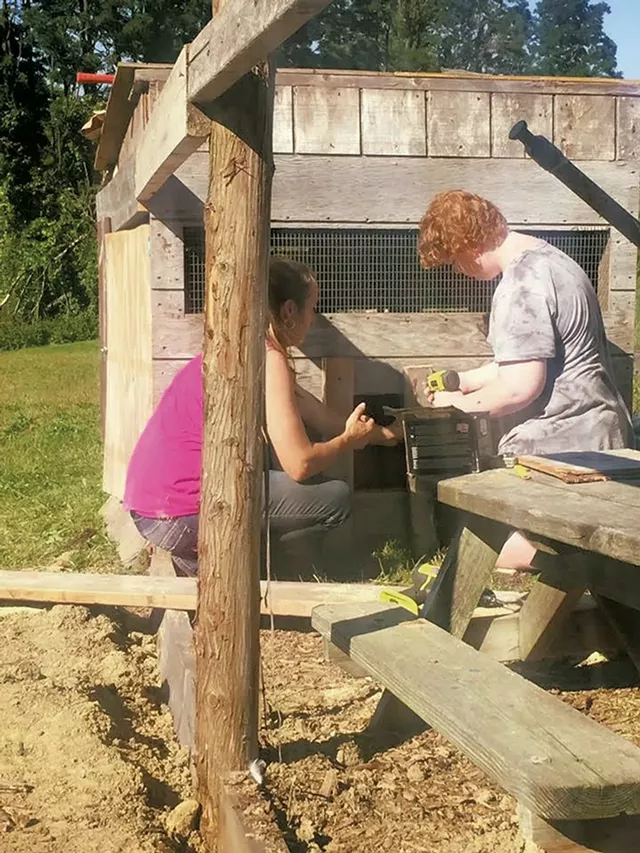 courtesy of Kelly Hedley
Heather and Chace
Last summer, 17 Chicken Club members showed their birds at the Addison County Fair & Field Days, with over half receiving ribbons.
This spring, children borrowed incubators from the Layns. Three-year-old Orion Ronark, who lives down the road with his parents and baby sister, watched nine tiny quail eggs hatch in an incubator his family borrowed. His father, Andrew, says the little boy is fascinated by everything on the Layns' farm — especially the animals and tractors.
Beyond learning to care for chickens, children are encouraged to explore the busy farm. Heather, a former Marine, possesses a down-to-earth confidence and a welcoming personality. The hard work of farming ties her family to the farm. Visitors are always welcome, she says, because "we never go anywhere."
brett anN stanciu
Orion Ronark with a chicken
Kelly Hedley's son Chace joined the Chicken Club when it began, just before he turned 12. Chace — whom Hedley describes as struggling with human relationships due to a social disorder — named his chicken, a Silkie, Eggbert Einstein. Chace brought his bird to school for a visit, and his math teacher incorporated chicken questions into Chace's schoolwork. At last year's fair, the boy and chicken duo earned a blue ribbon.
Eggbert is housed in Chace's coop at his father's house, where Chace tends a free-ranging flock of five hens. Hedley says that learning how to care for chickens from Heather has strengthened her son's social skills on the farm and in the community. For that, she's "forever grateful."