In June of this year, James and his wife Sara* found themselves without a home. The couple had a 1-year-old baby, and Sara was seven months pregnant. Fortunately, they found a room at the Main Street Family Shelter — one of two family shelters operated by the Committee on Temporary Shelter (COTS), a Burlington-based nonprofit.
Tucked between two large buildings on the outskirts of downtown Burlington, the imposing, 200-year-old brick building hosts up to 10 families at a time. Upon arrival, each family is given a single room with several beds. Bathrooms are shared, along with a kitchen, dining area, playroom and living room. The walls are brightly painted, and families complete daily chores to help keep the house clean.
Like in many homes, the kitchen is the hub. Each family shops for and prepares their own meals, keeping their groceries in locked cabinets and refrigerators off the main room. Often there will be three or four families cooking all at once, and many times they'll sit and dine together.
Kids gather to play on the living room floor or across the hall in the playroom, where dolls and books sit neatly on shelves.
"There are some real bonds that form here," said Mike, who staffs the house during the day. "Families may stay here as long as six months, and some of the friendships that develop are very strong."
So how is James and Sara's family doing, four months after moving into the shelter? They're now a family of four. And, more than halfway through their allotted stay, they're still looking for permanent housing.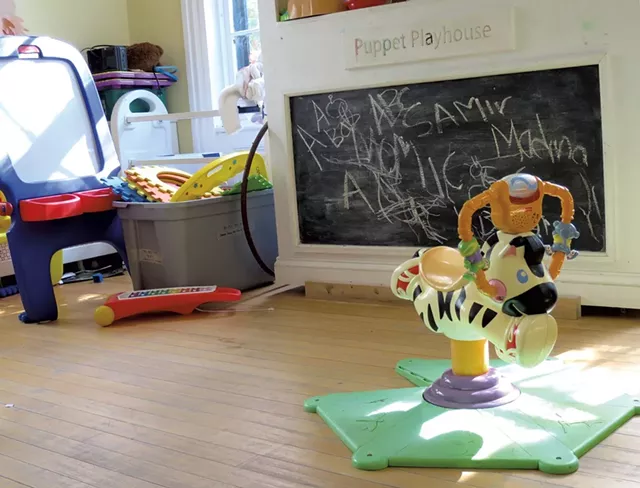 "We're doing what we can," James said. "COTS will help you get on housing wait lists, but those are long lists. If you come in and aren't working, they'll help you find a job ... Even when you leave, they'll still offer you assistance. But you have to work for it.
And we are."
*Names have been changed to respect the privacy of COTS clients.
How COTS helps families
The nonprofit's services are designed to help families recover from homelessness in a meaningful, permanent way. According to the COTS website, "Children raised with housing instability are often at the greatest risk of becoming homeless themselves ... We aim to effectively intervene now to stabilize parents and children, help them build new skills, and stop homelessness from happening in the future."
Three evenings a week, volunteers from local colleges spend time with the children, reading with them, playing make-believe and offering homework help. "The kids just love them," said COTS staffer Mike. "And it's a welcome bit of respite for the parents, too."
COTS helps families find quality, affordable childcare. Matching children with open spots in daycares, preschools, and afterschool and summer camp care frees up parents for work while helping to ensure that the children get access to similar educational opportunities as their peers.
In partnership with community volunteers, COTS also offers support around educational opportunities, budgeting skills and workforce development training.
Lend a hand
Make a donation to COTS in someone's name, as a gift or put it on your own holiday wish list. Donate one of the items on the family shelter's wish lists. Items in high demand include: baby wipes, powdered infant formula, laundry detergent, new socks in all sizes and new toiletries in full and trial sizes.
Learn more about COTS at cotsonline.org.