James Buck
Chris Cleary breathes fire
It's difficult to drive past Kim and Chris Cleary's home on Browns Trace Road in Jericho without slowing down to take a closer look. That's because 7-foot-tall wooden letters that spell "BELIEVE" stretch across the front yard of their dark red 1850 farmhouse.
Chris, a sculptor who works in stone, wood and copper, created the walloping word — which someone stops to photograph at least once a day — for a summer solstice celebration in Bolton three years ago. That fall, it won first place in the South End Art Hop's outdoor juried show. Chris has made a variety of other letters, and periodically changes the sculpture to read "HI," "HEY," "THRIVE" "LIVE" and "TRY" — much to the delight of kids riding by in the school bus. The Clearys have lent out the letters L-O-V-E for two local weddings.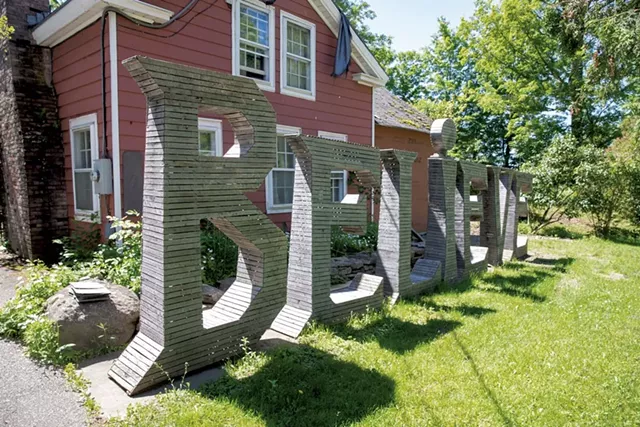 James Buck
The front yard of the Clearys' home in Jericho Center
The front-yard messages just hint at the couple's artistic talents. Their lush backyard is a sculpture garden featuring about 10 of Chris' creations and a theater venue for Chris and Kim's daredevil performances.
For the last five years, the Clearys have led a troupe called Cirque de Fuego that has wowed audiences with shows in which they twirl, juggle and, in Chris' case, breathe fire. They performed in Burlington's 2019 Highlight New Year's Eve celebration and take their show to festivals, weddings and private parties.
Their after-dark summer house parties are more informal affairs that draw around 150 locals of all ages. Attendees are asked to make a donation of at least $10 and bring their own chairs and drinks. The Clearys provide the popcorn, ambient music and a spell-binding fire show. Their backyard is rigged with stage lighting, a sound system, handmade flags and a curtain from which the fire performers emerge.
"It's like a night at the movies, but cooler," explains Chris.
James Buck
A copper-pipe sculpture used for "The Monroe Doctrine" photo project
Audience members can peruse the sculpture garden before the show. Among the treasures they will find is a hodgepodge of soldered-together pipes that looks like a contraption Chitty Chitty Bang Bang's Caractacus Potts might have dreamed up. When Chris built it in 2012, he rigged a compressor to shoot air through the center when a cord was pulled. That year, he collaborated with the late Seven Days photographer Matthew Thorsen on a photo project called "The Monroe Doctrine," in which people donned a blonde wig and halter dress, stood inside the sculpture and pulled the cord so the dress would fly up à la Marilyn Monroe.
In another corner of the yard is a carpet of gravel scattered with stones of different shapes, sizes and colors, each engraved with a single word, ranging from "inspire" to "bacon." Visitors can use them to create sentences and poems. Chris calls this a "word garden." He sold his first one to St. Michael's College in 2011 and has made about a dozen others for elementary schools, private residences, and arboretums in Connecticut and Alaska.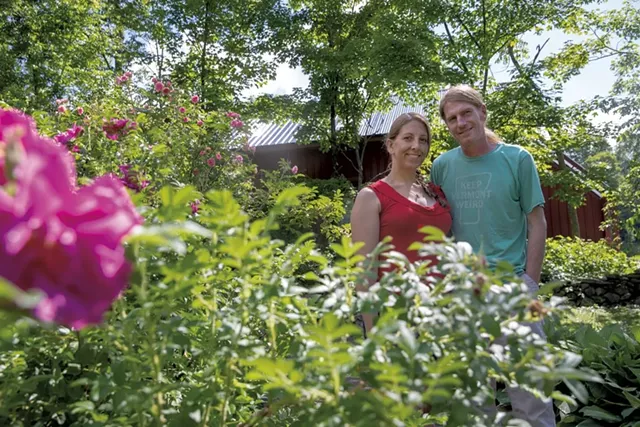 James Buck
Kim and Chris Cleary
In 2009, the couple — who have 12- and 19-year-old sons — started doing "burns," events in which large-scale wooden sculptures are built, then set ablaze. The practice pays homage to the world-renowned Burning Man festival in the Black Rock Desert of northern Nevada, which started when California artist Larry Harvey built a 9-foot-tall sculpture of a man, then burned it at a beach bonfire in 1986.
In the last decade, the Clearys have burned around 25 of Chris' wooden sculptures — including a woolly mammoth, Old Man Winter and a robot for winter solstice celebrations; a motorcycle for a Killington motorcycle rally; and the letter "M" and a cougar for Mount Mansfield Union High School events. Last October, the couple traveled to Québec City to put on a fire performance and burn a 19-foot dragon for a tech company's private event.
James Buck
A copper scorpion sculpture made by Chris Cleary
They've also done smaller burns to celebrate family milestones. For Chris' 35th birthday, they burned a sculpture of Father Time. For Kim and Chris' 15th wedding anniversary, Chris built a wooden heart and the family took turns shooting flaming arrows at it. For their younger son's 7th birthday party, they constructed a 10-foot-tall dragon and let him stab it with a burning sword.
Still, says Kim, "our kids are very unimpressed with us."
The Clearys' July backyard fire theater takes place on Saturday, July 20, at 8 p.m. at 353 Browns Trace Road in Jericho Center. $10 suggested donation. Bring chairs or blankets, bug spray and snacks — and use the bathroom beforehand, as the antique plumbing can't accommodate public use. Catch Cirque de Fuego's fire show on the Jericho Town Green, Friday, August 2, from 8:30 to 9 p.m.