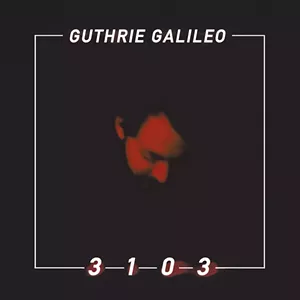 (Self-released, digital)
Guthrie Galileo is the biggest Usher fan in Vermont. Not only does the Burlington R&B singer-songwriter and impresario host an annual Valentine's Day concert of all-Usher songs, but he just released an album composed entirely of Usher covers called 3103.
Real name Guthrie Stoltzfus, the 26-year-old artist is primarily known for cultivating the Nightshade Kitchen, a low-key concert series that combines food, drink and music. Out of that grew the Nightshade Festival, a yearly two-day excursion that highlights local and regional music talent, as well as the culinary chops of many up-and-coming local chefs. And now he's doing A&R for Charlotte-based record label Cumbancha as well as for Putumayo. Busy guy.
While artists sometimes make tribute albums as a goof or novelty, 3103 doesn't come off like something Stoltzfus did on a whim. The eight tracks comprise a highly developed, gorgeously appointed homage to the artist's musical hero. Stoltzfus arranged and performed nearly every sound heard, and he also mixed and mastered the project.
He mainly picks from Usher's midcareer albums, plucking tracks such as "You Make Me Wanna" from the Atlanta-associated crooner's 1997 album My Way. (That was before Usher stopped using the y and o in the word "you.")
Three tunes come from the similarly titled 8701. But what's the connection? The numbers in Usher's album, 87 and 01, represent the years between when he first sang in public (1987) to the year the album came out (2001). Coyly, Stoltzfus keeps a tight lip as to what his numbers mean.
Meandering back and forth between faithful covers and complete reinventions, Stoltzfus finds a healthy balance. Indeed, 3103's version of 8701's "Hottest Thing" is true to the source material, its light new-jack-swing beats skittering under Stoltzfus' smooth vocals. But on "Twork It Out," he revitalizes a fairly forgettable deep cut as a dramatic, piano-led ballad that flirts with tropical beats. Stoltzfus' take seethes with sex and urgency.
While Usher puts his vocals up front on "U Got It Bad," Stoltzfus puts thunderous piano chords and a vortex of clacking beats in the forefront. But then the floor drops out, leaving only the singer's layered harmonies as he sings, "I'm your man / You're my girl / I'm gonna tell it to the whole wide world."
His take on "You Make Me Wanna" is fuller and thicker than the original, adding in trumpet and saxophone courtesy of Margot Van Horne and Avery Cooper, respectively. The throbbing banger opens with loose handclaps before unfurling its full sound.
Stoltzfus' fascination with Usher is itself rather fascinating. Usher's songs overflow with emphatic sexuality and romance without treading into the dangerous waters of misogyny, as is all too easy in hypersexual music. Here, Stoltzfus absorbs and reconstitutes the work of a true romantic.
3103 is available at guthriegalileo.bandcamp.com. Guthrie Galileo performs on Thursday, December 19, at ArtsRiot in Burlington.