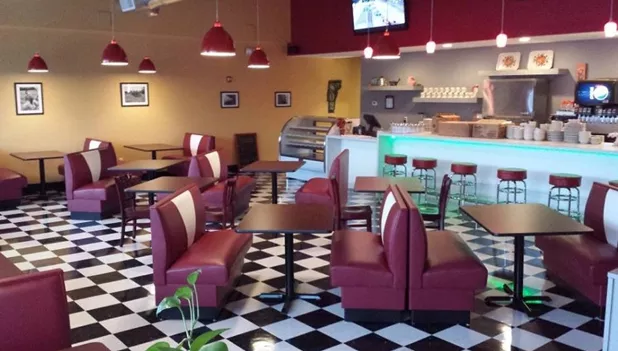 We all need a hearty breakfast or lunch now and then, cardiologist be damned. That's exactly the reasoning behind the name of Colchester's brand-new diner, the Guilty Plate, says co-owner Michael Alvanos.
He opened the restaurant the first weekend in October with brother Evan and parents Christine and George, who own the building at 164 Porters Point Road. Michael Alvanos said he designed the space that formerly held Video World to resemble a classic 1950s diner, complete with checkered floors and '57 Chevy booths.
The menu is similarly classic, and devotees of the family's fare at Pine Street Deli in Burlington and their previous sit-down restaurant, the Parkway Diner in South Burlington, will find much of it familiar.
All the classics are available, including meatloaf, never-frozen burgers with homemade fries, and chilidogs. Breakfast and lunch are both served from 6 a.m. to 3 p.m. every day.
Early risers — or those who just want to eat like they are — can look forward to steak-and-egg breakfast sandwiches, massive blueberry or chocolate-chip pancakes, or cinnamon French toast. The omelet menu includes some uncommon combinations, including a version filled with gyro meat and topped with tzatziki sauce, and another made to resemble a Reuben sandwich, complete with corned beef, Swiss cheese and sauerkraut. "You come in here and have great food and don't feel guilty," says Alvanos.
The original print version of this article was headlined "Guilty Pleasure"