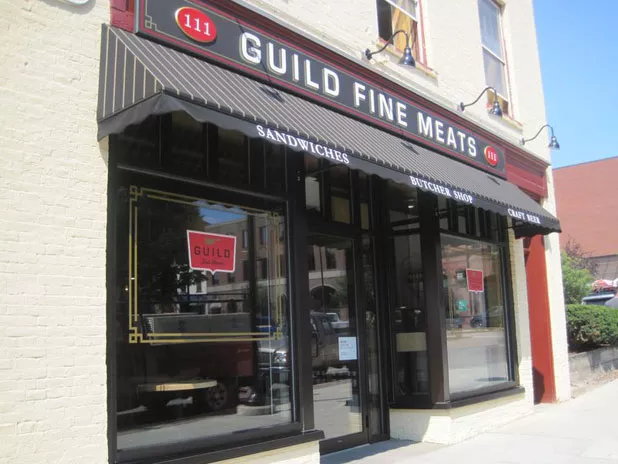 The Farmhouse Group's Guild Commissary has been up and running for more than a month. Last Wednesday, master butcher Frank Pace and chef Tom Deckman unveiled the ultimate fruit of their labors with the official opening of Guild Fine Meats at 111 St. Paul Street.
New items are still slowly rolling out on the deli's large menu, including soups, local-licious salads and side salads.
The build-your-own sandwich menu is a fantasia for meat lovers. LaPlatte River Angus Farm roast beef, Vermont Heritage Grazers smoked ham and Adams Farm smoked turkey are the basics, but Deckman is also producing mortadella, capicola, pastrami and meatballs, as well as tuna and chicken salads. Even vegetarians have a "meat" option — tempeh bacon.
The sandwiches are served on house rolls (white or whole wheat) with a choice of cheese, up to three veggies and a spread, such as grainy homemade mustard or cranberry aioli.
Besides homemade sausages, artfully tied roasts and dry-aged steaks, the store is well stocked with old-timey candies, house spice rubs and desserts from Farmhouse Group pastry chef Samantha Madden, including airy doughnuts, pies, cakes and cookies. Particularly notable is a decadent, buttery maple shortbread edged with chewy chunks of Deckman's smoky bacon.
The original print version of this article was headlined "Meat Up."