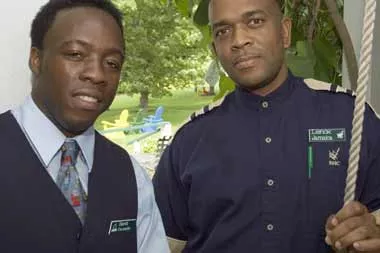 David & Lenox Williams of Jamaica
Step into the foyer of the Basin Harbor Club in Vergennes, and you may feel like you've entered a Henry James novel. The lobby walls are decorated with pictures of gangly wooden sailing rigs. The dining hall, with its quaint furniture, player piano and views of a shimmering Lake Champlain, makes you want to order a crumpet. In short, it's the ultimate portrait of upscale leisure.
Around noon on a recent sunny day, the clubhouse lobby brims with guests. Those who aren't dressed in tennis whites wear tasteful pastels and khakis. Mid-July offers scads of pleasant diversions to strike one's fancy. A bulletin board advertises a dog-walking service. Over by the "Breezeway" gift shop, an elderly couple examines a series of unremarkable watercolor paintings. It seems no one is in a hurry to do anything - employees included.
This relaxed atmosphere suggests Basin Harbor is not only a pleasant vacation spot but a pretty nice place to work. Yet, according to club owner Penny Beach, the main dining hall was seriously understaffed for a few weeks in late spring, for the first time since 1886. That's because a handful of Beach's workers were delayed on account of visa paperwork.
Since the 1950s, Basin Harbor had sporadically employed workers, some of them political émigrés, from other countries. About a dozen years ago, though, faced with a dearth of local labor, Beach decided systematically to hire foreign workers to clean rooms, answer telephones and cook meals at her club. That first year, she recruited about 10 workers from Jamaica. Now, at least 15 percent of her 300-plus staffers hail from places as far as Moldavia, Kazakhstan and Cameroon. Of all the countries, though, Jamaica still prevails, with more than 20 employees.
Two of them are David and Lenox Williams - who are unrelated, though they share a last name. Jovial and laid-back, the men have worked five months a year at Basin Harbor since 2001 and 2003, respectively - except for one year, when Lenox's H-2B visa wasn't approved. Today, they've agreed to talk with a reporter about why they've chosen to make Vermont a home away from home. Their comments offer an "insider" perspective on the ongoing, and often heated, debate over temporary guest workers in Vermont.
"Guest worker" has become a buzzword in the national lexicon. The presence of employees such as the Williamses in Vermont speaks to larger, hot-button issues such as immigration, labor and foreign policy. This past year, the nation's attention was focused on a comprehensive immigration bill that would have significantly expanded the existing federal guest-worker program, which in 2005 allowed U.S. employers to hire about 121,000 foreigners to do jobs Americans can't or won't do. Thirty-two thousand of those jobs were in agriculture - a figure that may or may not include about 2000 Mexican migrants who work on Vermont dairy farms. The other 89,000 jobs fell under categories such as landscaping, construction and hospitality.
Last month, however, the bill collapsed. Vermont Senators Bernie Sanders and Patrick Leahy were in the middle of the debate - on different sides of the table. Leahy supported the bill; Sanders didn't, claiming it would have hurt American workers. In fact, the latter has made headlines recently by calling for a federal Department of Labor investigation into Killington resort, where he suspects locals are being replaced by guest workers.
Regardless of any specific bill or controversy, it makes sense for Vermont's congressional delegation to have a vested interest in the guest-worker issue. This state has the oldest workforce of any in the U.S. - the median worker age is 42.3 years. The dearth of strong, capable hands has been felt in some quarters, including dairy farms and resorts, for some time. That pinch is likely to get worse in years to come.
*****
At Basin Harbor, the Williamses - David, 31, and Lenox, 35 - lead a reporter out of the clubhouse, across the lawn, and into a gray gazebo that overlooks Lake Champlain. A few yards away, guests recline in brightly painted Adirondack chairs, reading newspapers and paperbacks. By contrast, David and Lenox look all business. David still has a meat thermometer in his pocket. From their uniforms, it's clear the pair has time for only a short break from their long work day. You'd never guess it from their unhurried voices, though. As the conversation gets rolling, the men speak in lyrical rhythms that complement their surroundings.
At $363 dollars per night, Basin Harbor is an out-of-reach vacation spot for most Vermonters - that's more than half an average state resident's weekly salary, according to the Department of Labor. How did it look to two guys from the Caribbean when they first arrived? Lenox laughs. "It was like a culture shock when I came here," he says, echoing a common sentiment among first-season workers. "I was taken aback by how far away the nearest 'corner' store was. I rode all the way to Vergennes and back on my bike - that was quite a hike!"
The men's initial sense of displacement is understandable, considering they come from more than 2000 miles away, across quite a cultural divide. "On the flight, I didn't see anyone who looked like me. I thought I was on the wrong plane," David confides in his lilting accent. "When I came, all I heard was woods, insects . . . chirpin'. I wanted to leave."
That feeling dissipated pretty quickly. David, who has also worked at a resort in Florida, says Basin Harbor administrators help smooth first-year transitions.
David and Lenox agree they don't have the best salaries - both make about $8 per hour, which translates to between $8000 and $10,000 for five months of hard work. That's before taxes and after a $240-per-month housing deduction. Still, judging from its 70 percent staff-return ratio, BHC must keep its employees reasonably happy. "This is the only place I've worked where you see people cry before they go back home," David reveals. "Once you're comfortable in the environment, the pay's not the issue."
The Williamses acknowledge that getting used to the work environment here can be tricky, in part because some Jamaican social norms just aren't accepted in the U.S. For instance, David and Lenox have learned not to call guests "beautiful," since the word might elicit claims of sexual harassment. What if guests flirt with them? "There are certain things you don't do with guests," Lenox declares. "We have our professional way of shutting it off," David affirms sharply.
Club owner Penny Beach concedes that cultural differences can pose obstacles, but she says that all her employees undergo some kind of etiquette training. "It's not only people from Jamaica who have to learn," she notes. "It's people from everywhere. It's people from Vergennes. It just sort of comes with the territory - I'm sure that any hotelier . . . would tell you the same thing."
That's not the only point they might agree on. This Monday, Beach was one of several Vermont "hoteliers" who met with Senator Sanders in his Burlington office. Sanders is backed by the prominent labor union AFL-CIO, which is concerned about the potential loss of American jobs. Accordingly, the senator proposed an amendment to the immigration bill that would have raised fees for employers seeking to recruit guest workers. On the other side of the debate, Beach's delegation contends Sanders isn't looking out for its interests.
According to Beach, who runs the Basin Harbor Club with her brother Bob, the increasing number of foreigner workers there does not reflect an anti-American bias. Rather, she's hiring them because no locals are willing to do the work. Though Beach appreciates the diversity her guest workers bring to the resort, she declares the H-2B program a logistical headache. In addition to filling out reams of paperwork, she's required to pour thousands of dollars every year into Burlington Free Press advertisements - almost none of which generate new hires. "I would love to hire all American," she comments, adding dryly, "If I could find them, I would hire them."
The Williamses confirm her assertion. "Some of the local workers say that Americans don't do 'beds and dishes,'" Lenox reports. David adds sympathetically, "If I lived here, I wouldn't be thinking of a seasonal job." As it happens, he now lives in Canada half the year with his wife, a Canadian legal assistant. This spring he worked, with benefits, for a financial firm in Toronto. At Basin Harbor, the taxes on his paycheck that are earmarked for Social Security and Medicaid simply disappear.
As the conversation shifts to the controversial guest-worker program, David and Lenox tense up, then glance at each other knowingly. It's as if they're being asked to talk about their medical histories. That makes sense: Their jobs at Basin Harbor, paradoxically, are both tickets to economic opportunity and symptoms of financial instability. "In certain cases, it does put your life forward," David says of the H-2B program. As for the lack of benefits, he says, "We just accept it . . . I try not to think about it." Lenox adds, "You cannot dwell on it, or you'd be preoccupied with the negative, not be able to function in your job."
According to these veteran guest workers, critics such as Sanders don't recognize how much good the program does. In addition to the revenue H-2B pours into U.S. coffers, they say, it helps foreign workers make investments back home. According to the World Bank, 40 percent of Jamaica's population were émigrés in 2005, and 20 percent of the country's gross domestic product came from "remittances" - money earned abroad and reinvested locally.
The guest workers' presence also appears to boost local economies in Vermont. Andy Megroz is the ruddy-faced, white-haired proprietor of Mountain Valley View Panton General Store, which is located a few miles south of BHC on Jersey Street. Both David and Lenox mention his store as an important resource. That's because the shopkeeper special-orders items such as Red Stripe beer and Jamaican spices for the summer season. Megroz says he's become friends with some of the men, with whom he occasionally watches baseball.
The friendship extends both ways. Jamaican workers at BHC, Megroz says, often refer guests to his store. In recent years, they've invited him to their annual Jamaican Independence Day cookout at the club in August, where they serve beer and curried goat. "It's kind of nice to be included in some different things," Megroz notes. The Jamaicans "have been excellent clientele, and they're very supportive people. It's an everybody-looks-after-everybody kind of situation."
The Williamses suggest that a summer in Vermont entails an almost diplomatic responsibility. My job "gives us the opportunity to prove to others from all nations and all walks of life that we are not what people think we are," David asserts. "People assume Jamaicans are aggressive, but when they get to know you, they see that's really not true."
To illustrate his point, he recounts a subtle phenomenon that has rubbed off on the BHC staff: the Jamaican custom of hugging on meeting. My co-workers "have grown so accustomed to hugging that whenever you show up . . . that's something you have to do," David asserts with a boyish grin. "A lot of people don't know that the hug is very important."
As the interview comes to a close, the men pause to gaze out at the water before heading back to work. Children are playing on a dock, and their happy vibe seems to spread across the lawn. "We are like a family here," Lenox says, smiling, "from the owners all the way down to the last person."
Club owner Penny Beach agrees. She suggests that, paperwork aside, her guest workers leave an indelible mark on Basin Harbor. The year that Lenox didn't get his visa, for instance, regular guests felt his absence. "None of us is irreplaceable," she says. "But it's good to have people returning year after year because they know your guests, and your guests know them. They're part of our family - and when a family member is missing, there's a hole."
To hear David and Lenox tell it, that familial bond extends to employees from other nations, too. "A lot of people don't know that Jamaicans research deeply to see if a person is genuine or not," David explains. But once he starts interacting with colleagues from other parts of the world, he says, "the bond is there, continually."
All things considered, however, David and Lenox will never completely assimilate into the Basin Harbor community. The resort is the quintessence of bourgeois high society, whereas the men earn slightly more than minimum wage, plus tips. Though they're permitted to visit Jamaican friends at other Vermont resorts, such as Stratton, and to attend local church services, they hardly ever do. Guys who work 16 hours a day don't find much time for leisure or travel. Lenox points out that he doesn't take advantage of the worship option because the nearest church of his denomination - the God of Prophecy - is in New York City.
These men also inhabit a different world from their more affluent foreign colleagues. According to Beach, about half her guest workers come here under J-1 student visas. They stay only a few summers before moving on to professional careers. And, David and Lenox point out, once the summer ends, the J-1 crowd gets its tax money back.
They also note that most of the Jamaicans here are over 25 and work longer hours - hence they don't "party" like the student workers do. They don't get to enjoy the waterfront as much, either. "The Eastern Europeans have a field day in the lake," Lenox says. "I don't know if any Jamaicans would ever go in . . ."
That's not just because of their long hours - the two men admit they're afraid of the murky water. Even after a combined 10 summers at this club, neither has taken a dip. "In Jamaica, you can see 20 feet down in the water," Lenox explains. "There are stories about the lake monster, Champ. I think it's a myth . . . but I don't know what's in there."
Swimmers or not, the Williamses have been relatively happy at the Basin Harbor Club. Before arriving here seven years ago, David says, he'd heard Vermont was a "redneck state." Now he asserts with authority, "There are more loving people in Vermont than in Florida."