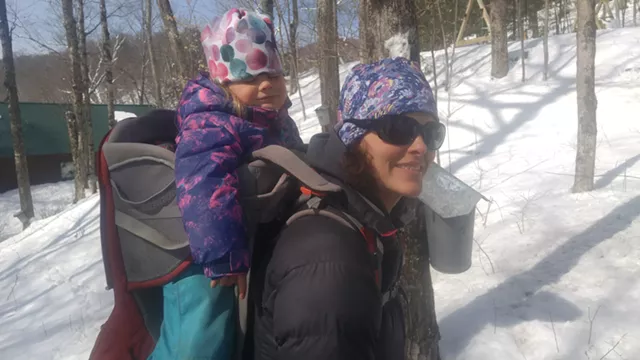 Sean Prentiss
Sarah and Winter explore the woods
For those of us lucky enough to live near the woods or by a lake or creek, we can take our lives and move outside, even if only for a meal. But, of all the choices, a waterfall or cascade might be best because of the positive effects of
the negative ions created from the cascade
, something we all need right now.
My wife, Sarah, knows this, so today she says, "Let's have a picnic at the waterfall." Our daughter Winter screams with joy, so we're going. Sarah cooks grilled cheese, as Winter climbs into her snow pants. I shut off the computer, leaving the next video meeting for after lunch. We put the leash on our dog Blue and hike.
Sean Prentiss
Sean, Winter and dog Blue enjoy an outdoor lunch
Once sitting in the snow beside this unnamed creek, not another person within maybe a half-mile of us, Sarah pulls out still-hot grilled cheeses, pickles, hot tea and an apple for 3-year-old Winter from our backpack. Then we eat beside the waterfall we've named White Rock Cascade. Just 30 feet from the tumble and spray, our hearts slow for a moment, smiles arc our faces. Maybe it's the peace and quiet. Maybe it the negative ions. Maybe it's the power of spring's sun on our skin. Maybe it's the gurgling of this unnamed creek. Whatever it is, COVID-19 feels far away, as do these stay-at-home orders.
Here, it is peaceful and quiet. Here, Sarah and I talk about our family member just yesterday stricken with COVID-19. Here, we pray for his health while Winter throws snowballs into this creek, feeling almost like the girl she was just weeks ago, and Blue runs through the woods, chasing after squirrels and scraps of food.
Soon, we'll walk home to computer screens and updates for stricken relatives. But for this moment, we are removed from everything but waterfall, creek and lunch.
If you want to find kids' books about lakes and streams and waterfalls,
check out this link
.
If you want water-related activities,
find ideas here.
If you want to teach your kids about the water cycle,
click here for a fun website.
To learn about watersheds through an interactive website,
click on this link.
Here's
a free app for second to seventh graders about lake science
. And here is
a free game in which players learn about the human impact on estuaries
for ages 8 and up.
Sean Prentiss is the author of
Finding Abbey: The Search for Edward Abbey and His Hidden Desert Grave, Crosscut: Poems
and Environmental and Nature Writing: A Writer's Guide and Anthology. He is an associate professor of English at Norwich University and on the faculty of the Vermont College of Fine Arts. Find more at seanprentiss.com.