Sean Prentiss
Winter in her fire truck
Press Release: Today has been officially decreed as Firefighter Day by principal and primary pre-K teacher, Sarah Prentiss, at Turtle Cove Pre-K. And though Turtle Cove Pre-K only has two teachers — Sarah and me — and one student, 3-year-old Winter, when Winnie hears this, she jumps up and down in her pajamas! "Yay, Firefighter Day!"
"First thing we need to do is dress like firefighters," says Sarah. "We can either wear red or black, since firefighters normally wear those colors."
So the three of us dive into our closets and end up dressed in black pants and red shirts. By breakfast, we're a firefighting family, especially once Winnie puts on her black plastic helmet that she got from our local fire station last Halloween.
"Now that we're firefighters," Sarah tells Winnie, "we need to help each other. That's what firefighters do!" And all day we work to help each other if we run into a problem.
Soon Sarah calls out, "I got an email from Noel!" That's Sarah's cousin, and she recently married a firefighter. "Noel sent pictures." So we look at Noel's pictures of her husband, Leo, dressed in his various uniforms.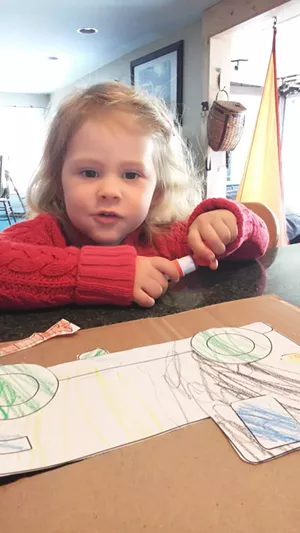 Sean Prentiss
Winnie colors a fire truck
During craft time, Sarah prints out a
fire truck cut-and-color activity
that Winnie and I can do while Sarah relinquishes her role as principal and teacher and moves back into her role as physical therapist for school-aged kids. I step into my role as substitute teacher and Winnie and I cut, color and glue a fire truck. As we build the truck, we talk about our local fire station in Woodbury. I remind her that our neighbor, Paul, is the chief. I remind her of the day the Woodbury Fire Department let her sit in the fire truck and act like a real, live firefighter. "Firefighters are heroes," I tell Winnie.
Once the truck is glued together, Winnie asks, "What is a siren?" To teach her, I show her a
short video
that teaches kids about basic firefighter equipment and
another that shows a cartoon siren in action
. Soon, Winnie and I are singing along: "Firefighter, firefighter, where are you?"
Once I head back to my job, telecommuting to Norwich University, Sarah prints out another
cut-and-color activity
, and make paper firefighters. But every firefighter needs a dog, right? So Sarah prints out
a cut-and-color dog
to add to our Turtle Cove firefighter team.
But what is a Firefighter Day without a fire truck for Winnie to play in? So, from the garage, I lug down a big box that we've been waiting to recycle. Sarah and Winnie take it out into March's sun and paint it on our deck. Sarah asks Winnie what to call this truck. With some prompting, they decide on Ladder 17, which Sarah paints on the side. I come out with my straight-edge razor and cut out a window for Winnie to look through. Then Winnie and I climb inside to race to the fire.
By evening, Winnie still has energy to burn. So Sarah, always thinking like a physical therapist, puts on a
short video with dance moves
. Not only does it burn Winnie's energy, but it also helps with her motor skills.
We all dance and sing, protecting our small community of three in what little ways we can, while out there, real life firefighters, like neighbor Paul and family member Leo, keep doing
their
jobs in the face of COVID-19, protecting all of us.
If you're looking for firefighter-related kids books, you can buy them here from the Galaxy Bookshop, which is what a hero would do during this COVID-19 crisis, which has shut down so many wonderful small businesses. And the Galaxy, like so many other local bookstores, is shipping for free!

If you want more elaborate ideas for how to build a cardboard fire truck, this link shows many images.

Here's a link to a firefighter print-out scavenger hunt.

Here's a doll house activity you can do with your kids that teaches fire safety.