Leanne in her living room nook
As much as I love my children more than any other human beings on the planet, I also love being a working mom, who puts on makeup and high heels, does my hair and leaves the house every day to go to my job as an English teacher at Hazen Union Middle and High School in Hardwick. Already, I miss this part of my life immensely. In fact, my husband laughed at me the other day, because even at home, I still put on makeup each morning. But, hey, I do have a number of video conferences every day!
On the day after schools closed in Vermont, I believed that everything would be better if I could start each day by straightening up the house to get in my "zone." Now, I've given that up. I have found that the key to success in making it all work is asking myself,
What really matters?
Let's face it. No one is coming over to my house, or yours, or anyone's for that matter, for a very long time. So honestly, who really cares how messy it gets? As long as the kids and I can walk safely across the room, it's fine.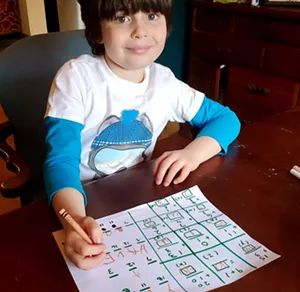 Leanne's 6-year-old son Atticus
The hardest part for me, especially as a teacher, is feeling like I am short-changing either my students or my 6-year-old son. Some days, it feels absolutely impossible to run my son through the packet of lessons that his teacher sent home and also be available to my students when I said I would. I am still trying desperately to up my game. Right now, we're focusing on the social-emotional well-being of our students far more than academics. My daily routine involves contacting students to find out how they're doing and talking with them about cool, out-of-the-classroom projects or hobbies. For students who want more challenge, I provide feedback about online assignments and independent projects, and offer suggestions for how they can document the passion projects they're working on from home.
I have developed a few tricks. In writing workshop, I'm having my son write to his pen pal — his best friend who lives up our little dirt road, who he doesn't get to see anymore. I help him spell the words, and then he turns the paper over and draws a picture on the back — while I work. For math, I've figured out that if I give him addition and subtraction problems that solve a secret code, he will work on it for an hour, without any help from me.
Leanne's children playing at home
I think it's good to get kids into a routine. Getting up, getting dressed, and brushing teeth and hair matters to us. Beginning the day with a healthy breakfast matters. Having the cupboards filled with healthy snacks matters. Access to books and other engaging learning activities matters a lot. But whether or not I get my 3-year-old daughter's hair into nice little pigtails, like I would if I was taking her to daycare, no longer matters. Whether or not they put on socks matters less now, as long as they're inside and it's warm enough. As long as they are safe and happy, I figure it's okay to loosen up on the rest.
I'm far from a perfect mom, or a perfect homeschooler, or a perfect teacher. I no longer follow the kindergarten schedule that I shared with my son's teacher on the very first day of homeschooling. I've learned to chill out and not intervene in free play unless there's a problem. And perhaps most importantly, I have created my own little island of peace.
This little nook in my living room is the one part of the house that I diligently tidy up every morning and every afternoon. One 6x6-foot square of cozy that is all my own: soft cushions, pillows, a snack and a glass of water. Even when the churning sea of chaos swirls around me, this is my space. I don't know if it will work forever, but right now it is working. All we can do right now is try to get by, day by day.
Leanne Harple teaches English at Hazen Union Middle and High School in Hardwick. She is the mother of Scarlett, 3, and Atticus, 6.