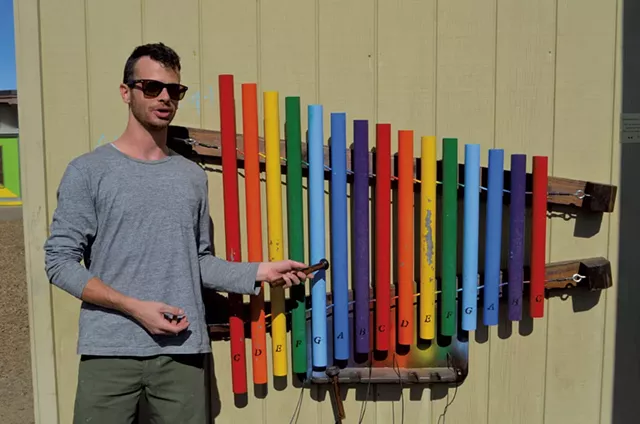 Sasha Goldstein
Mike Waters with one of his xylophones
A guerilla artist who erected giant xylophones by the Burlington waterfront has donated the instruments to a city school.
Mike Waters, a carpenter, had initially hung the oversize instruments in trees along the Burlington Bike Path last December, without asking anyone's permission. The city's parks department asked him to remove them.
Waters didn't want the xylophones to go to waste, so he reached out to principal Bobby Riley at the Integrated Arts Academy on Archibald Street to gauge his interest.
"I'd told him that we'd take them, that it's totally in line with our mission here," said Riley. "We'd love to revamp our playground, and one component we wanted was instrumentation: drums, percussion, whatever. So it was a no-brainer for me."
Under cover of night on May 12, Waters attached the instruments to the side of a shed beside the basketball court. When the students arrived for school, they immediately flocked to the toys, said Riley.
Last Friday, students ran up and grabbed mallets to bang away at the xylophones. One girl hammered out a musical scale while a boy tickled the tubes to the tune of "Mary Had a Little Lamb."
Waters looked on approvingly.
"This seemed like the most chaotic place to put them," he laughed.
Riley said he's been in touch with the University of Vermont music department to invite a percussionist to play the xylophones during a school assembly.
"Mike did this out of his own pocket. He didn't ask for any compensation," said Riley. "So it was just a pretty kind gesture, and it's going to have a nice, positive impact on the kids."