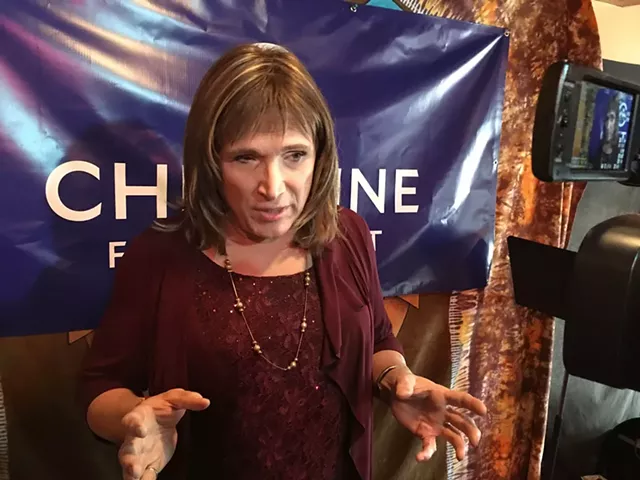 Conventional wisdom has it that the 2018 gubernatorial campaign will be a sleepy affair. Republican Gov. Phil Scott is personally popular and has history on his side. It's been 56 years since Vermonters rejected a first-term incumbent governor. But potentially uncompetitive doesn't necessarily mean low-budget.
In 2016, Scott and Democratic nominee Sue Minter spent a combined $3.6 million. But even more was spent by outside groups. A Stronger Vermont, a political action committee run by the Republican Governors Association, dropped more than $3 million on behalf of Scott. And the organization is already making waves this year; it's produced 11 Facebook ads promoting Scott during his standoff with the Democratic legislature.
The Democratic Governors Association's counterpart PAC, Our Vermont, spent $1.3 million on behalf of Minter in 2016. (Needless to say, despite their Green Mountain branding, both PACs are based in Washington, D.C.)
Too soon to tell if those organizations will go all in this year. But by national standards, Vermont is a bargain. The Cook Political Report estimates that campaign spending nationwide will easily top $3 billion. So what's a few lousy million? For the D.C. moneybags, it's pocket change.
Whatever the party orgs do, there's likely to be a flood of outside money on behalf of Democratic candidate Christine Hallquist. She's already attracted the active support of the Victory Fund, a national political action committee for LGBTQ candidates. Hallquist would be the first openly transgender governor in America, and that makes her a top priority for the group.
"She received our Game Changer endorsement instead of our general endorsement because of her history-making campaign," said Elliot Imse, spokesperson for the Victory Fund. "We have a good number of donors who are willing to max out for candidates who can advance the cause of equality."
Imse believes Hallquist can be a tough match for Scott. "2018 is turning out to be a change year," he said. "Christine is well positioned to win the primary and to illustrate a contrast between herself and the incumbent."
Hallquist could also receive the backing of EMILY's List, a national PAC for Democratic women candidates. "We are looking at the race," spokesperson Julie McClain Downey wrote in an email. No commitments yet, but the PAC did endorse Minter two years ago.
Hallquist, former CEO of the Vermont Electric Cooperative, has a chock-full Rolodex of her own due to her work on energy issues. Her campaign's fundraising target is $2 million. Between that and the outside help, she stands a very good chance of being financially competitive with Scott.
That's assuming she survives the Democratic primary. If one of the other Dems — James Ehlers, Brenda Siegel or Ethan Sonneborn — wins the nomination, it'll be young David's coin purse against Goliath's giant bags of loot.
Of course, as any of those three would tell you, David won.
After the Deadline
So far, 2018 has been a good year for female candidates, thanks to the #MeToo movement and liberal backlash against President Donald Trump. But as of last week's filing deadline for Vermont's August primaries, the number of female legislative candidates was down slightly from 2016 — despite the efforts of Emerge Vermont, a nonprofit that trains Democratic women to run for office. Emerge can boast 15 alumnae running for the House and another five for the Senate.
So why are the numbers flat? It's the Republicans. Forty-six percent of all Democratic House candidates are women, as are 36 percent of its Senate hopefuls. But women make up only 21 percent of the VTGOP's legislative slate.
And all of them are running for the House. There's not a single woman running for the Senate as a Republican. The party's two incumbent female senators, Peg Flory (R-Rutland) and Carolyn Branagan (R-Franklin), are not seeking reelection.
"I think it would be wonderful if the Republican Party prioritized gender parity," said Ruth Hardy, Emerge's executive director. "I wish the Republicans had an Emerge counterpart."
Hardy herself is running for a Senate seat representing Addison County, which is prompting her to step away from Emerge. The group will name an interim chief by mid-June.
Meanwhile, gun-rights advocates had talked of a political counteroffensive after Scott signed a series of gun bills this year. But they aren't showing their cards just yet.
"We'll be announcing [our candidates] after we compile the whole list," said Ed Cutler of Gun Owners of Vermont. "We're not jumpin' the gun; we've got 'til August." He said his group has recruited half a dozen Senate candidates and roughly 20 for the House but refused to name names; he wants to give other pro-gun hopefuls a fair chance at getting the group's support through its normal endorsement process.
"We're trying to make a crucial difference," Cutler said. That includes, he added, running gun-rights candidates as Democrats in liberal districts. Tricky!
Overall, the legislative outlook remains dim for Republicans. Democrats are virtually certain to preserve their veto-proof majority in the Senate. The VTGOP hopes to score modest gains for its current 53-member House caucus and, at worst, preserve its ability to uphold a gubernatorial veto — which requires at least 51 seats.
But Republicans still have work to do. The party had fielded a mere 76 House candidates as of Tuesday. There are some conspicuous gaps in their list; they have no candidates in the two-seat district of Vergennes or in any of South Burlington's four districts. They have no candidates at all in Windham County for House or Senate; they have a mere two hopefuls in all of Bennington County, both incumbents.
Republicans will have a chance to fill empty slots after the August primary through district caucuses. "We are actively pursuing that in targeted districts," said VTGOP executive director Jack Moulton.
Part of the effort will involve urging some retiring incumbents to reconsider, including Warren Van Wyck (R-Ferrisburgh) and Dennis Devereux (R-Belmont).
The Democrats, meanwhile, had 133 candidates for the House as of Tuesday. Rob Hipskind, director of the party's coordinated campaign, hopes to use caucuses to fill a few holes. "We think we have a good chance to win in Stowe," he said, but no Dem stepped forward to challenge Republican Heidi Scheuermann. "Rutland Senate, we have a chance to win there with the right candidate," he added. Currently there are five Republican hopefuls for the county's three seats, but nary a Democrat to be seen.
Keenan Departs
One of Vermont's longest-serving lawmakers is retiring at the end of the year. Rep. Kathleen Keenan (D-St. Albans) has represented her district since 1989. She succeeded her father, Roland, who died in office — and then she occupied the seat for 39 years.
Keenan is second in tenure behind Rep. Alice Emmons (D-Springfield), who's been in the House since 1983.
"It's time to take some time for myself and my family," she said. "I'm looking forward to doing some things in winter that I haven't been able to do."
With Keenan's Republican seatmate, Corey Parent, running for the Senate, the two-seat St. Albans district will be electing two brand-new representatives this fall.
A New 'Agriculture'
Work is beginning on a new statue for the Statehouse dome. After a formal bidding process conducted by the state Department of Buildings and General Services, two central Vermont sculptors were chosen to team up on the project.
Chris Miller and Jerry Williams are best known for working in granite. For this effort, however, Williams will craft a one-quarter scale model statue from clay and then cast a replica in plaster. Miller, who is an experienced wood sculptor, will use the model as a reference for making a 14-foot statue out of mahogany.
This will be the third statue to grace the golden dome. The original "Agriculture" statue was the work of 19th-century sculptor (and Vermont native) Larkin Goldsmith Mead Jr. Due to weathering, his statue had rotted by the mid-1930s. It was replaced in 1938 with a folk-art piece crafted by then Statehouse sergeant-at-arms Dwight Dwinell. His lady is now on her last legs.
"The first statue was white pine," explained Miller. "The second was Ponderosa pine. Both are sponges. When they took down the [Dwinell] statue, it was completely waterlogged and in bad shape."
The new statue will be made of wood because it's the historically correct medium and because the dome couldn't support the weight of, say, a big hunk of stone.
Williams and Miller will try to recapture Mead's original as faithfully as possible. They have some blurry old photos to guide them and what Miller calls a "spectacular drawing" by Mead himself.
Miller plans to start his wood sculpture in early August at the Barre Granite Museum, where visitors will be able to watch him at work. The installation of the new "Agriculture" is tentatively scheduled for November 5, according to Miller.
This is a unique opportunity for an artist — to create a capstone for the state's most renowned public building. "It is humbling and an honor," said Miller.
Media Notes
The Burlington Free Press has jettisoned another long-time staffer. Glenn Russell has been a photographer at the paper, and a constant presence at just about every big event in Vermont, for 25 years. (He should write a memoir for sure.)
It's a curious move in a way; a tabloid paper has to make a splash with its single-story front page, and a compelling image is the best way to accomplish that. But for the most part, the Free Press relies on its reporters to take photos. It's cheaper.
Speaking of cheaper, a sudden format change took Brattleboro radio listeners by surprise last Thursday. WKVT radio, without notice, dropped virtually all its news/talk programming and started playing country music.
In fact, it's airing exactly the same format as WINQ, its sister station in Keene, N.H.
The only exception: WKVT's weekday local program "Green Mountain Mornings," hosted by area journalist Olga Peters, remains on the air, at least for now. (Disclosure: I'm a guest on GMM every Monday; I receive no compensation from WKVT.) But gone are progressive talkers Stephanie Miller and Vermont native Thom Hartmann, who formerly filled most of the daytime schedule.
"I'm disappointed," said Chris Lenois, Peters' predecessor on GMM. He now handles communications for Landmark College in Putney. "People stop me on the street and ask, 'What happened?' I don't have the answer."
The only guess you need make: saving money.
WKVT and WINQ are owned by Michigan-based Saga Communications, which owns 88 radio stations, mostly in smaller markets. On its website, Saga boasts proudly, "We believe in local media."
I guess that belief doesn't extend to local print media; Saga officials did not return calls for comment.