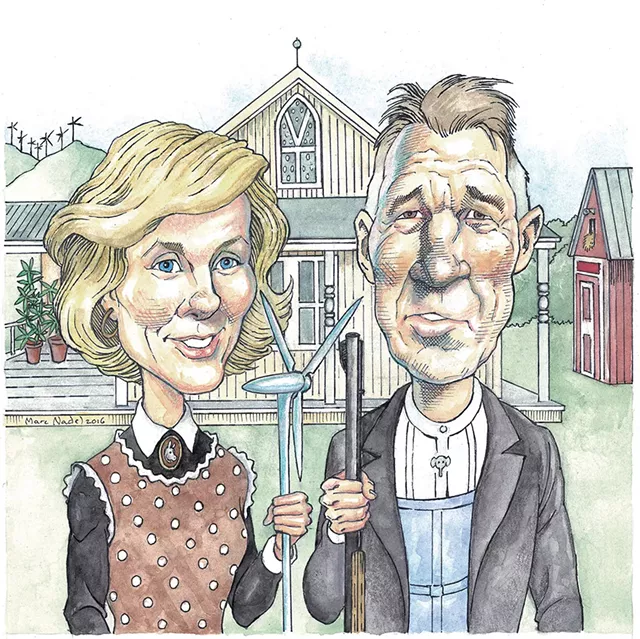 Democratic gubernatorial candidate Sue Minter was in her element at last month's annual conference of Renewable Energy Vermont in South Burlington. As the guest speaker at a Friday morning session, she got a boost from wind-power proponent Sen. Chris Bray (D-Addison).
"The choice we are facing at the ballot box in November will have a profound impact on the future of renewable energy," Bray said by way of introducing the blond dynamo seated at a round table before him. "We need a governor who is all in ... I find only Sue Minter is ready to make it happen."
Minter's Republican opponent, Phil Scott, was also invited to the REV conference, but he chose not to attend.
Months earlier, their roles had been reversed: Minter opted out of a gubernatorial candidate forum in Irasburg hosted by anti-wind advocates, and Scott won points in a part of Vermont where turbines are reviled.
"I think there's very few people in Orleans County who are going to be voting for Sue Minter because of the wind issue," said event organizer Ron Holland, who's running for a state House seat as a Democrat. In an interview last week, he said he was voting for Scott.
Minter's warm welcome at the REV conference and Scott's hearty reception by the anti-wind crowd illustrate a fundamental truth about this race for the open governor's seat: The two major-party candidates seem to be representing two different Vermonts.
Whether you characterize it as a matchup of old Vermont versus new Vermont, traditional Vermont versus progressive Vermont, woodchuck versus flatlander, there's a distinct dichotomy.
On one side, Minter supports more wind power, unprecedented-in-Vermont gun control, legalized marijuana and a higher minimum wage.
On the other, Scott is calling for a moratorium on wind projects, opposes changes to Vermont gun laws, wants to wait on marijuana and says businesses can't afford a higher minimum wage.
The corresponding activists have lined up behind their chosen candidates. The gun-control group Gun Sense Vermont is phone-banking for Minter. The National Rifle Association is circulating postcards urging its members to vote for Scott.
Though the candidates share some commonalities — both are parents and fitness fanatics, live in Washington County, served in the legislature and specialized in transportation policy — they run in different circles.
Scott, 58, was born and raised in blue-collar Barre, where he still races cars at Thunder Road SpeedBowl. He studied at the University of Vermont to be a tech-ed teacher and now co-owns an excavation company. He drives a Chevy pickup truck, typically dresses in khakis, and only throws on a tie and jacket when the occasion calls for more formality.
Blue-blood Minter, 55, grew up in suburban Philadelphia and Providence, R.I., where she attended the tony Moses Brown School. She trained to be a competitive figure skater before attending Harvard University and the Massachusetts Institute of Technology. A professional planner, she drives a hybrid Ford C-Max and typically dresses in a well-tailored jacket and dress pants.
"There are real differences between us," Minter said in her summary statement at last week's WPTZ-TV debate.
"I agree. There are clear choices in this election," Scott concurred.
The present political divide is not new to the state. Since traditionally Republican Vermont elected its first modern-day Democratic governor in 1962, the state's voters have chosen governors of alternating political parties whenever the position has opened up.
But the trend — since back-to-the-landers started settling in the state in the '60s — has been a leftward one. A 2015 Gallup poll declared Vermont the most liberal state in the nation.
This year's gubernatorial race could be a defining moment for the Green Mountain State.
After six years under Democratic Gov. Peter Shumlin, whose popularity nose-dived as a result of costly promises he could not keep, will Vermont voters go for a gubernatorial candidate who is proposing restraint on state spending, its ridgelines and its gun laws?
Or does the home of Bernie Sanders, the independent U.S. senator who rocked the Democratic Party with his surprisingly strong presidential bid, embrace a gubernatorial candidate who shares his vision of free college tuition, gun control and paid family leave?
Polls characterize the race as a toss-up. A Vermont Public Radio poll last month put Scott and Minter in a virtual tie, with 14 percent of voters undecided. A more recent WCAX poll had Scott ahead by 7 percentage points.
You'd think stark differences would make it easy for voters to choose between the two candidates. Not necessarily, according to Castleton Polling Institute director Rich Clark, who conducted the VPR poll.
While some voters cast ballots based purely on a single issue, such as wind power or gun control, he said, the vast majority do not. Their decision derives from an overall feeling about the candidate.
"Almost inevitably, they will go to character issues," Clark predicted.
In other words, few voters have their feet so fully planted in new or old Vermont that they won't consider a candidate who comes from the other. The same Vermont voters who chose Democrat Barack Obama for president reelected Republican Jim Douglas as their governor in 2008.
The Hybrid's at Home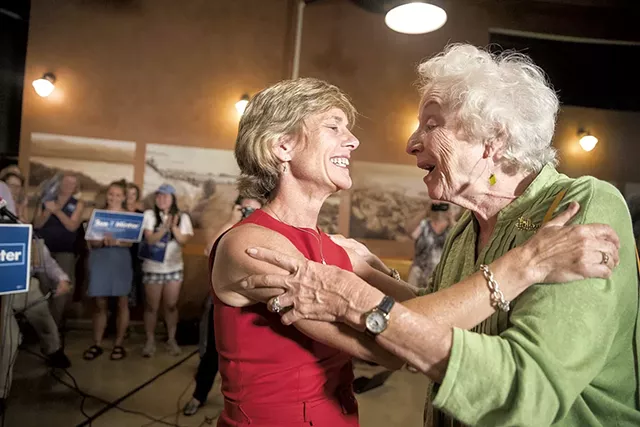 File: James Buck
Sue Minter embracing former Vermontgovernor Madeleine Kunin
Minter usually manages to squeeze in a short run before she heads out for a day on the campaign trail. Her longtime friend Sue Morrello makes sure she eats a healthy breakfast. Most days, it's yogurt, fruit and nuts in the backseat of the maroon Subaru Impreza that functions as the Mintermobile. Minter is traveling in her husband's car because putting hundreds of miles on her hybrid would exceed the lease limits.
More often than not, Morrello is behind the wheel. A Rutland native who left her home in Amherst, Mass., to help with the campaign, she's been living with Minter and her family in Waterbury for months.
Morrello and Minter met when Minter was an undergrad at Harvard with Morrello's husband, Nathan Salwen. They all played Ultimate Frisbee together. "I'm like the person she can just relax with," Morrello said.
In addition to making sure the candidate has snacks for the road, Morrello also ensures that she has the right clothes on hand for the events of the day, which can range from speeches to nursing-home visits. "Everything down to the earrings," Minter said.
Joining them in the car one day last month were campaign communications director Elliott Bent and Thea Wurzburg, a St. Johnsbury native on leave from her job in Congressman Peter Welch's (D-Vt.) Washington, D.C., office. Wurzburg's job is to make sure Minter sticks to her schedule and has the right notes ready.
Bent, a Cabot native, is there to run interference with the media. In her first statewide election campaign, Minter studiously avoids unscripted press encounters, loath to say anything off the cuff. She hasn't had a press conference in weeks and rarely makes herself available to reporters. There was no room in the car for this one, so I had to follow behind.
And as she zipped from Wilmington to Bennington to Manchester for events and interviews, her packed schedule left little time for chitchat.
In Wilmington, 35 local residents gathered for an early-afternoon session to hear Minter talk about economic issues. Scott had attended a similar forum weeks earlier. Kathy Larsen, a member of the Wilmington and Twin Valley school boards, wanted to know Minter's take on Act 46, the state's new school district consolidation law that has proven difficult for area school systems.
"I have proposed extending the current deadline by a year," Minter told her, allowing school districts more time to forge mandated partnerships.
Larsen said later she was "very encouraged" by Minter's response. She said she'd already been planning to vote for Minter, but, as Clark suggested, it was more of a feeling than an issue that led her there. "She makes me trust what she says," she said.
Minter was already out the door to meet next with the editorial board of the Bennington Banner, where Scott had been earlier in the day. The board was preparing to make an endorsement in the race.
Minter has made Bennington County a campaign focal point — the VPR poll indicates she is not as popular in southern Vermont as in Chittenden County. She's visited four times since the manmade chemical PFOA was discovered in local wells this spring, she reminded day editor Keith Whitcomb. "I'm not going to leave people with poisoned wells behind," she said.
In conservative-leaning Manchester, after an interview on local cable television, Minter's staff conferred about whether she had time to make a scheduled stop at the Northshire Bookstore in downtown. They couldn't skip it, the group decided, because people were waiting for her there.
Not many, as it turned out. Minter had arranged to meet bookstore founders Ed and Barbara Morrow, who are supporters, and the editor of the Manchester Journal came for the photo op. Minter zipped into the store's coffee shop to greet voters.
A lone Vermont customer, Rob Woolmington of North Bennington, recognized her.
"I've already voted for you," Woolmington assured Minter. Turned out he's the law partner of Bent's sister — a small-town coincidence, according to Bent.
After Minter moved on, to a private fundraiser a mile down the road, Woolmington elaborated on the woman he chose to be Vermont's next leader. He said he didn't agree with her on every issue, including wind power, but "I think she's got the capacity to be a good governor."
Sobering Message
Molly Walsh
Phil Scott talking with Homer and Margaret Fitts of Barre
Scott has run three statewide campaigns for lieutenant governor and five state Senate races. In every one of those races, longtime friend Dick Wobby has been his right-hand man.
Wobby doesn't carry an official title, but he is part driver, part enforcer. He and Scott met at Spaulding High School in Barre — in freshman French class, as near as either of them can remember.
It was mop-haired Wobby who arranged to refashion a used $1,200 bus into a mobile campaign office emblazoned with Scott's green-and-white campaign logo. It's Wobby who Tweets occasionally snarky messages (he refers to Minter as #ramblinsue) under the handle @thunder_truck. It's Wobby who makes sure the candidate — and his bicycle — get where they're supposed to go. When there's a break in the schedule, Scott likes to squeeze in a quick bike ride.
There was plenty of room on the bus for a reporter and, for part of the trip, a WPTZ-TV cameraman. Like Minter, Scott has had few press conferences during the campaign, but after 16 years in public office, he's more at ease with hovering journalists.
"What's the speed limit here?" Scott asked as his trusted adviser steered the bus out of Montpelier on a recent morning, a gentle reminder that he might be exceeding it.
Their destination: the nearby Wayside Restaurant, a diner where you can still get fresh local perch with a choice of two sides and a house-baked roll for $8.95. When Scott walked through the door, a number of breakfast customers looked up from their eggs to greet him like Norm on "Cheers."
Technically, the Scott team was there to meet up with volunteers who planned to join them for a honk-and-wave just up the road in South Barre. But the candidate seized the opportunity to go booth to booth, shaking hands.
Boarding the bus a half hour later, Scott said many of his strongest supporters assume he's going to win. "You have to make sure they understand the importance of getting out to vote," he said.
His next stop promised less of a hero's welcome: the offices of the Vermont Association of Addiction Treatment Providers. Five representatives from drug treatment programs around the state had gathered to ask Scott what he intends to do about Vermont's opiate abuse problem. Scott started the meeting by praising Shumlin's efforts and directing them to his own "10-point plan" on his website. He added, "I want to appoint a director of prevention to report directly to me."
But he also had a sobering message for the group: "I don't believe Vermont has any more taxing capacity left."
Campaigning in Vermont, Scott faces a flood of left-leaning interest groups looking for more money — and he meets with each knowing he's likely to disappoint.
A week earlier, Scott shared the stage with Minter at an early childhood education forum sponsored by the group Let's Grow Kids. They both relayed stories of their own concerns as parents and employers to the crowd of mostly female childcare providers at the University of Vermont's Dudley H. Davis Center.
"I think state government can play a role in helping coordinate childcare," Scott said, before returning to his emphasis. "It would be easy to say yes to every request, but that's not the right answer. We need to have the courage to find savings elsewhere," he said. "I will not raise taxes."
At the next podium, Minter struck a different note. "I don't want to say no to our opportunities," she said.
When the two candidates were asked for their views on paid family leave, the difference in tone showed again.
"I strongly support paid family leave," Minter said.
"I have to be honest," Scott said. "I don't think we can afford it."
As Scott walked out, he acknowledged, "It's not my crowd; I get it. But we're having a problem with childcare in this state. I have two kids. I have employees who struggle with it. I see it."
Sometimes it's hard for a candidate to know where he or she will find connections.
On the day that started at the Wayside, Scott swung back to his campaign headquarters and settled in front of a computer for a virtual visit with local students.
Teacher Tommy Young had arranged for his first and second graders at Waitsfield Elementary School to interview Scott via Skype.
"I'm teaching them to learn about the candidates," Young said as he greeted Scott over the internet.
Watching candidates Donald Trump and Hillary Clinton, Young said he realized the U.S. presidential election wouldn't serve as an age-appropriate lesson for the youngsters, so he turned to the Vermont gubernatorial contest. Minter's husband, David Goodman, had met with the class on her behalf a couple of weeks earlier.
As Scott chatted with the youngsters, one of them said, "Somebody who goes to my school, he says you race." Scott confirmed that he'd been going to Thunder Road since he was their age — and competing there for 25 years.
The kid shot back, "My grandpa raced at Thunder Road!"
Bernie Bump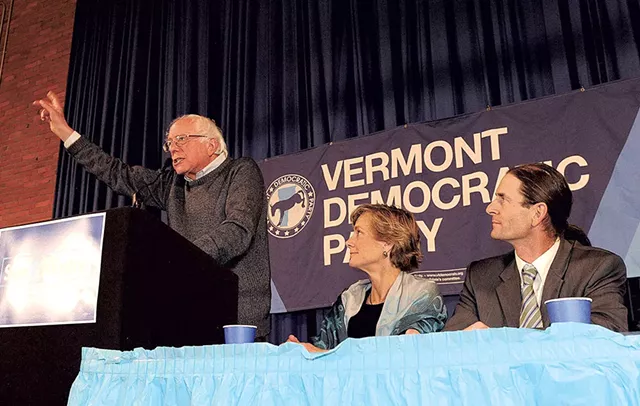 Jeb Wallace-Brodeur
Sen. Bernie Sanders campaigning in Montpelierfor Sue Minter and David Zuckerman
Minter beamed from the stage two Fridays ago in Montpelier as Sen. Sanders launched the first of a series of campaign rallies for Vermont Democrats. "I'm so excited to be here with Bernie," she bellowed.
Indeed, she couldn't have had a better day. That morning she'd shared breakfast with Vice President Joe Biden and Sen. Patrick Leahy (D-Vt.) in Burlington. Later came the news that President Barack Obama would narrate a radio ad on her behalf.
In front of that fully friendly crowd of about 500 at the Vermont College of Fine Arts Alumni Hall, Minter accomplished no small feat. The rookie campaigner delivered a speech that was good enough to compete with those of the more experienced politicians around her.
"We cannot afford a governor who wants to put the pause button on progress," she said. "I'm all in. Are you all in?" she said, her voice rising Sanders-style in volume and intensity.
There is little doubt that Minter is benefiting from Sanders' star power. He sent a fundraising email on her behalf, the likes of which netted state Senate candidate Chris Pearson close to $90,000. Minter's campaign declined to reveal how much Sanders' missive raised for her.
But the Bernie bump is a burden, too. The association may create an expectation that Minter is more similar to Sanders than she is. And that, like him, she'll express a coherent, consistent ideology that connects with so-called lunch-pail progressives. Minter took her time to endorse Sanders when he was running for president, and he waited until mid-October to return the favor.
At the Montpelier rally, Mark Blount of White River Junction said he was there to see Sanders and was undecided how he would vote in the governor's race.
Blount came with mixed impressions of Minter, based on her earlier performance in a WCAX debate. "I think she had a lot of good things to say," he said, but qualified it: "She was a little bit, at times, defensive."
Minter has grown more confident as a candidate, thanks to professional coaching from EMILY's List and the Franklin Forum, a progressive organization that provided $1,000 worth of free training in January and September. "Obviously, I have not run a statewide campaign before, so there is a tremendous amount to take in, everything from media training to fundraising strategy," she explained in a phone interview last week.
On the campaign trail, it's clear that Minter is taking pages from Sanders' policy playbook. Mirroring Sanders, she's pitched a plan to offer two years of free college tuition, paid for with a tax on banks.
But bringing Sanders-style policy to state government has also proven tricky. Early on, Minter made reference to a 2011 Blue Ribbon Tax Structure Commission recommendation that Vermont broaden its sales tax to include services while lowering the overall rate. Quickly facing criticism about the sales tax expansion, she has since massaged her message.
House Speaker Shap Smith (D-Morristown), who briefly ran against Minter in the Democratic primary, said he warned her against pursuing the sales tax expansion. "My view is that in this political landscape, the support isn't there," Smith said.
Minter's pivot has only created confusion. She now says she would remove exemptions that favor the wealthy, such as interest deductions on second-home mortgages and taxes on private jets.
Does that mean she would broaden the sales tax far enough to also lower the overall sales tax rate? Last week she said that would be her goal, "but that depends on so many factors."
What did she mean by "taxes on private jets"?
It turned out Minter herself didn't know, even though it has been among her talking points at virtually every recent campaign stop.
Asked to clarify, she at first said her plan was to remove an existing sales tax exemption on airplane parts. Then she said, "I'm not certain ... I'll have to follow up on that question."
Bent, her communications director, clarified that she would propose charging a sales tax on chartered flights, not on airplane parts. "She just misspoke," he said.
She offered the jet example, Minter said, as an indication of her overall taxing philosophy. "My priorities are going to be to reduce tax exemptions for wealthy people," she said, channeling Sanders without being specific.
'It's Never Enough'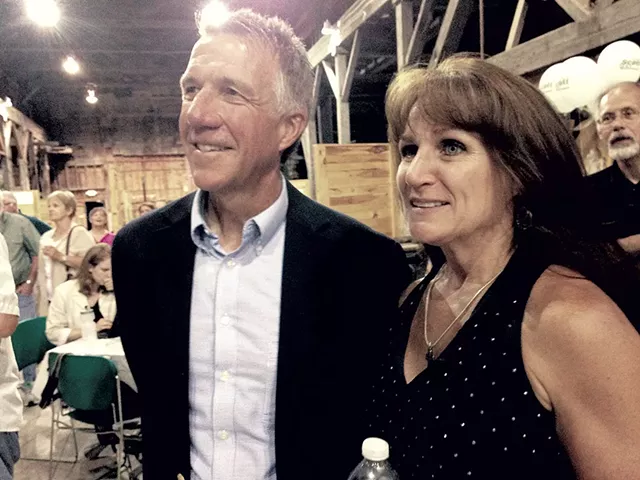 Molly Walsh
Phil Scott with his wife, Diana McTeague Scott
Early on in the campaign, Wobby advised Scott to support Republican presidential candidate Trump. "Trump's going to win this. We ought to be on his bandwagon," Wobby said was his take on the issue.
Scott had a different idea. "I said, 'I'm not going to do that.'"
While his stance has brought plenty of backlash from Trump fans, it preserved Scott's crossover appeal. Not since former governor Douglas occupied the Pavilion Building has a Republican candidate been more attractive to fiscally conservative liberals. Scott counts many Democrats among his supporters, including Sen. Dick Mazza (D-Grand Isle) and Greater Burlington Industrial Corporation president Frank Cioffi.
According to the VPR poll, 14 percent of Democratic-leaning voters support Scott, while only 4 percent of Republican-leaning voters back Minter.
But Minter and the Democratic Party aren't letting Scott off easy, linking him to his national party on gay rights, abortion and taxes.
Minter repeatedly accuses Scott of taking his policies out of "the national Republican playbook." Normally even-tempered, Scott responded with a rare display of exasperation at an October 23 Vermont Press Association debate.
"I thought it was important to have marriage equality. I was only one of a couple of Republicans who took that opportunity," he said. "I'm pro-choice. That's not enough. It's never enough."
Scott won the Republican primary election handily despite the fact that he struggled to fend off blistering allegations from Republican rival Bruce Lisman. Now, in the general election campaign, he's starting to fight back.
At an October 25 debate on WPTZ, reporter Stewart Ledbetter asked the candidates if they would repudiate negative ads being aired by outside organizations on their behalf.
Scott agreed to denounce a Republican Governors Association ad that portrays Minter as a bobblehead doll nodding in agreement with Shumlin. "It's nothing that I would run," Scott said of the group that has spent more than $2 million going to bat for him.
Minter, however, sidestepped the question regarding a Planned Parenthood Action Fund ad that criticized Scott on abortion. He called her out. "Sue hasn't answered the question," he objected.
"I am the only candidate who supports a women's right to choose without exception," Minter retorted. She was referring to Scott's opposition to late-term abortions and his support for legislation that would require parental notification for minors seeking abortions.
Months earlier, Scott would likely have let the moment pass. Not this time.
"The vice presidential candidate on the Democratic side is pro-life," he said of Clinton's running mate, Tim Kaine. "I don't see any Planned Parenthood ads running against him."
Minter had no response.
If Scott is getting more adept at debating, it's not from professional speaking lessons, said Jason Gibbs, a former aide to Douglas who is advising Scott.
"He intensely dislikes anything he thinks is meant to make him something he's not," Gibbs said. "He doesn't like to be 'handled.'"
His unvarnished, regular-guy, race-car-driver image is Scott's greatest strength, a contrast to the big guns helping his opponent. Before Sanders, Biden and Obama started helping Minter, former governor Madeleine Kunin was her champion.
Scott knows that the backing of almost any living Republican U.S. senator, former vice president or president would likely only hurt him — much like Shumlin's presence on the trail would hurt Minter.
That's why at almost every campaign stop, Scott tries to counter Democrats' efforts to tie him to the national GOP. "Don't believe the dishonest ads," he said in his closing statement in the WCAX debate. "I have Vermont values. I'm pro-choice and support marriage equality and equal pay."
Where Two Vermonts Meet
The race for governor of Vermont could come down to which candidate wins over more voters in small settings across the state. Plan ahead and give the right pitch, and the candidates for governor will come to you.
So discovered Tristan Cherry of Burlington, a 32-year-old research analyst with Resource Systems Group who belongs to a group of young professionals in the transportation field. On a Friday night last month, Scott stood in the back room at Three Needs Brewery & Taproom in downtown Burlington while 15 of them peppered him with questions about housing prices, jobs and the environment.
Scott told the group that he understands affordable housing is a barrier. He promised them his administration would consist of "talented folks who understand budgets, who understand people, but who also have economic development on the front burner."
As he was talking, Wobby handed Scott a Coke but otherwise stood off to the side with Brittney Wilson, the campaign coordinator. Their boss looked as if he was ready to stay all night.
Months earlier, Cherry's group had met with Minter, a fellow planner who served as the state's transportation secretary. He said they came away impressed.
But Cherry, who described himself as a Sanders supporter, also liked Scott. "I think Phil Scott did really well tonight," he said. "He had some straightforward answers."
So has he made up his mind?
Just the opposite. "After tonight," he said at the bar after Scott had left, "I probably would call myself 'undecided.'"