As an officer at the Chittenden Regional Correctional Facility, Daniel Zorzi's job has been to guard and protect the 140 women incarcerated at the South Burlington prison. But for more than six years, according to colleagues and inmates, he has routinely used cocaine and other stimulants while on duty.
"You would see it in his nose. You would see it in his behavior," said Mike Bruno, a former corrections officer who now serves as a New Hampshire State Police trooper. "It was so obvious, but nobody seemed to care."
Zorzi's behavior has become more erratic and his drug use more evident the longer he's worked for the Vermont Department of Corrections, according to Bruno and five other current and former officers. Two of them said Zorzi stole crack cocaine seized from an inmate — and returned to the unit, as one put it, "so high it wasn't even funny." According to inmate Jennifer Caplin, he twice attempted to buy cocaine from her while she was on probation.
All six of the current and former guards said they reported Zorzi's suspected drug use to superiors — including, in some cases, to prison superintendents — but he continued climbing the ranks. During a 2018 ceremony at a Montpelier hotel, Vermont's secretary of human services and commissioner of corrections named him shift supervisor of the year.
This October, Zorzi's world came crashing down. When a longtime inmate filed a particularly inflammatory complaint, the department suspended him and the Vermont State Police launched an investigation. In the complaint, inmate Penny Powers said that while she was out of jail in July, Zorzi had taken her and another woman to a Colchester camp to engage in drug use and sex. Both were under DOC supervision at the time.
Got a tip about the Vermont Department of Corrections?
Send it our way. We'll keep your identity confidential.
prisons@sevendaysvt.com, 802-222-0363
Paul Heintz
c/o Seven Days
255 S. Champlain St.
Ste. 5
Burlington, VT 05401
"We got high from 10:30 at night 'til 5:30 in the morning," Powers, who returned to prison in September, told Seven Days. "He pretty much fed my addiction."
Corrections Commissioner Mike Touchette said he could not comment on the allegations, but he said that Zorzi had been placed on paid administrative leave. Vermont State Police spokesperson Adam Silverman confirmed this week that the agency is investigating. "Because the case remains open, we are unable to comment further," he said.
Reached by phone, Zorzi declined to comment.
Officers and inmates alike say that the crimes Powers alleged are hardly uncommon at Vermont's only prison for women. In recent years, they say, guards have sexually assaulted inmates, harassed female employees, and pursued sexual relationships with women who have left the prison but remain on furlough, probation or parole — and, therefore, under DOC supervision.
"It's an epidemic at this facility," said one longtime officer who claims to have faced retaliation for speaking out against it.
"The [officers] lie, have sex with inmates, assault people and have each other's backs to ensure that nobody finds out," said Melissa Gaboury, who was released from the prison last week. "They also retaliate against any inmate for speaking about anything."
A Seven Days investigation turned up credible allegations of sexual harassment or assault against more than a dozen officers who have worked at Chittenden Regional since it became a women's prison in August 2011. Though the state appears to have investigated many of them, the findings of such probes remain confidential unless an officer is charged with a crime. Corrections officials refused to discuss the status of any accused officers.
Alleged victims told the newspaper that, in some cases, they declined to report sexual relationships with guards — because they either did not expect officials to take action or feared retaliation.
When confronted by prison officials about her self-described "romantic relationship" with a female guard, one inmate chose to lie about it, she told Seven Days. "I was like, 'I don't know what you're talking about,' because anything that you speak against this place, they will retaliate against you," she said. "I was scared of that."
The same woman said she later became involved with a male guard who would illicitly bring her lip balm, then cigarettes and then Suboxone, which is used to treat opioid addiction. She would kiss him, bare her breasts and touch his penis, she said. The officer threatened to punish her if she broke off the relationship, the inmate said, but she was more concerned about prison authorities catching on to it. "They're very scary and intimidating," she said. "So I didn't really say much to them, either."
Officers who spoke to Seven Days described a similar fear of retribution. They claimed that prison leaders would ignore their complaints in order to protect friends — including Zorzi — and punish guards who raised concerns. "Staff jokingly call it 'the department of corruption,'" said the guard who described facing retaliation.
"The biggest problem with DOC is nobody's ever held accountable for anything they do wrong," Bruno said. "They get promoted. They get moved to another facility. It's an old boys' club."
The federal Prison Rape Elimination Act requires all correctional facilities to publicly report how many allegations of sexual misconduct they receive each year. Since 2011, inmates at the South Burlington prison have made 55 such complaints against staff members, according to records provided by DOC. Seven of those were substantiated by state investigators. Seventeen were unsubstantiated, meaning that officials could not determine what happened. Twenty-nine were deemed unfounded, and two remain under investigation.
Few of those complaints appear to have prompted disciplinary measures. According to records the state Department of Human Resources provided Seven Days, only one employee of Chittenden Regional has been terminated for sexual misconduct with or harassment of an inmate since 2011. Another reached a confidential "stipulated agreement" with the state, which could range from minor discipline to resignation.
Brittany Sweet, a former corrections officer who sued the state for sexual harassment in 2017, said she believes the department is more interested in making problems go away than solving them.
"In my time at Chittenden, there were many officers that were under investigation for sexual misconduct with inmates. They were allowed to resign, and then they faced no further criminal investigation," she said. "The state doesn't want to report this because it makes them look bad that it's happening, so they just sweep it under the rug."
According to Bruno, "If they're suspicious of you, they give you the opportunity to resign."
Touchette disputes that assertion. Whenever an inmate alleges sexual misconduct against a staff member, he said, the Department of Human Resources investigates, and the case is referred to the Vermont State Police. But Touchette also acknowledged that when an accused officer leaves state employ, the internal investigation comes to an end.
"When you're an employee of the Vermont Department of Corrections, you, by virtue of your position, have authority over persons in our care," the commissioner said. "That authority can be used, whether it's used intentionally or not, to coerce an individual and to engage in behaviors that are sexualized. There is zero tolerance for that."
Federal and state law prohibits corrections employees from having sexual relations with the 1,460 people incarcerated in Vermont prisons or with the roughly 5,000 people on probation, parole or furlough. DOC rules further forbid actions that may "give the appearance of an improper relationship between an employee and an offender," including "hugging, kissing, hand-holding and unofficial correspondence."
Several current and former inmates, however, described officers pursuing them after they left Chittenden Regional but while they remained under DOC supervision.
Gaboury, 28, has been in and out of state prison since she was 16 years old. She showed Seven Days lewd Facebook messages two DOC staffers allegedly sent her while she was under supervision.
In one July and August 2017 exchange, a Chittenden Regional officer solicited photographs of Gaboury and sought to meet up with her for a late-night sexual rendezvous. "I try to imagine your legs wrapped around my head and your bug bouncing off my nose," he wrote.
When the officer apparently showed up near her St. Albans apartment just after 1 a.m., he wrote, "Are you up?" Eight minutes later, he wrote, "Hey, I'm in st albans." Fourteen minutes after that, he wrote, "Hey."
In an October 2017 exchange, Gaboury's former probation officer told her that he was "horn[y] and drunk and want[ed] to pound some pussy." The man, who was still working for DOC, asked if Gaboury was home alone, queried her sexual preferences and told her he wanted to "take advantage" of her.
"I'm drunk and just want to have raw sex," he wrote, adding later, "Melissa tell me to stop. I should not be talking like this with you. Do you want me to pull on your nipples?"
Neither man still works for the state, and neither could be reached for comment.
According to Gaboury, the incidents contributed to her fear of Vermont's corrections system and her deteriorating mental health. She said she had attempted suicide many times.
"I need help. Everybody in DOC needs help," Gaboury said. "They do nothing but abuse and beat down already hurting, abused people and show them no other way."
'Criminals with a badge'
Paul Heintz
Mike Touchette
"Not much to brag about here," Touchette said last week as he walked through a pair of security doors into the heart of Chittenden Regional. "It's antiquated."
The low-slung building sits on a compact lot near the busy intersection of Interstate 189 and Route 7. Its red brick façade and green roof would not stand out were it not for the coils of razor wire adorning a chain-link exterior fence.
Inside the medium-security facility, Touchette and prison superintendent Theresa Stone navigated its drab concrete corridors to House 1. The cellblock features two- and four-bed cells surrounding a common area where half a dozen prisoners knitted, sifted through paperwork and tackled a jigsaw puzzle.
When a reporter asked about the duties of a DOC employee manning a guard post in the corner of the day room, Touchette interrupted: "Don't use 'guard.' Use 'corrections officer.' They do so much more than just checking the doors."
As he walked from one housing unit to the next, past a cramped visiting room and law library, Touchette expressed a desire for a new women's prison with more space and natural light — and less noise. The current facility, he said, is "not trauma-informed, and it's not gender-informed."
Built in the early 1970s as a juvenile detention center, Chittenden Regional is one of the oldest buildings in the state prison system — and it shows. Soon after women prisoners were moved to the South Burlington facility in 2011, a group of local nonprofits documented the presence of worms and drain flies in the showers, inadequate heating and cooling systems, and a dearth of toilets. In a report released last month, Vermont Interfaith Action described a "depressing, hopeless atmosphere" within the prison.
"Despite monetary investments and the efforts of many DOC staff members, this facility is simply unfit," said Karen Tronsgard-Scott, executive director of the Vermont Network Against Domestic and Sexual Violence.
Aging infrastructure isn't the only problem plaguing the women's prison and the rest of the state corrections system. The 1,000-person department suffers from high leadership turnover and low staffing numbers. In the past six years, DOC has had three commissioners and Chittenden Regional has had four superintendents.
"The department is constantly mired in investigations and personnel issues," said Dave Bellini, a veteran corrections employee who serves as president of the Vermont State Employees' Association. "It has the lowest morale in state government."
According to Touchette, 50 of the department's 600 corrections officer positions are currently vacant. In South Burlington, according to Stone, 17 of the prison's 83 officer positions are unfilled. "This is tough work, and it's not for everybody," the commissioner said.
Low staffing has contributed to a department-wide overtime budget that is $7.5 million and growing, according to Touchette. Officers are often required to work extra shifts in order to keep prisons open and safely staffed. "The workforce is exhausted," Bellini said.
The department's inability to recruit and retain employees has contributed to the prevalence of sexual misconduct and drug use at Chittenden Regional, according to Bruno, the New Hampshire state trooper.
Though their counterparts in other states must take entrance exams and meet certain physical requirements, Vermont officers need only graduate from high school or obtain a GED. They must undergo a five-year background check and seek a waiver from the commissioner if they've been convicted of a crime, but they do not have to pass drug tests.
"There's no standards, so it kind of just invites everybody in," Bruno said.
In at least one case, that included an officer with a history of sexual harassment.
According to records maintained by the Secretary of State's Office of Professional Regulation, Swanton nurse Thomas DiSalvo agreed to a formal reprimand from the Board of Nursing in January 2012. In a signed consent order, DiSalvo admitted to subjecting women under his supervision to "persistent, crude sexual commentary" and, at least twice, "unwanted sexualized touching."
The next year, according to state records, he was hired as a guard at the women's prison. In 2018, while still serving as an officer at Chittenden Regional, DiSalvo was charged with sexually assaulting a juvenile and committing other lewd and lascivious acts with a child.
Reached this week, DiSalvo said he was not guilty of the crimes. He said he had been fired for refusing to cooperate with an internal investigation.
According to the officer who claimed to have faced retaliation, DOC "attracts garbage" because its standards for guards are so low. He said that many of his colleagues use marijuana, cocaine or barbiturates. "Some of these guys are just criminals with a badge," he said.
Death of a prosecution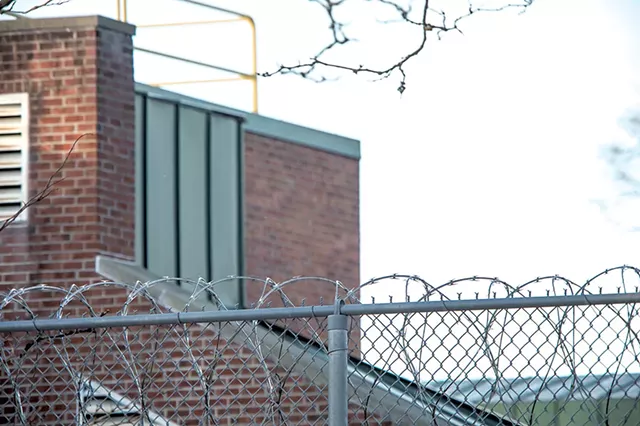 Luke Awtry
Chittenden Regional Correctional Facility
Not long after Megan Webbley died of an overdose in September, her father penned a heartrending obituary about her 31 years of life — nearly half of which had been clouded by opioid-use disorder.
Edwin Webbley described the joy his daughter had felt in the presence of her own four children, and he castigated the state Department for Children and Families as "the punisher of addicted mothers, the separator of families and the arbiter of children's futures."
When a mother loses custody of her children, he concluded, "desperation sets in, even with the brightest and most determined of mothers — and Megan Angelina Webbley was that bright and determined mother ... with a fatal disease and a dearth of treatment options."
The obituary, published in Seven Days, instantly went viral, prompting People magazine, the New York Post and the Daily Mail to retell Webbley's story.
Left unmentioned in her father's remembrance were other dark chapters in Webbley's life, including her experience as a victim of sex trafficking and the assault she allegedly suffered at the hands of a state corrections officer.
"She would always tell me the truth when she was in a good place," said Webbley's mother, Dorothy Provenzano, who agreed to share her daughter's story with Seven Days. "Sometimes I didn't want to hear it all."
Among the people with whom Webbley had allegedly exchanged sex for money was Christopher Rich. The two had known each other since attending Essex High School together; at the time, Edwin Webbley was assistant principal. Rich later told police that he and Megan Webbley had crossed paths over the years at several of his workplaces: a hospital, the Howard Center and, finally, Chittenden Regional.
"Rich stated he also had professional interactions with M.W. while she was at the correctional facility but they would not discuss their intimate life while there," Detective Cassandra Ellison of the Chittenden Unit for Special Investigations wrote in court papers.
Caplin, the Chittenden Regional inmate whom Zorzi allegedly asked for drugs, was Webbley's cellmate at the prison in 2018, when Rich was hired as a corrections officer. "I remember when Rich first came into House 1, Megan told me and the room that he was a client of hers in the past," Caplin recalled. "So that was quite interesting to hear."
Webbley wasn't the only woman in the building whom Rich had allegedly paid for sex. The inmate who told Seven Days about her relationships with a female and a male guard said that, before her detention, Rich had been a client of hers. "Once I came here and saw him, I was like, 'Whoa,' and 'Shit,'" she said. "Let me tell you what: He definitely treated me like a cocksucker and was so proud to have that authority over me."
Rich, through his attorney, declined to comment.
In February 2019, after Webbley left prison and rehab, she received a Facebook message from Rich. "Near Burlington?" he asked her, according to copies of the correspondence she shared with police. "In town?"
Webbley, who had been staying with her father in Middlebury, agreed to meet the corrections officer at his ex-girlfriend's vacant apartment in Burlington's New North End. "Do you like it rough?" he asked her when she arrived and they entered the bedroom, according to an account she gave police. She said she did not respond.
As they engaged in consensual kissing on the bed, Rich punched Webbley in the face, she told the cops, causing her to cry. She asked him to stop, she said, but he would not. As she tried to leave, Rich detained and sexually assaulted her, she alleged.
The next day, Webbley told her mom what had happened. "He not only raped her, but he beat her up," Provenzano said. "She sold herself for drugs on a number of occasions, but this was not that. This was sexual abuse. She made that clear to me."
Concerned about her welfare and drug use, Provenzano asked the Middlebury Police Department to check on her daughter and suggested that they arrest her on outstanding warrants, according to court papers. As soon as Webbley was in police custody, she reported the alleged assault.
Two weeks later, officers confronted Rich outside the South Burlington prison. He admitted to a sexual relationship with Webbley and said he had given her money to "help her out," but he denied that he had paid for sex or assaulted her. "She's lying," he told the cops.
The next day, they charged him with sexual assault, simple assault and soliciting prostitution. He pleaded not guilty.
According to her father, Webbley was terrified of returning to Chittenden Regional. "She was scared the other guards were gonna take it out on her because she ratted [Rich] out," Edwin Webbley said.
In fact, said inmate Mandy Conte, fellow prisoners gave Megan Webbley the most grief.
"People were giving her a hard time on that, asking, 'How can you rape a prostitute?'" said Conte, who became Webbley's cellmate. "She was very upset about it. She was very emotional about it. She felt ashamed. She was really embarrassed."
Meanwhile, Rich's legal troubles mounted. Barely a week after his arrest, according to Detective Ellison, the corrections officer uploaded explicit videos and photographs of an ex-girlfriend to a public pornography website. The titles of the videos, at least some of which were allegedly taken without consent, revealed her first name, profession and workplace.
In June, authorities charged Rich with two counts of disclosing sexually explicit images without consent and one count of voyeurism. He again pleaded not guilty.
That case is still pending, but the one involving Webbley is not. Last week, Deputy Chittenden County State's Attorney Dana DiSano dropped the assault and prostitution charges. "The victim, M.W., is now deceased and the State can no longer successfully prosecute this case," she wrote in a court filing.
Edwin Webbley said he was deeply disappointed by that outcome. He believes the alleged assault prompted his daughter's return to drugs and may have hastened her death.
Provenzano, too, remains outraged that a corrections officer may have punched and raped her daughter. "Someone in that position who's a prison guard should have integrity," she said. "That's just despicable."
'It just makes me sick'
Courtesy
William Savaria (left) and Christopher Rich
Including Rich and DiSalvo, at least five former Chittenden Regional officers have been charged with sexual misconduct since 2011. Few have served time.
In 2012, authorities charged Richard Gallow, then a 44-year-old Enosburgh resident, with sexually assaulting an inmate at the women's prison. Two juries failed to reach a verdict. When prosecutors sought to try the corrections officer a third time, the alleged victim refused to testify — forcing prosecutors to drop the charges.
"Without the victim in the case, there is no case," Attorney General T.J. Donovan, who was then serving as Chittenden County state's attorney, told the Burlington Free Press.
In 2014, a federal grand jury indicted officer Tracy Holliman, a 50-year-old South Burlington resident, on charges that he had sex with two federal detainees at the South Burlington prison. Prosecutors dismissed the original charges after Holliman pleaded guilty to obstruction of justice for deleting emails in which he admitted to the crimes. He was sentenced to five months in jail.
Also in 2014, authorities charged corrections officer William Savaria III, a 29-year-old Iraq War veteran from Fairfax, with sexual exploitation of an inmate. The 18-year-old prisoner said that Savaria had plied her with lace underwear and asked her to dance around her cell in it. Weeks later, she told an investigator, he put his hand down her pants and penetrated her. After she was released from Chittenden Regional, but while she was still under DOC supervision, Savaria came to her home and had sex with her.
The officer admitted to the latter event but denied engaging in sexual activity at the prison. At a March 2016 trial, his lawyer questioned the inmate's credibility and wondered why she had not immediately reported the allegation. Savaria was acquitted.
Later that year, prosecutors filed two new charges involving two other inmates who made similar allegations against Savaria.
The second accuser said that, for three months, the officer had repeatedly touched her breasts and penetrated her vagina with his fingers. Asked whether she felt she could turn him down, the inmate told investigators, "I feel like if I said no, there would be consequences."
The third accuser said that Savaria had kissed her, penetrated her with a finger and exposed his penis to her. Both women said that while he patrolled the prison's exterior, he would stare through the windows of their cells and make faces at them.
Savaria denied the allegations and, a year later, prosecutors dropped the charges. It's not clear why. Both lawyers who handled the cases have since left the Chittenden County State's Attorney's Office. Sarah George, who succeeded Donovan as the county's top prosecutor, said she could not determine why the charges were dropped.
Savaria told Seven Days he voluntarily resigned from the prison in January 2015 but otherwise declined to comment.
In September 2017, two weeks after George's office asked the court to dismiss the charges related to the second alleged victim, that woman died of an apparent overdose. She was 28 years old.
Later that year, Savaria's third accuser sued the state, alleging that the prison's leaders had negligently retained, trained and supervised him — and violated her federal civil rights. The state settled the case in May 2018 and, according to DOC general counsel Emily Carr, paid the inmate $40,000.
A year later, the third accuser also died of an overdose. She was 29 years old.
"I'm so angry," her mother told Seven Days, referring to Savaria as a molester and to DOC prisons as corrupt. "My kid's been gone seven months, and I bawl every day. It just makes me sick."
No woman's land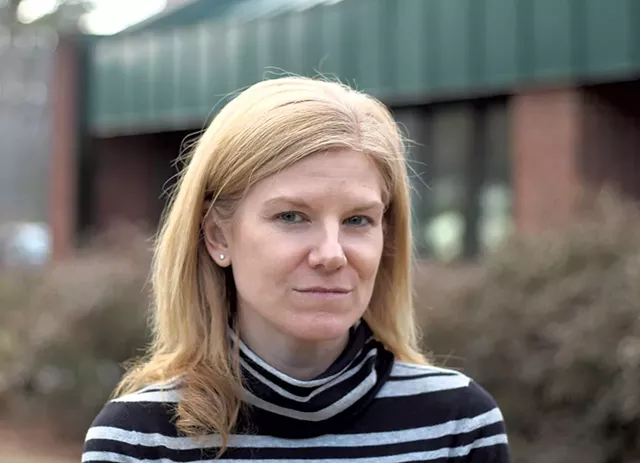 Paul Heintz
Theresa Stone
When Sweet, the former corrections officer, went to work at Chittenden Regional in December 2013, she was shocked to learn how fellow female guards were treated.
"It's horrible. A girl comes in, and it's like fresh meat. All the guys are after her," she said. "If you have a sexual relationship with a staff member, you're a slut. But if you don't have a sexual relationship with a staff member, you're a stuck-up bitch."
She added, "It's no wonder there are no females who work there."
According to Stone, the Chittenden Regional superintendent, only 15 of 66 officers working at the women's prison are women. They are responsible for all pat-downs and strip searches conducted at the facility. "I know what it's like to be the only female on and to have to do all that," said Stone, who got her start as an officer.
Records provided by the Department of Human Resources show that South Burlington prison staffers have made at least 13 complaints of sexual misconduct or harassment against their colleagues since the summer of 2011. One complaint resulted in a resignation, two led to stipulated agreements, one prompted a written reprimand and three resulted in supervisory feedback. Six of the claims were unsubstantiated, the department's records show.
Current and former officers described two incidents in recent years in which male guards shared sexually explicit images of female guards. In one case, a male officer allegedly uploaded photos he'd taken of a female officer to a revenge porn website. Sweet and Bruno both said they had seen the images.
"Every time you went into the locker room, someone was looking at her tits," Sweet said.
Both the male and female officer were eventually promoted and continue to work for DOC. "The joke in Corrections [is,] they call this promotion plan 'Fuck up, move up,'" Sweet said.
In the other case, a male officer allegedly shared sexually explicit photos of a female officer with other guards and was disciplined for doing so. A year later, the female guard died by suicide, though it's unclear what role — if any — the incident played in her death. The woman's mother told Seven Days she was not aware of the harassment her daughter had faced at the prison.
In her 2017 lawsuit, first reported by the Burlington Free Press, Sweet alleged that after she rebuffed advances by a supervisor, he made derogatory statements about her physical appearance to their colleagues and told them he would "like to fuck anything but her face." When she complained to an official about his remarks, he was assigned to be her direct supervisor.
According to Sweet's lawsuit, the Department of Human Resources "substantiated" her allegations but left the supervisor in his position and ordered her to "respect the chain of command."
The supervisor told Seven Days that most of Sweet's allegations were not true.
In a separate incident cited in the lawsuit, Sweet walked into a room used for strip searches and found a male officer sitting on a counter and a female inmate bending over the counter, facing him. When Sweet reported the incident, superintendent Edward Adams led her to the room and asked her to reenact the scene with another staffer. Adams photographed the reenactment, prompting Sweet to feel "objectified and demoralized," she said.
The next year, DOC named Adams manager of the year. He later became superintendent of Southern State Correctional Facility in Springfield but was dismissed from the post for unspecified reasons in 2018.
Sweet and an unnamed co-plaintiff, who alleged other incidents of sexual harassment, ultimately won an $85,000 settlement from the state. But according to Sweet, the lawsuit did not result in the change she sought.
"It was just like, 'Give them money and get them out of here,'" she said. "Nobody was held accountable — and I was just like, 'That sucks.'"
Sweet was transferred to DOC's probation and parole office in Morrisville, but she soon encountered harassment there, too. Within weeks, she said, a coworker told her, "I really like your skirt. It would be really easy for me to pull it up over your ass, bend you over the desk and fuck you right there."
Sweet provided Seven Days with contemporaneous email correspondence in which she described the incident — and other alleged acts of harassment — to a supervisor. Another former DOC employee who witnessed some of the alleged harassment said the man remarked on the physical appearance of women "many times a day."
"Any day he was in the office, he was most likely making some type of crude comment about a woman — whether she worked there or she was an offender," the former DOC employee said.
The alleged harasser declined to comment.
"The culture of DOC — and it's not just Chittenden. It's systemic, statewide. It's the entire fucking State of Vermont," Sweet said. "These people operate like they're untouchable. They're fucking God, and they do whatever they want."
'You could tell'
Luke Awtry
Chittenden Regional Correctional Facility
Caplin, one of Webbley's former cellmates, met Officer Zorzi during a stint at Chittenden Regional soon after it became a women's prison. Both had grown up in Montpelier, attended the same high school and had plenty of friends in common.
"We were flirty, and he would come to my room and tell me to come out, and we would hang out through the night and just chat," Caplin recalled.
In 2012, after she left prison but while she was still on probation, Caplin ran into Zorzi at a bar in Barre, she said. They hung out, drank, made out in a bathroom and exchanged phone numbers. Later that night, she said, Zorzi called her and asked if she could obtain cocaine for him. According to Caplin, she blew him off.
By the time she returned to prison in 2013, Zorzi's drug use had become "kind of a joke" among inmates and staff, Caplin said. One night in House 1, she said, "He had white residue all around his nostril, and it was running down to his upper lip." According to Caplin, she led him to an area out of range of the facility's security cameras and told him he had cocaine all over his face. He wiped it off and thanked her, she said.
Others described similar scenes. Sweet recalled officers and inmates alike telling Zorzi he had white powder in his nose. "If you're doing so many drugs — you're so messed up — that you don't remember to check your face at work at a correctional facility, you are so damn high," she said.
"You could tell," said former inmate Amber Monty. "He was always zinging — like, speeding out, off the wall."
During another break from prison in the spring of 2016, Caplin started hanging out with a former officer, who, like her, was using drugs heavily at the time. Over Memorial Day weekend, he asked Caplin if she could help him find an eighth of an ounce of cocaine for a party of corrections officers that Zorzi was throwing at his home near the Stowe-Waterbury Center line.
According to Caplin, she met the former officer and Zorzi at Get Yours, the Waterbury Center adult novelty store known at the time as Good Stuff. The men gave her $250, and she said she would return soon with the coke. "But I didn't come back," she recalled. "I took the money and left and never got him the [drugs]. My luck and my karma, I went to jail three days later."
Sure enough, Caplin said, Zorzi was standing in the booking area when she arrived at Chittenden Regional. "He saw a ghost when I came in," she said. "Now it's on a whole new level of, 'Oh, fuck.'"
According to Caplin, Zorzi later used his authority as a supervisor to recommend tough sanctions when she faced disciplinary proceedings.
"I'm positive Zorzi was using [his power] against me for his personal vendetta," she said. "One hundred percent."
According to the officers who spoke with Seven Days, Zorzi also retaliated against his peers — particularly when they complained about his alleged drug use. "He'd start targeting them," one former officer said, adding that he reported Zorzi to two superintendents and two assistant superintendents — to no effect.
"Basically, management didn't want to hear it," said Bruno, the New Hampshire state trooper. "They would make up excuses for it. They would cover for him." According to two officers, prison officials told them it was possible Zorzi had an unspecified disability — an explanation the guards found implausible.
Neither Touchette nor Stone would comment on whether they received complaints about Zorzi.
The guard's former colleagues described several specific instances of alleged drug use. One officer said he personally witnessed Zorzi using powder cocaine, crack cocaine and Ritalin at parties. Another said he walked in on Zorzi snorting something at his desk.
A third officer said that after he confiscated three or four grams of crack from an inmate, his supervisor, Zorzi, told him it wasn't enough to weigh or photograph — and absconded with the evidence. Bruno, who was also on duty that night, said the officer described the incident to him at the time.
Another night, according to Bruno, Zorzi showed up in booking "ecstatic" and "tweaking" and searching high and low for something. "There's a painting of a donkey I'm trying to find," he explained, according to Bruno.
"He was high off his ass," according to the officer who claimed to have been retaliated against. He described Zorzi as "incoherent," with his arms flailing like a ragdoll. "I don't know what the hell he put in his body, but he was wired."
When his colleagues asked if they could help, according to the second guard, Zorzi said, "Nah, I'm looking for a donkey."
Zorzi's bosses apparently saw him differently than the officers and inmates. In 2018, then-superintendent Cheryl Elovirta and assistant superintendent Jen Sprafke nominated him for the "supervisor of the year" award. During his two years in that position, they wrote in a nominating letter, "he has experienced a plethora of situations and challenges that he has met with professionalism, enthusiasm, decisiveness and clarity — all marks of a great leader."
Powers, the inmate who described the alleged night of sex and drugs, had a darker impression of Zorzi. After returning to prison in September, she told Seven Days, the shift supervisor threatened her to stay quiet about it. "He would walk by me and say, 'Don't forget,'" Powers said. "If looks could kill, I would've been dead the first time."
In October, Powers said, she reported the alleged incident to the facility's security chief and then to prison social workers and, finally, the state police. Zorzi was put on leave.
According to Powers, she and the second woman involved helped the officer obtain more than $1,000 worth of crack on the July night in question. She said the second woman, also under DOC supervision, had sex with Zorzi multiple times. Near the end of the night, Powers said, the officer demanded "some kind of assurances" that she would not report him — in the form of oral sex.
Powers said she plans to file a lawsuit against DOC later this week.
Seven Days has not been able to independently verify her claims.
The state police appear to have interviewed several people who may have knowledge about their veracity — including Powers and Caplin. Authorities won't, however, be able to interview the woman who allegedly joined Powers for the Colchester party.
That person, according to Powers, was Megan Webbley.
A cycle of abuse
Every year, 200,000 people are sexually abused in American correctional facilities, according to Just Detention International, an advocacy group that works to eliminate prison rape. "The fact of the matter is, sexual abuse is rampant in facilities across the country," said Just Detention spokesperson Jesse Lerner-Kinglake. "But it's not inevitable."
Prisons that are well run, have highly trained staff and provide safe reporting procedures are not prone to sexual misconduct, he said.
Lerner-Kinglake called the allegations involving Chittenden Regional "outrageous" and said he was particularly alarmed that even officers felt that their complaints were ignored. "If it's so hard for a staff member to come forward and report abuse, imagine how it is for inmates there," he said.
Rep. Alice Emmons (D-Springfield), who chairs the House Committee on Corrections and Institutions, said she had not heard such complaints out of Chittenden Regional, but she pledged to probe the matter when the legislature reconvenes in January. "If something is going on, it should be addressed," she said. "And if it's not going on, then we need to clear the air."
Emmons' committee will likely spend considerable time this winter pondering the fate of the women's prison. Seemingly everyone involved in Vermont corrections policy — from inmate advocacy groups to the leadership of DOC — agrees that Chittenden Regional should be closed. But there's little consensus over what comes next.
Gov. Phil Scott's administration has proposed building a new corrections campus to replace the South Burlington prison and Swanton's Northwest State Correctional Facility. Advocacy groups such as the American Civil Liberties Union of Vermont, meanwhile, have argued that the state should concentrate on reducing the number of incarcerated Vermonters before building new prisons.
According to Tronsgard-Scott of the Vermont Network Against Domestic and Sexual Violence, the state needs to address a system that simply "moves women in and out and in and out of the facility." Most inmates at Chittenden Regional suffer from addiction and poverty, she said, and as many as 80 percent of them were victims of sexual violence before they were incarcerated.
Conte, one of Webbley's roommates, said she understands why some of her fellow inmates have engaged in sexual relations with those charged with guarding them.
"I struggled with addiction, as well. I feel like I've been in situations where I felt like I didn't have options," she said. "People should be aware of what these girls go through, and the blame shouldn't be placed on them."
It's the guards who should be held accountable, she argued.
"It's like they're preying on women who they see are weak and vulnerable, and they use that for their own benefit," Conte said. "They don't realize how much their behavior impacts us."

Correction, December 5, 2019: Tracy Holliman pleaded guilty to obstruction of justice. A previous version of this story contained an error.
Got a tip about the Vermont Department of Corrections?
Send it our way. We'll keep your identity confidential.
802-222-0363
Paul Heintz, c/o Seven Days
255 S. Champlain St., Ste. 5
Burlington, VT 05401