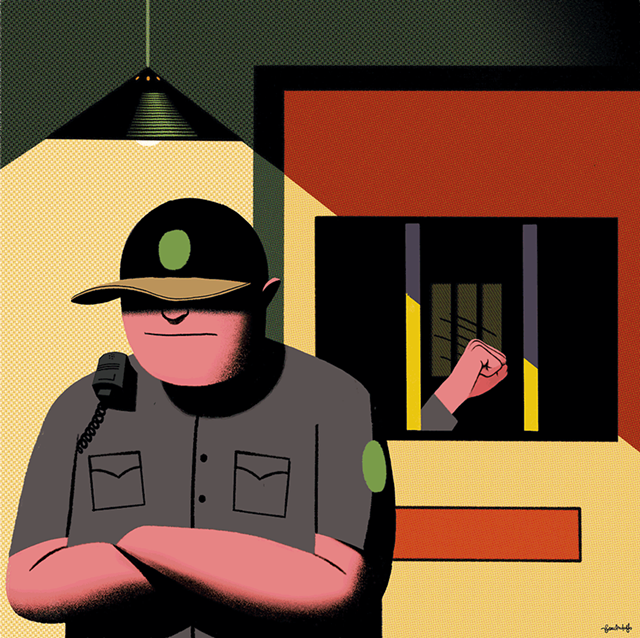 In the year since 269 Vermont inmates were moved from a privately operated prison in Michigan to a state-run one in Pennsylvania, they have repeatedly complained about threats of violence by guards. Seven Days reported in February that Vermont officials visiting Camp Hill prison witnessed a correctional officer verbally threatening Vermont inmates.
Last month came the first allegation that a Pennsylvania guard physically attacked one of the Vermont prisoners.
Inmate Casey Hadcock filed a formal grievance about what he saw when he returned to his cellblock after lunch on May 1.
"I witnessed a staff member named C.O. Mathews call inmate Kyle Doyle into the back hallway ... where he then body slammed him, held his legs with one arm and progressed to punch the inmate in the face," Hadcock recounted.
Six other inmates corroborated Hadcock's story in letters to Seven Days that describe Mathews beating Doyle and another guard cleaning up the scene before calling for backup. Doyle was bleeding from his head when he was taken away, the Vermont prisoners allege.
Neither Pennsylvania nor Vermont officials would provide a detailed account of what occurred.
Pennsylvania Department of Corrections spokesperson Amy Worden acknowledged "an incident involving an officer and two inmates" but nothing more. Her department rejected Hadcock's formal complaint because prisoners are not allowed to file grievances on behalf of other inmates. It is investigating the alleged assault by the guard as a matter of policy "because there is an allegation of abuse," she said.
Vermont's Department of Corrections denied Seven Days' request seeking the incident report filed by the Pennsylvania officers, noting that it's an inmate record and therefore exempt from Vermont's public records law. Vermont Deputy Corrections Commissioner Mike Touchette did say the report conflicts with the account provided by Vermont prisoners. He also noted that Vermont asked Pennsylvania to conduct the internal investigation of the incident that is under way.
The two states won't be doing business together much longer. On April 9, Pennsylvania told Vermont that it would no longer host the out-of-state inmates, who will have to be relocated by October. Private prison companies in Rhode Island and Mississippi have submitted bids to house the Vermont prisoners.
Tom Dalton, the executive director of Vermonters for Criminal Justice Reform, said the May 1 incident suggests Vermont should pursue a third option: reducing the inmate population so that inmates don't have to be sent out of state for lack of space. Dalton said he doesn't hear allegations of mistreatment nearly as much from Vermont state prisons.
"Bad things keep happening to Vermonters out of state," he said, "and we should try to stop that and bring them home where we have a better sense that we can ensure their safety."
The incident in Camp Hill started with a chicken patty.
"Inmate Doyle had said something to a female staff in the chow hall about the chicken patty that was being served, and C.O. Mathews confronted him about it outside the chow hall," inmate Timothy Wiley wrote.
"C.O. Mathews took Doyle by the outside of the mess hall, yelling in his face that he was a 'bitch' and he was going to 'kick his fucking ass,'" wrote a second inmate who requested anonymity for fear of retaliation by correctional officers.
He added that other prison staff members were present "and said nothing."
Inmate Shawn Betit, who left the eating area around the same time as Doyle, dictated his observations to another inmate because he cannot read or write.
He described how Mathews followed Doyle on the walk and challenged him to a fight. "Mathews said Doile was afraid to fight," read his misspelled account. "Doile said: Your not worth me getting new charges. C.O. Mathews was following behind myself and Doile."
After the trio reached the cellblock, Betit said he heard Mathews say to Doyle: "I want to talk to you in the back hallway."
When Doyle said no, the inmate wrote, Mathews asked him if he was refusing a direct order. Doyle gave in and followed the guard to the hallway, which is out of reach of the facility's surveillance cameras, according to the inmates.
"I heard screaming and was curious," wrote the unnamed inmate. "I then brought my trash to the bin to see what was happening. I saw C.O. Mathews striking Doile 3-4 times."
Hadcock's complaint continued the story. "At first he began choking Mr. Doyle," he wrote, "but then after slamming him, with the inmate's hands trying to block his face, began punching him causing blood to leak from his face."
Other inmates described what they say happened next: Stricken, Doyle fell to the ground and was handcuffed, but Mathews continued his attack, kicking the Vermont prisoner as he lay.
Then, the Vermont inmates alleged, other prison guards tried to hide what had happened.
"Doyle beaten by ... Mathews in corridor to yard," Kai Freeman wrote in his prison diary, which he shared with Seven Days. "Skinny tall black C.O. quickley [sic] sprayed pink cleaner on wall and glass to get rid of blood before backup was called for."
Freeman wrote that Doyle was falsely blamed for starting the fight by attacking Mathews, "yet Doyle was all bloody and beaten and Mathews was physically unharmed."
In letters, inmates say guards put restrictions on the cellblock for days after the incident.
"They locked the whole building down and would not allow us to use the phone or mail out letters," wrote inmate Roy Johnson. "My cell the toilet did not work and I asked to have it fixed and C.O. Mathews said it sucks being you, suck it up, and shut up. I have been three days without the use of my toilet."
The Vermont inmates say they don't trust Pennsylvania to investigate its own staff, and they fault Vermont's Department of Corrections for failing to protect them.
When they were allowed to use the phones again, inmate Kirk Wool called Seven Days. He did not personally witness the incident, but he said Vermont inmates fear for their safety in Pennsylvania. Wool said Mathews continued to work in the Vermonters' unit for days after the assault. The inmates still see the officer in communal areas.
"They're letting him not only be around us but continue to taunt people. It's just mind-boggling," he said.
Wool, who has repeatedly sued the Vermont Department of Corrections over prison conditions, wrote a letter to Commissioner Lisa Menard urging her to "not continue to act with indifference to abuses and now physical assault on Vermont inmates at the hands of PA-DOC."
Dalton said he's been talking with state officials about the concept of a review panel with subpoena power tasked with investigating inmate deaths and allegations of abuse. He said civilian involvement and published reports could help increase transparency and trust in the corrections system.
"Incarcerated people are vulnerable," he said, "and it is our responsibility to make sure that they are kept safe, and there are indications that the state is failing at that in some cases."
Citing privacy laws, Deputy Commissioner Touchette refused to comment on any injuries Doyle sustained. It's unclear if he received medical treatment. Vermont officials have confirmed that Doyle recently was returned to Vermont's Southern State Correctional Facility in Springfield because Camp Hill officials planned to put him in solitary confinement for more than 30 days, a practice that is legal in Pennsylvania but not in Vermont.
Doyle could not be reached for comment.
Worden, the Pennsylvania corrections spokesperson, said no Camp Hill staff members have been fired over the incident. She refused to identify the corrections officer referred to as Mathews, nor would she say whether he has been placed on leave during the investigation.
"We feel it is highly inappropriate to name an officer who was doing his job," Worden said.