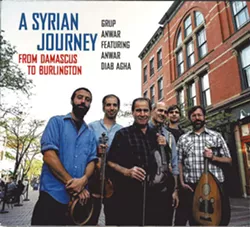 Grup Anwar, A Syrian Journey: From Damascus to Burlington
(Self-released, CD, digital download)
Grup Anwar are a Burlington-based sextet revolving around the leadership of composer and multi-instrumentalist Anwar Diab Agha. Agha moved to Vermont in 2008 from Syria, where he had been studying, playing and composing maqam, an Arabic classical tradition, for a lifetime already. He was part of the Syria National Radio and Television Orchestra and also a soloist in his own right.
Today, Agha keeps that lineage alive through performances and lessons. Grup Anwar emerged in 2011 from his small community of students. These include Jeffrey Davis, who plays the oud, a lute-like stringed instrument with haunting overtones, and the nay, a flute with Persian roots. (He also plays a mean clarinet.) On A Syrian Journey: From Damascus to Burlington, Grup Anwar's debut album, the tightly knit ensemble does justice to Agha's world-class talent.
While the Green Mountains inspire the album, Grup Anwar's roots predate the Ottoman Empire that once encompassed Syria and Turkey. A wealth of history anchors this music, and the record's liner notes feature helpful context from Saint Michael's College music professor William Ellis.
However, the listener needn't know any of this in order to be hypnotized. Grup Anwar simply play powerful music. Agha's compositions are warm, spacious and often hauntingly pretty. The album embodies the journey it describes, each movement building to a cohesive whole without sounding repetitive.
With his expressive control of the violin, Agha is inevitably the star of the show — he is also a master oud player. But he's happy to let everyone in the ensemble step forward. Oud player Gregory White delivers a standout, scorching solo turn on "Nahawand Oud Taqasim." The percussion sounds especially strong, supporting the movement without ever dominating the room. Credit is due to the teamwork of Colin Henkel on the doumbek and Chris Schroth on the riq — they work in such close concert that it's hard to hear them as two people.
A Syrian Journey was recorded and mixed at the Charlotte studios of Lane Gibson, who deserves high praise, too. His mixing is consistent and transparent, locked into a sweet spot between live feel and studio polish. It's perfect for such carefully dynamic music, and the instrumental nuances really shine.
It's hard to overstate how enjoyable A Syrian Journey: From Damascus to Burlington is. While a 12-song set of mostly instrumental Arabic music will not appeal to everyone, this album is a finely cut diamond and an accessible introduction to the genre. The fact that it happened in Vermont is proof we live in strange and wonderful times.
A Syrian Journey: From Damascus to Burlington by Grup Anwar is available online on iTunes and at cdbaby.com. It is currently streaming on Spotify.